Conservatives blast MSNBC host for calling Clarence Thomas 'Uncle Clarence'
The comment came as MSNBC host Joy Reid doubted the conservative-leaning Supreme Court could fairly settle any contested races in the presidential election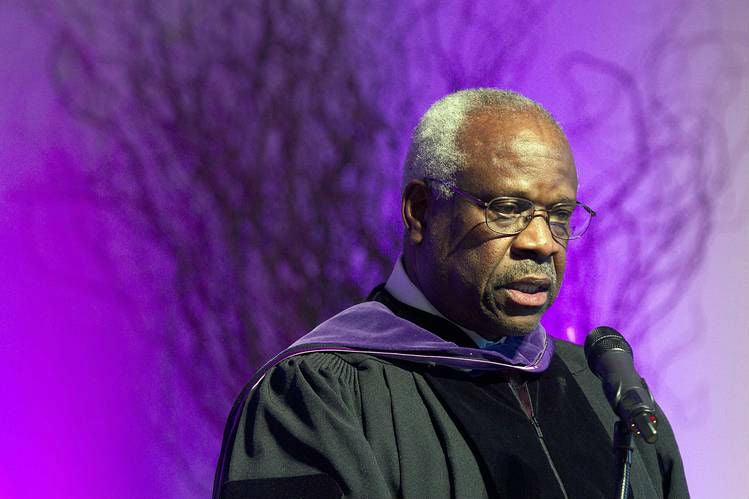 Conservatives online are criticizing MSNBC host Joy Reid, who is Black, as racist for referring to Supreme Court Justice Clarence Thomas, who is also Black, as "Uncle Clarence," a seeming reference to "Uncle Tom," an insult for those perceived as selling out their fellow Black people.
The comment came as the hosts of an election-night panel discussed the president's premature announcement on Tuesday that he won the election and threats to challenge close races in the Supreme Court. (Counting is expected to continue for the next few days.) Ms Reid said she doubted the conservative-leaning court, including "Uncle Clarence," would make a fair call.
The comment quickly generated outrage among conservatives online, many of whom appear to be white. The National Review lambasted the host's comments as a "racial slur," while others on Twitter called it "absolutely disgusting" and "a horrible thing to say." 
It's not the first time Ms Reid has mocked Justice Thomas as "Uncle Clarence." She has repeatedly criticized the Supreme Court Justice for his record on voting rights and elections. (Justice Thomas, only the second African American to serve on the court, was the decisive vote in both the 2000 case that handed George W. Bush a contested election, and a 2013 case that eliminated a major provision of the Voting Rights Act, which had required places with a history of voter discrimination to get federal permission before changing their rules.)
Nor is it the first time Ms Reid has faced backlash for some of her comments. In 2017, she apologized for blog posts she said contained "tone deaf" remarks about the LGBTQ community she made while insinuating a politician who opposed same-sex marriage was a closeted gay man.
The insult "Uncle Tom" has a long history, which intersects with Justice Thomas before Ms Reid's comments. Uncle Tom was a character in abolitionist Harriet Beecher Stowe's 1852 novel Uncle Tom's Cabin. The eponymous character is a slave who sacrifices his life rather than reveal the location of two enslaved women who are in hiding. Following the success of the novel, stage productions portrayed Uncle Tom as a minstrel character who was subservient to white people, cementing the negative stereotype.
When Justice Thomas was being confirmed for the High Court, Uncle Tom was a common insult for him within the Black community. Justice Thomas, a staunch conservative, couldn't have been more different from Thurgood Marshall, the first African American jurist on the Court, a lifelong civil and voting rights advocate.
Join our commenting forum
Join thought-provoking conversations, follow other Independent readers and see their replies