Mike Pence rally draws maskless crowd of elderly supporters in retirement community
Vice-president was campaigning in Florida on Saturday afternoon as Donald Trump - yet to confirm a negative Covid test - announced he too was going back on the road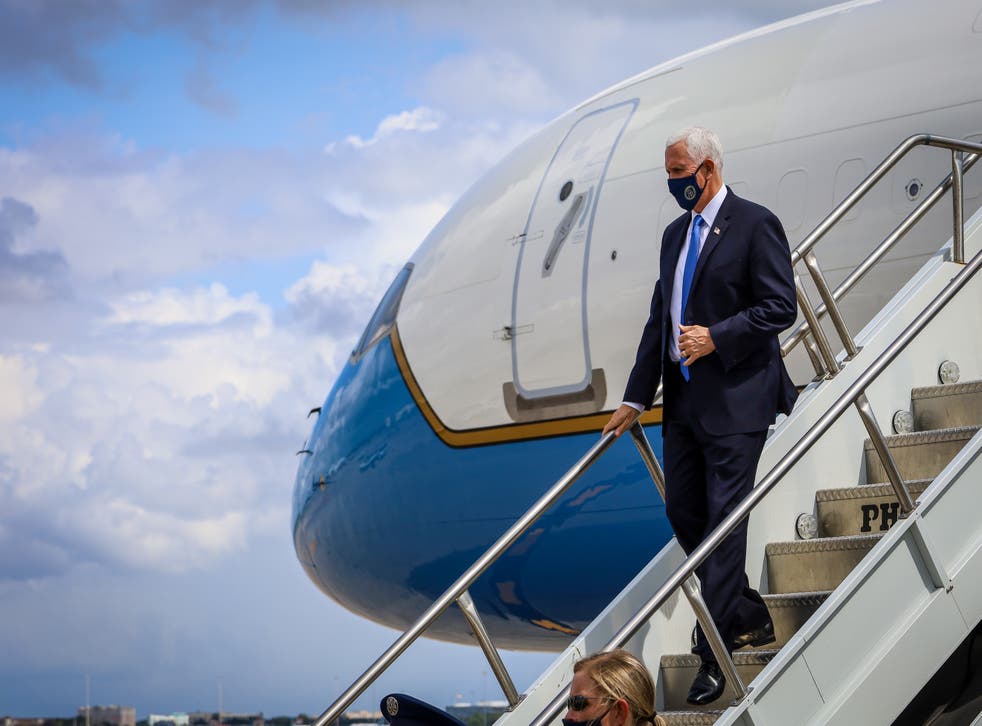 Leer en Español
Mike Pence has held a packed rally at the world's largest retirement community, with mainly maskless supporters cheering him on and several then needing medical assistance due to the heat.
The US vice-president, who also heads the White House coronavirus task force, arrived in Florida on Saturday afternoon, as the administration announced that Donald Trump - who is yet to test negative after contracting Covid-19 - would be back on the campaign trail next week.
Pence, 61, first held a Latinos For Trump gathering in Orlando before travelling to The Villages, home to 117,000 people, 50 miles north west of Orlando.
There he addressed a large crowd who, despite socially-distanced chairs being set out, ignored the seating arrangement and packed together for the event, dragging their chairs closer together and standing in groups.
Tim Murtaugh, communications director for the campaign, said 3,000 people were in attendance.
Most attendees were not wearing face masks, according to reports.
A Secret Service agent, asked whether there was a limit on attendance, told The Telegraph: "You'd think so, but no."
One retiree was overheard joking to her friend: "There goes social distancing."
At least three people were seen being escorted out be medical personnel out in the blazing sunshine.
The Villages is seen as a barometer of the election, and has traditionally trended Republican.
In 2016, Sumter County, in which The Villages sits, saw 68 per cent of people vote for Trump, and 29 per cent for Hillary Clinton.
On Wednesday, however, hundreds of residents held a "golf cart rally" for Joe Biden.
Mr Pence's rally came shortly after Mr Trump held his own event at the White House - his first since his 1 October positive coronavirus test.
Hundreds of people gathered at the White House for a "Back the Blue" event organised by Candace Owens, political activist and founder of the "Blexit" movement.
Trump will be in Sanford, Florida, on Monday for his first event outside the White House since his infection.
On Saturday the campaign announced he will hold evening rallies in Johnstown, Pennsylvania, on Tuesday and in Des Moines, Iowa, on Wednesday.
Joe Biden and his campaign has called Mr Trump's conduct since he was diagnosed with coronavirus "reckless" and accused him of putting those around him needlessly at risk.
"His reckless personal conduct since his diagnosis, the destabilizing effect it's having on our government, is unconscionable," the Democrat former vice-president said.
The White House has not yet released when Mr Trump's last negative Covid-19 test was, or provided evidence that he is no longer contagious.
Register for free to continue reading
Registration is a free and easy way to support our truly independent journalism
By registering, you will also enjoy limited access to Premium articles, exclusive newsletters, commenting, and virtual events with our leading journalists
Already have an account? sign in
Register for free to continue reading
Registration is a free and easy way to support our truly independent journalism
By registering, you will also enjoy limited access to Premium articles, exclusive newsletters, commenting, and virtual events with our leading journalists
Already have an account? sign in
Join our new commenting forum
Join thought-provoking conversations, follow other Independent readers and see their replies