Pence wanted to throw reporter off Air Force Two for innocuous report about his wife's outfit
The reporter was also allegedly censored by the White House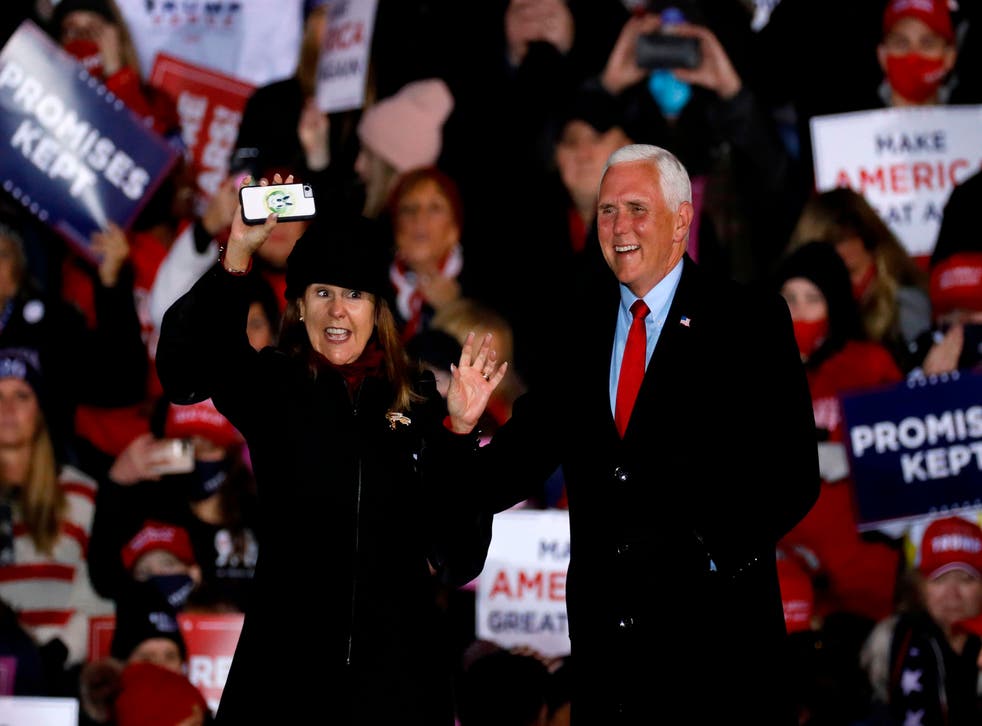 Vice President Mike Pence allegedly threatened to give a reporter the boot from Air Force 2 on Monday because of her dispatches from the campaign trail.
New York Magazine's Olivia Nuzzi, who serves as the publication's Washington correspondent, detailed the incident on Twitter. In a tweet posted Tuesday morning, Ms Nuzzi wrote, "Last night, after I sent this pool report, I was told VP Mike Pence wanted to kick me off of Air Force Two and leave me in Michigan. The White House never distributed the report. Judge for yourself. Should this have gotten me silenced and threatened with removal from AF2?"
Ms Nuzzi then shared a screenshot of the pool report in question, in which she provided some seemingly innocuous details about second lady Karen Pence and Charlotte, the Pence's elder daughter. Ms Nuzzi describes what each of the women were wearing, but not much else.
The report reads, "Second Lady Karen Pence and Charlotte Pence Bond came to the back of AF2 to speak to members of her staff. Mrs. Pence enthusiastically relayed something about what sounded like 'Audrey' (the Pences have another daughter named Audrey) that your pooler couldn't hear and that frankly is none of your pooler's business anyway. Your pooler would rather not know!
"Mrs. Pence crouched down to speak while Charlotte Pence Bond, who wore a sweatshirt, stood next to her," Ms Nuzzi's report continues. "At this closer vantage point, your pooler noticed that the sleeves on Mrs. Pence's jacket are fluted, like little bells (but not full on bell sleeves)."
At the time, Ms Nuzzi was traveling with the vice president as part of his press pool: the rotating group of reporters who travel with politicians in order to relay information to the rest of the press corps.
It is not clear exactly which part of Ms Nuzzi's pool report raised a red flag for Mr Pence and his staff, but the reporter claimed that after Air Force 2 landed, she sent an additional report about what had transpired. That report, she claimed, was censored by the White House.
"I am dismayed to report that, after VP pool report #11, the Vice President's office not only censored your pooler, but threatened to kick her off of AF2, stranding her in Grand Rapids," Ms Nuzzi wrote. "In order to avoid being ejected from the flight, your pooler agreed to not have an eye for detail or a personality for the rest of the night. But now, in the parking lot at JBA, I'm free! I hope you are, too. In the words of Bob Dylan: 'without freedom of speech, I might be in the swamp.'"
CNN's Oliver Darcy also tweeted about the incident, reporting that the vice president's office said no one from their staff had had a discussion with Ms Nuzzi about her travels on Air Force 2. Ms Nuzzi confirmed as much, but said she had a conversation with the White House Communications Agency "where the threat was relayed."
After attending rallies for Donald Trump in Michigan and Pennsylvania on Monday, Mr Pence is reportedly spending election day calling into several local TV and radio interviews in Ohio, Florida, Wisconsin, and more crucial swing states.
Register for free to continue reading
Registration is a free and easy way to support our truly independent journalism
By registering, you will also enjoy limited access to Premium articles, exclusive newsletters, commenting, and virtual events with our leading journalists
Already have an account? sign in
Register for free to continue reading
Registration is a free and easy way to support our truly independent journalism
By registering, you will also enjoy limited access to Premium articles, exclusive newsletters, commenting, and virtual events with our leading journalists
Already have an account? sign in
Join our new commenting forum
Join thought-provoking conversations, follow other Independent readers and see their replies