Proud Boys chairman and Trump supporter stabbed in brawl close to White House
Three Trump supporters were stabbed close to the White House after an election viewing party in a bar
Harriet Alexander
Wednesday 04 November 2020 20:32 Comments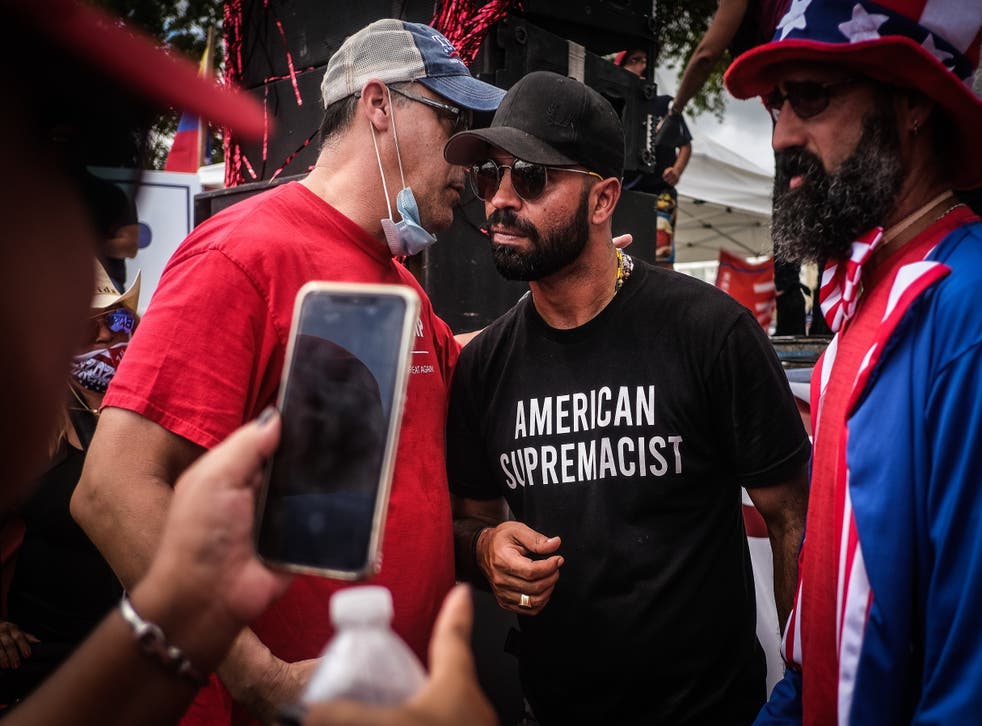 Leer en Español
Police in Washington DC are hunting for three suspects who stabbed the chairman of the Proud Boys and a prominent female Trump supporter during a brawl.
Enrique Tarrio, chairman of the far-Right group, and Bevelyn Beatty, who was arrested earlier this year for painting over a Black Lives Matter mural outside Trump Tower, were both injured in the melee, as was a third unnamed person.
Ms Beatty said she had been stabbed in the back.
Mr Tarrio was slashed in the stomach.
He told the Gateway Pundit that they were walking home from a bar when they were attacked, adding the injuries were "very serious, but not life-threatening."
He added: "Bevelyn got stabbed as well as two Proud Boys and the guy they were attacking. I got slashed, but it's not serious."
It was not clear what caused the altercation with the group.
Follow live: US election 2020 results, update and analysis
The stabbing happened in the 1400 block of New York Avenue, two blocks from the White House, around 2.25am, police said.
Peter Newsham, chief of DC police, said in a news conference on Wednesday morning that initial reports suggesting the three assailants were supporters of Black Lives Matter were now not believed to be true,
"After more extensive investigation with the victims of the crime, we don't know who (the suspects) are affiliated with," said Mr Newsham.
He said the violence had surprised him as he did not believe tensions were high on election night. Three arrests were made during a mostly peaceful night of protest around the White House and Black Lives Matter Plaza.
Officers are currently looking for the three stabbing suspects.
Police said one suspect is described as a black woman wearing black sweatpants with a white stripe, orange leggings and a dark gray coat, armed with a knife.
The events leading up to the stabbing remain unclear, with Mr Newsham saying they did not know the motive.
Mr Tarrio, the Florida-born state director of Latinos For Trump, ran for state congress this year but withdrew before the Republican primary.
His controversial ideology has led to Twitter shutting down his accounts.
On Monday he led a protest agains "fake news" outside CNN's offices.
Register for free to continue reading
Registration is a free and easy way to support our truly independent journalism
By registering, you will also enjoy limited access to Premium articles, exclusive newsletters, commenting, and virtual events with our leading journalists
Already have an account? sign in
Join our new commenting forum
Join thought-provoking conversations, follow other Independent readers and see their replies