Trump calls it 'fitting' that Amy Coney Barrett will take Supreme Court seat of liberal icon Ginsberg
People on social media questioned Trump's comparison of Barrett with the late Ruth Bader Ginsberg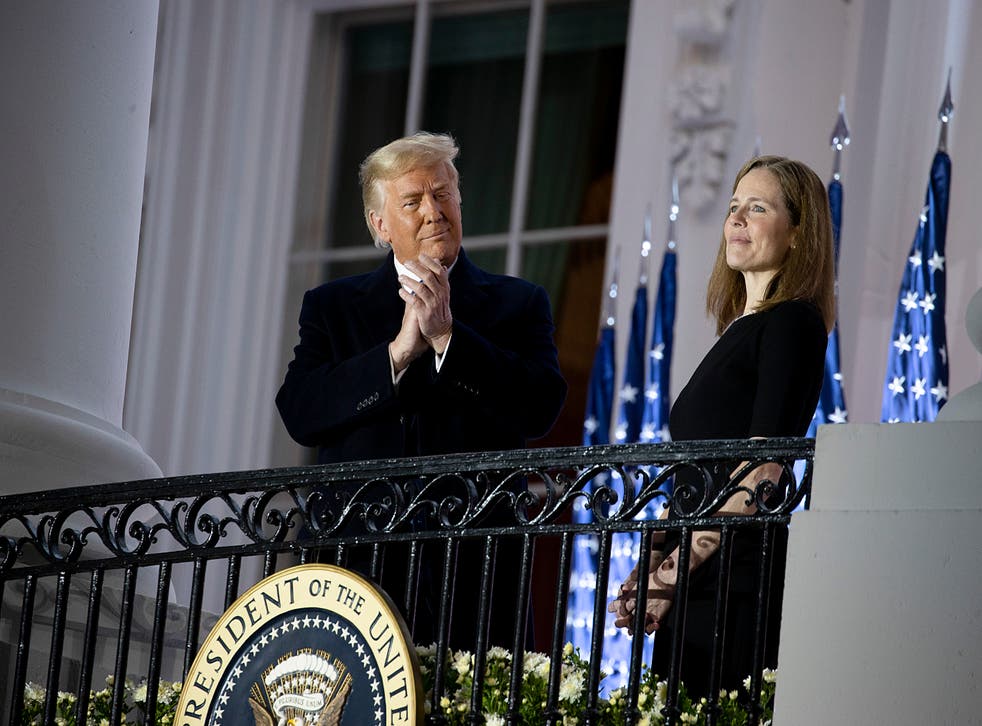 Hailing Amy Coney Barrett's confirmation to the Supreme Court on Monday, Donald Trump called it "highly fitting" that the social conservative would be taking the seat of the late Ruth Bader Ginsberg – a comparison that did not go down well with many Americans on social media.
Speaking alongside the new Justice Barrett at a White House swearing-in event, the president told reporters: "The Barrett family has captured America's heart."
He added: "It is highly fitting that Justice Barrett fills the seat of a true pioneer for women, Justice Ruth Bader Ginsburg."
Barrett, a 48-year-old religious conservative, was confirmed by 52 votes to 48 in the US Senate to replace the late liberal rights icon and women's rights advocate Ginsburg, who died on 18 September at the age of 87.
Many reacted to Mr Trump's statement on Twitter, struggling to see a comparison between two justices who belong to such different ideological schools.
The process to nominate and confirm Justice Barrett has proved highly contentious, with the final vote coming just over a week before the presidential election.
Justice Barrett becomes the third Trump nominee to reach the apex court, cementing a six-to-three conservative majority in a court that is set to hear several high profile cases in the coming weeks.
"I am grateful for the confidence you have expressed in me, and I pledge to you and to the American people that I will discharge my duties to the very best of my ability," Justice Barrett said after she was sworn in.
Register for free to continue reading
Registration is a free and easy way to support our truly independent journalism
By registering, you will also enjoy limited access to Premium articles, exclusive newsletters, commenting, and virtual events with our leading journalists
Already have an account? sign in
Register for free to continue reading
Registration is a free and easy way to support our truly independent journalism
By registering, you will also enjoy limited access to Premium articles, exclusive newsletters, commenting, and virtual events with our leading journalists
Already have an account? sign in
Join our new commenting forum
Join thought-provoking conversations, follow other Independent readers and see their replies