Trump calls Georgia governor to pressure him to help overturn election results, reports say
The call is just the latest in a series of brazen attempts to overturn the election result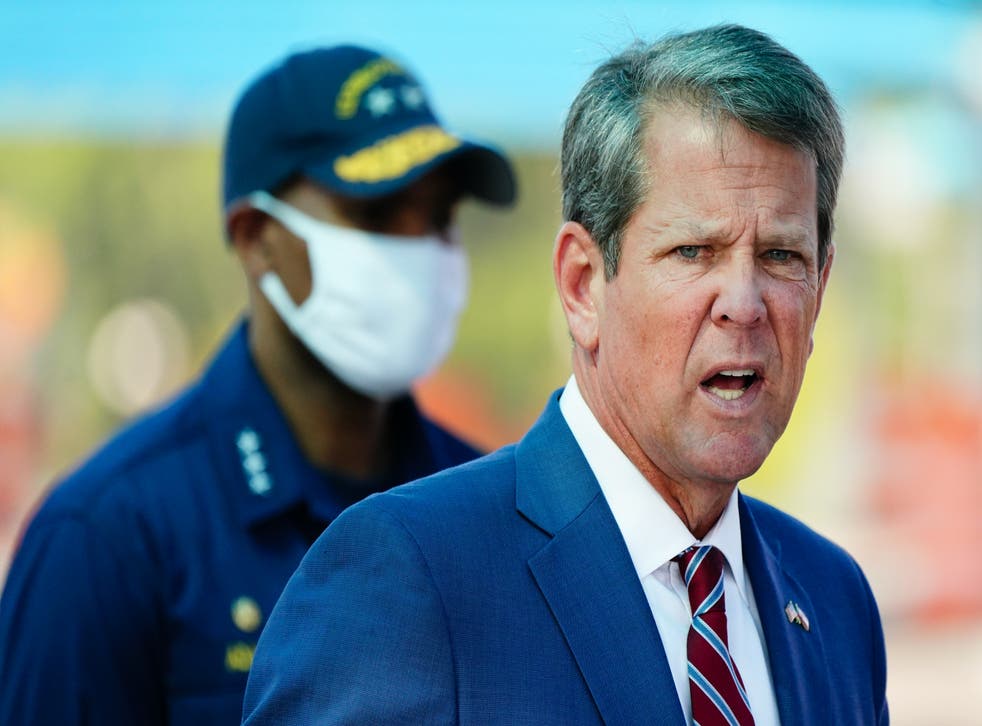 Donald Trump called the governor of Georgia on Saturday to pressure him to help overturn the results of the election, according to multiple reports.
Brian Kemp, a Republican elected with Mr Trump's support in 2018, has enraged the president by refusing to get involved in his attempts to annul the 3 November vote.
On Saturday afternoon Mr Trump travelled to Georgia to campaign for two Republican senators facing a 5 January run-off, which will determine the control of Senate.
Before he left the White House he rang Mr Kemp and asked the governor to order an audit of absentee ballot signatures, the Washington Post and Atlanta Journal-Constitution reported.
Mr Kemp has previously said he has no power to do what the president asked, and reportedly turned him down again.
The governor later referenced his conversation with Mr Trump in a midday tweet, noting that he told the president that he had already publicly advocated for a signature audit.
Cody Hall, Mr Kemp's spokesman, confirmed the two men spoke.
Mr Trump campaign spokesman Tim Murtaugh declined to comment on their conversation.
The governor's office said he would not attend the campaign event as he mourns the death of Harrison Deal, an aide to Kelly Loeffler - one of the two up for re-election - who the governor said was the "Kemp son and brother we never had."
Deal, 20, died in a traffic accident in Savannah on Friday.
Mr Kemp's appearance at the rally for Ms Loeffler and Senator David Perdue was in doubt before the tragedy.
Mr Kemp has come under increasing attack from Mr Trump, who has said he was "ashamed" to have endorsed him in 2018 and criticized him for refusing to obstruct the certification of Georgia's election results.
The call came as the president's attempts to overthrow the election received yet more set backs.
On Friday, the president and his allies suffered legal defeats in six states.
On Saturday Mr Trump questioned Mr Kemp's loyalty to the party.
"I will easily & quickly win Georgia if Governor @BrianKempGA or the Secretary of State permit a simple signature verification. Has not been done and will show large scale discrepancies," he said.
"Why are these two "Republicans" saying no? If we win Georgia, everything else falls in place!"
In response, Mr Kemp tweeted: "As I told the President this morning, I've publicly called for a signature audit three times (11/20, 11/24, 12/3) to restore confidence in our election process and to ensure that only legal votes are counted in Georgia."
Mr Kemp has requested that Secretary of State Brad Raffensperger conduct an audit, but his office has also made clear that the governor has no power to order such a move.
"Georgia law prohibits the governor from interfering in elections. The Secretary of State, who is an elected constitutional officer, has oversight over elections that cannot be overridden by executive order," said Mr Kemp's spokesman several days ago.
Mr Kemp has also said that he will not call for a special session of the legislature.
Lawyers for Mr Raffensperger have determined that current law gives Georgia legislators no role in seating electors.
Register for free to continue reading
Registration is a free and easy way to support our truly independent journalism
By registering, you will also enjoy limited access to Premium articles, exclusive newsletters, commenting, and virtual events with our leading journalists
Already have an account? sign in
Register for free to continue reading
Registration is a free and easy way to support our truly independent journalism
By registering, you will also enjoy limited access to Premium articles, exclusive newsletters, commenting, and virtual events with our leading journalists
Already have an account? sign in
Join our new commenting forum
Join thought-provoking conversations, follow other Independent readers and see their replies