Deutsche Bank, Trump's biggest lender, considers dropping him after election
Mr Trump and Deutsche Bank have done business together since the 1990s, but it hasn't been without its ups and downs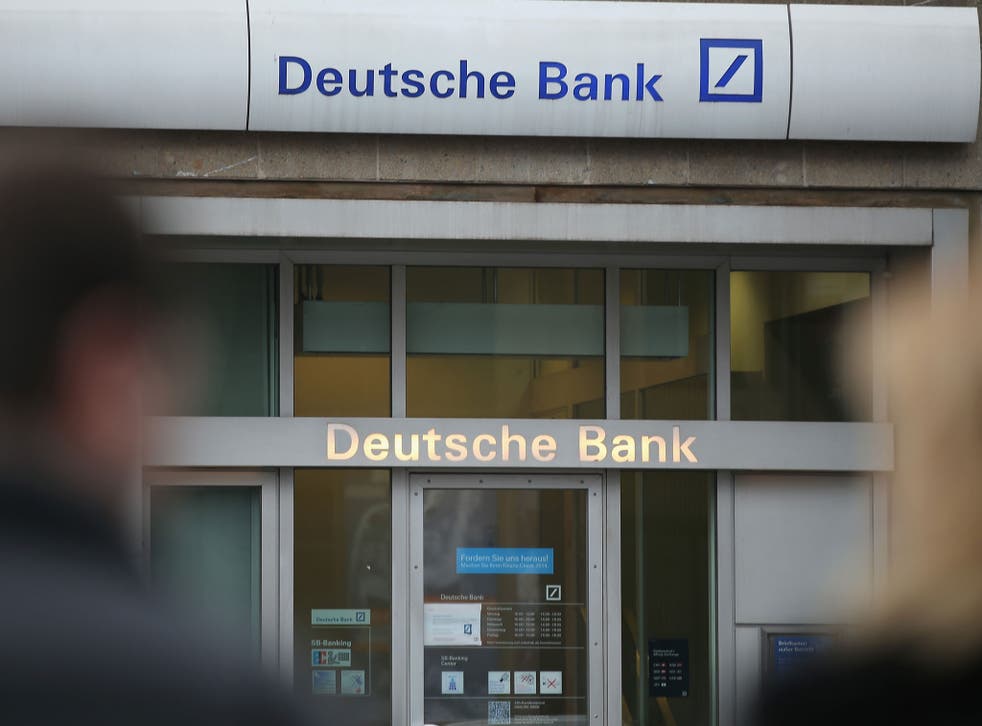 Deutsche Bank, Donald Trump's biggest creditor, is considering severing its relationship with the president after the election, Reuters reports, as senior executives tire of the negative publicity and heightened scrutiny associated with doing business with him.
The Trump Organization, the umbrella corporation that manages the president's vast international business portfolio, has $340 million in loans from Deutsche Bank for golf courses and hotels in Miami, Washington and Chicago, personally guaranteed by the president, which come due in 2023 and 2024.
The bank has lent Mr Trump more than $2 billion over the years in a relationship dating back to the 1990s. At the time, most other mainstream financial institutions wouldn't do business with the New York real estate developer, and the German bank was seeking to expand its profile on Wall Street.
Since then, the two have experienced an up-and-down relationship. In 2008, after Mr Trump defaulted on a loan for a Chicago hotel and condo project, he filed a multi-billion dollar suit against Deutsche, accusing it of helping cause the world financial crisis and harming the development. Deutsche has also sued Mr Trump, once claiming he owed $40 million dollars he promised to pay in 2005. (The suit was settled in 2010.)
Still, the two have stuck by each thus far, with Deutsche helping manage the president's vast personal wealth, as well as introducing him to wealthy overseas investors and providing boutique financial instruments that allow him to discreetly make real estate investments.
Their relationship became even more complicated once Mr Trump was elected president. In April of 2019, Congressional committees on finance and intelligence, both controlled by the Democrats, subpoenaed the bank for the president's financial records, seeking to investigate money laundering and the potential that the president's sprawling business empire leaves him vulnerable to undue influence from foreign governments or individuals. A lawsuit over the subpoenas went all the way to the Supreme Court in July, and the verdict asked the congressional committees to provide further explanation to a lower court before they could obtain the requested financial records. They are unlikely to emerge before the election is decided.  
Bank officials told Reuters they had set up a working group in 2016 to evaluate their relationship with Mr Trump, and that decoupling would be easier if he lost the election. So far, the Trump Organization has only been paying the interest on the loans, rather than the principle. If Mr Trump defaults, they could seize his assets, a politically radioactive situation if he remains the president.
One strategy they've explored to jettison the president as a client would be selling his loans on the secondary market, but it is reportedly unclear any buyers want them.
The president has told advisers in recent weeks he fears that if loses the election, he could be more vulnerable to investigations from federal and state authorities into his finances, such as an ongoing fraud probe from the New York Attorney General.  
Register for free to continue reading
Registration is a free and easy way to support our truly independent journalism
By registering, you will also enjoy limited access to Premium articles, exclusive newsletters, commenting, and virtual events with our leading journalists
Already have an account? sign in
Register for free to continue reading
Registration is a free and easy way to support our truly independent journalism
By registering, you will also enjoy limited access to Premium articles, exclusive newsletters, commenting, and virtual events with our leading journalists
Already have an account? sign in
Join our new commenting forum
Join thought-provoking conversations, follow other Independent readers and see their replies