Trump preparing to give up election results legal fight next month, report says
Sources say president quietly accepts lawsuits are destined to fail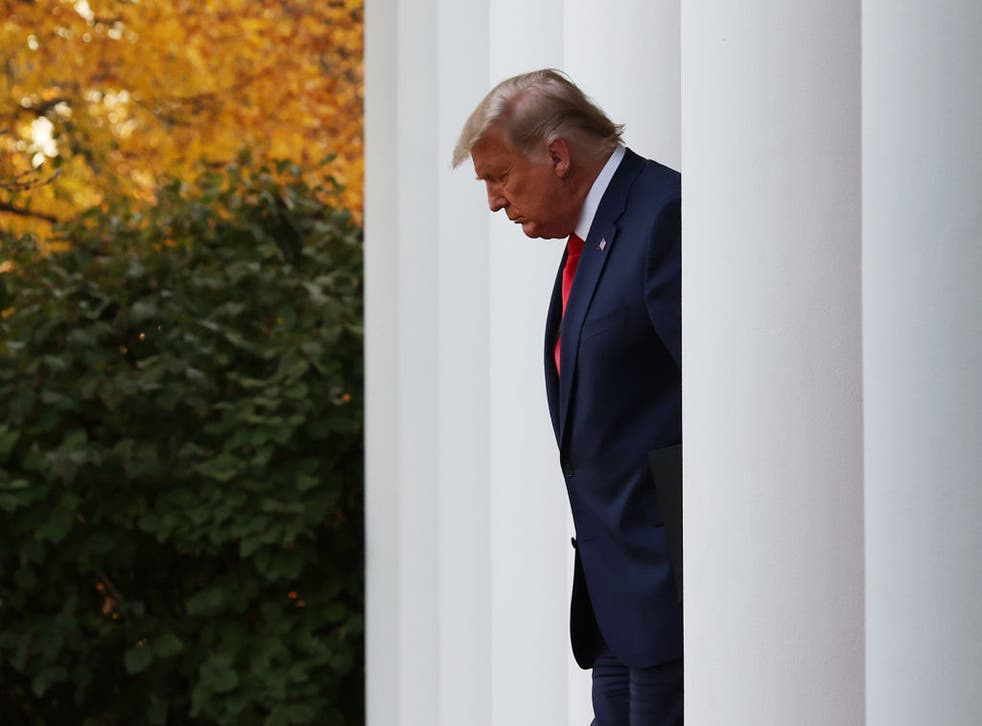 Team Trump is reportedly planning to pull the plug on its election result lawsuits when the electoral college meets in December.
Sources say the outgoing president quietly accepts that legal challenges in key battleground states are destined to fail.
Mr Trump's top team are also said to be encouraging him to admit defeat and plan for life outside the White House complex next year.
It comes just a day after Joe Biden, president-elect, named nine key staff appointments tasked with delivering the incoming administration's agenda.
Electoral college officials are scheduled to meet on 14 December to confirm Mr Biden's win, a date Trump insiders believe signals the end for the president.
"The legal challenges are continuing, but those close to the president, and frankly the president, understand they're futile," a senior administration official told NBC on Thursday.
The Independent has contacted the White House for comment.
Mr Trump has so far lost the election by almost 6 million ballots and 74 electoral college votes, according to the latest forecasts.
Despite that, Republican Party operatives - led by Rudy Giuliani, the president's personal lawyer - are pressing ahead with legal challenges in several key states aimed at frustrating the certification of results.
Lawsuits have been launched in Arizona, Georgia, Michigan, Nevada, Pennsylvania and Wisconsin.
But Team Trump has so far failed to produce any evidence of ballot irregularities in an election cybersecurity chiefs described as the "most secure in American history".
The outgoing commander-in-chief has continued his attempts to undermine the legitimacy of the November poll and the incoming administration.
He continues to insist that he won the election and has today called a press conference, claiming his lawyers have found "a very clear path to victory".
"Pieces are very nicely falling into place," Mr Trump said in an early morning tweet announcing the so-called news.
Meanwhile, Mr Biden continues planning for office and has rewarded loyal members of staff with top White House roles.
Mr Biden's campaign manager, Jen O'Malley, has been installed as deputy chief of staff while Ron Klain, Barack Obama's former Ebola tsar, takes up the chief of staff role.
Other appointments included campaign chairman Steve Ricchetti, who will act as a counsellor to the incoming president. Co-campaign chairman Cedric Richmond was named as a senior adviser.
In recent days, Mr Biden has pleaded with the outgoing administration to work with him in attempting to bring a resurgent coronavirus under control amid reports that Mr Trump has not attended a coronavirus task force meeting in months.
On Wednesday, Mr Biden held a virtual meeting with health care workers on the frontline to thank them for their efforts in tackling the pandemic.
Register for free to continue reading
Registration is a free and easy way to support our truly independent journalism
By registering, you will also enjoy limited access to Premium articles, exclusive newsletters, commenting, and virtual events with our leading journalists
Already have an account? sign in
Register for free to continue reading
Registration is a free and easy way to support our truly independent journalism
By registering, you will also enjoy limited access to Premium articles, exclusive newsletters, commenting, and virtual events with our leading journalists
Already have an account? sign in
Join our new commenting forum
Join thought-provoking conversations, follow other Independent readers and see their replies