2020 election: Is 'macho man' Trump too tough to beat? Inside the battle for the Latino vote
Major gender gap between Latino men and women in support for president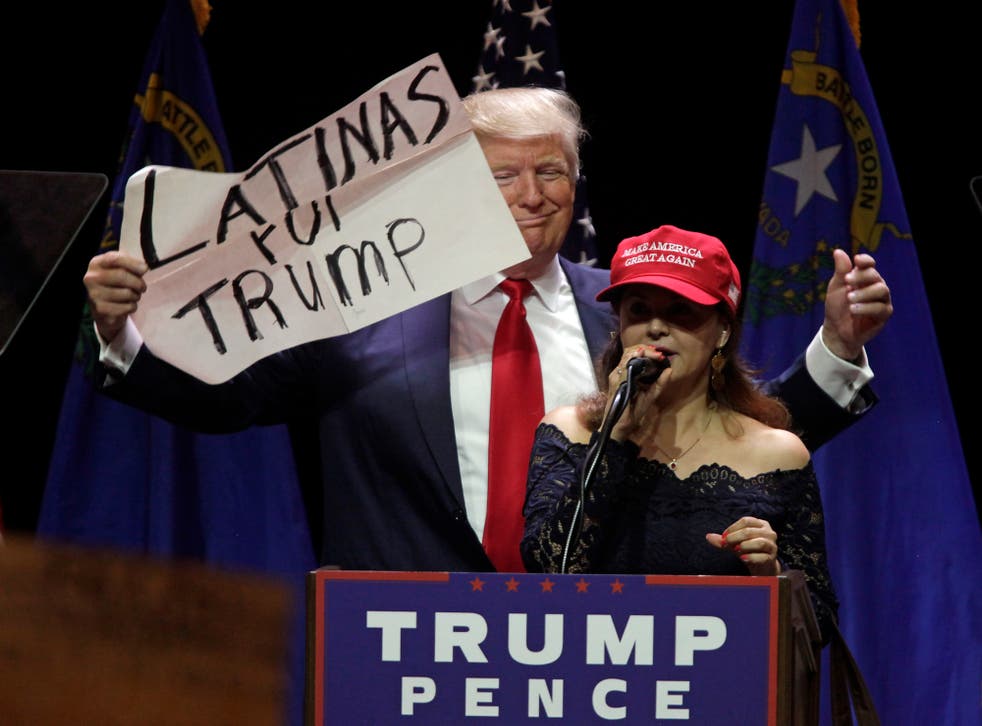 Leer en Español
Mike Guzman is adamant he will be voting for Donald Trump.
Sipping a tiny cup of coffee outside the celebrated Versailles cafe in the Miami suburbs, he claims most Cuban Americans would be doing the same.
"It's about family, the economy, freedom of expression," says 53-year-old Mr Guzman, who came to the US from Cuba when he was four.
Ten miles away, David Florez and his wife Tatiana are similarly strident as they enter an election centre located on a college campus, to cast their votes for Joe Biden and Kamala Harris. The pandemic had underscored how badly Trump had governed, says Mr Florez, a Colombian American. The couple – his wife's family comes from Nicaragua – say thought they had "PSTD" from the the president's actions.
Every four years, a battle ensues for the support and votes of the US's diverse, complex and increasingly important Latino, or Latinx, communities. Yet perhaps their vote has never been more crucial than in 2020, especially for the president, trailing in national polls by as many as 10 points to his Democrat rival.
Figures suggest while Trump received around 29 per cent of the Latino vote in 2016, this year that number could increase. One of the reasons, say experts, is that the loud, swaggering president has grown in popularity among a subset of Latino voters; young men.
In Florida, data collected by the Pew Research Centre shows Latinos make up a record percentage of the voting population in 2020, 2.5 million or up to 17 per cent – up from around 2 million, or 16 per cent, in 2016. Overall, it has the third largest Latino electorate after California and Texas. Latino voters would be crucial to Mr Trump winning there.
Joaquin Castro on Democrats needing to stop Trump securing Latino support
Manuel Pastor, a political scientist, says polls reveal a stark gender gap among Latinos in respect to Trump, who has the support of 35 per cent of Latino men and just 23 per cent of Latinas. (In battleground states, support among Latino men for Trump may be as high 39 per cent, according to The New York Times.)
"In general more men have been attracted by Trump's forceful, macho personality, says Mr Pastor. Asked if such an analysis was simply promulgating a false stereotype, he says Trump's entire image, and even the song he enters election rallies – "Macho Man" – had found appeal among Latin men.
For many years, America's diverse Latino community was often treated as one solid lump by the media. Yet there is huge diversity, not simply based on an individual's ancestry, but where in the nation they lived. Mexican Americans in Texas were likely to be more conservative than Mexican Americans in California, he says.
Paul Gonzales, 60, from the Phoenix suburbs, told the Associated Press he had misled his wife about voting for Trump in 2016. Yet this year he was voting for him again, the decision made by Trump's alignment with Christian values and his economic record prior to the pandemic.
"He's made it possible for a lot of minorities to … in some cases even better themselves," Mr Gonzales says. He said he did not discuss politics with his wife and daughter. "We don't even talk about politics because it just leads to arguments."
Mr Trump told a recent Arizona rally: "Over the last four years I've been delivering for Hispanic Americans like never before."
Eduardo Gamarra, a professor of politics and international relations at Florida International University in Miami, says there were 60 million Latinos in the US, of whom 32 million are eligible to vote and 29 million are registered to vote.
In Florida, which has a population of around 20 million, there were 1.3 million Cuban Americans of whom 930,000 were eligible to vote. While traditional supporters of the Republican Party, more had been voting Democrat until 2016, when the GOP vote share shot up.
"Trump galvanised them," he says.
The second largest population was 1.3 million Puerto Ricans, of whom 860,000 are registered to vote in Florida and tend to support Democratic candidates. The third largest group was Mexican American, followed by Colombian Americans.
Both Mr Pastor and Mr Gamarra say that while Bernie Sanders had worked hard in 2020 to develop his support among Latinos, after doing badly in this demographic in 2016, Mr Biden had been slow to do so. The pandemic had not helped; experts say Latinos, who tend to vote less consistently than African Americans or white voters, respond better to personal contact from a campaign, rather than text messages or emails.
"Biden needs to get 70 per cent of the Latino vote here to win Florida. Right now, his support is at 60 per cent," says Mr Gamarra.
Asked how concerned he would be if he were Joe Biden, he says: "My concern is that they they have left it too late. There has been some stuff recently, it's too late. Republicans never stop campaigning."
Given how previous elections have shown how close the vote in Florida can be – in 2000 George W Bush bettered Al Gore by fewer than 600 votes in the state, and in doing so bagged the White House, despite losing the popular vote by 500,000.
Mr Pastor says it is still possible for Biden's campaign to win over some more votes to his side. Crucial was the need to stress he is a family man. "There was some controversy about a picture of Mr Biden kissing his son. But that is not weird to Latinos. That shows family loyalty."
Secondly, he says, Mr Biden should also acknowledge that the pandemic has had a disproportionate impact on certain communities, among them Latino. Thirdly, he needs to find a path for citizenship for up to 11 million undocumented migrants: "He needs to have a strategy."
Trump points to 'Hispanic population' support and talks debate strategy
Some activists have long urged Democrats to more seriously develop outreach to Latino voters. In February, during the Nevada primary, which Bernie Sanders won with the help of large numbers of Latino voters, there was a call to get ready for the general election.
"Democrats need to do much better reaching out to Latino voters," Kristian Ramos, a political strategist and former spokesperson for the Congressional Hispanic Caucus, told The Independent.
"There are 60 million Latinos in the US and they are spread all over the country. Some are newly arrived and some have been here for a long time. They have different interests, and they are interested in issues such as the economy, and education."
Register for free to continue reading
Registration is a free and easy way to support our truly independent journalism
By registering, you will also enjoy limited access to Premium articles, exclusive newsletters, commenting, and virtual events with our leading journalists
Already have an account? sign in
Register for free to continue reading
Registration is a free and easy way to support our truly independent journalism
By registering, you will also enjoy limited access to Premium articles, exclusive newsletters, commenting, and virtual events with our leading journalists
Already have an account? sign in
Join our new commenting forum
Join thought-provoking conversations, follow other Independent readers and see their replies