Trump and Biden town halls: What time are they and how can you watch them?
Second debate cancelled after president refused to attend virtual town hall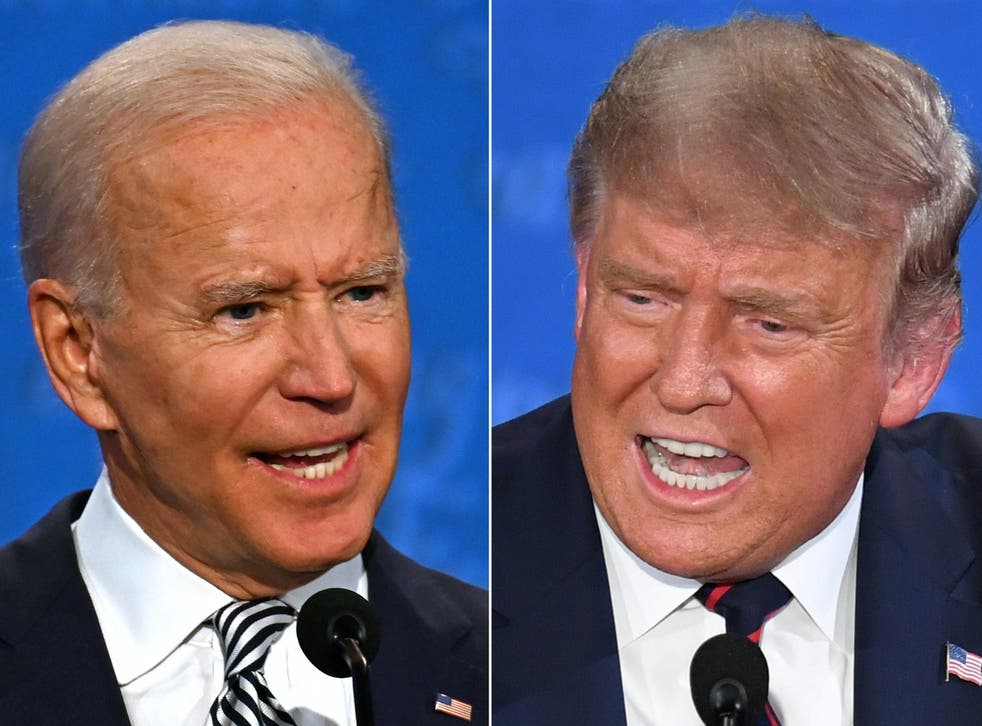 Leer en Español
President Donald Trump and Democratic nominee Joe Biden will face off in rival live televised events in lieu of the second presidential debate.
The candidates will appear on separate networks at the same time on Thursday in appearances that will adopt the traditional town hall format.
Mr Biden will appear on ABC News on Thursday in Philadelphia, an event that will start at 8pm and run for 90 minutes, the network announced.
The president will appear on NBC News at the same time on Thursday night outdoors at the Perez Art Museum in Miami.
The clash comes after the Commission on Presidential Debates cancelled plans for the second event on 15 October following Donald Trump's refusal to join a virtual event.
The originally scheduled town hall event, in which candidates answer questions from voters, was changed to a virtual meeting following Mr Trump's coronavirus diagnosis.
The president announced he had tested positive for the novel coronavirus on 2 October and subsequently spent three days at the Walter Reed military hospital.
He resumed public appearances over the weekend and resumed campaign travel on Monday. His doctors have insisted that the president would be able to take part in the debate in person.
The president's physician, Dr Sean Conley, said the 74-year-old had met Centres for Disease Control and Prevention (CDC) safety standards for leaving isolation and was no longer considered a transmission risk.
NBC News agreed to the event after the president submitted to an independent coronavirus test with the results reviewed by Dr Anthony Fauci and stipulated the president would be at least 12 feet (3.66 meters) from the moderator and the audience.
NBC had hoped to stagger the television events so that viewers would not have to choose between them, according to The Washington Post.
However, it has now been confirmed that both events will run in the same prime time slot and will be vying for viewers attention.
NBC's town hall will be moderated by TODAY anchor Savannah Guthrie while lead anchor George Stephanopoulos will moderate ABC's offering.
Additional reporting by the Associated Press
Join our new commenting forum
Join thought-provoking conversations, follow other Independent readers and see their replies