Why Trump's false declaration of election victory is a dangerous move in a tinderbox country
The situation in the US is far more combustible than in 2000 when there was similar confusion over the presidential election outcome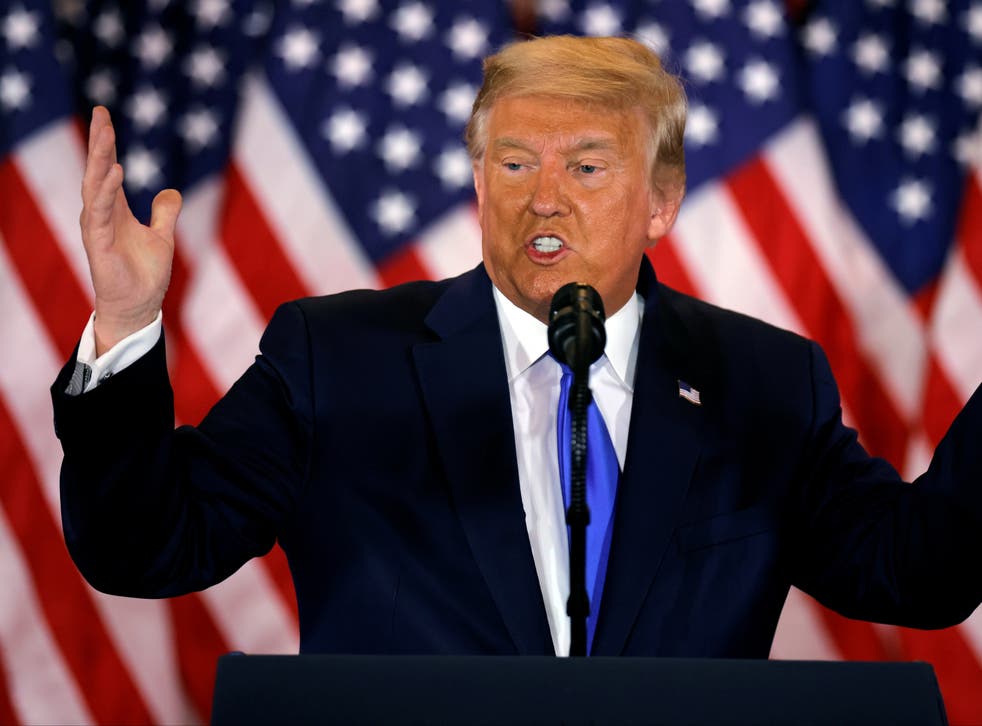 Leer en Español
America is emerging from one of the most important elections in its recent history under the shadow of long and bitter internecine strife in a deeply divided and anxious nation.
Donald Trump's declaration of victory with crucial results still to come in, false accusation of fraud, and the threat to go to the Supreme Court to stop vote counting, pointed the way towards prolonged legal battles and confrontations on the streets.  
The president had won in a series of important battlegrounds by the early morning including Florida, Ohio and Iowa ending the prospect of a Democrat landslide. But Joe Biden's probable victory in Arizona and the expectation of success in a number of key northern swing states left the result hanging in the balance.
Soon after Biden spoke, Trump had tweeted that he was "up big" and that "they are trying to STEAL the election". Twitter marked the claims as "disputed and might be misleading".
Then shortly after midnight the president declared in the White House that he had won the election and that he would go to the Supreme Court to get vote counting stopped. He demanded that votes must be counted to the full in places like Arizona, where he was behind, and called for count to be stopped where he was ahead.
"We did win this election," said Trump. "So our goal now is to ensure the integrity for the good of this nation. This is a very big moment. This is a major fraud on our nation. We want the law to be used in a proper manner. So we'll be going to the US Supreme Court. We want all voting to stop," said Trump, listing as victories in a number of states in which he had won the vote and some, like Georgia and Pennsylvania, where he was yet to do so.
Biden's campaign manager, Jennifer O'Malley Dillon, called the president's remarks "outrageous, unprecedented and incorrect" accusing him of "a naked effort to take away the democratic rights of American citizens".
She added: "Nearly a 100 million people cast their ballot before election day in the belief – with the assurance of state officials – that their votes would be counted, now Donald Trump is trying to invalidate the ballot of every voter who relied on these assurances."
Biden urged patience, pointing out that counting had taken days in previous elections and may take even longer this time because of the increase in mail due to the pandemic. "It's not my place or Donald Trump's place to declare who has won this election, that's the decision of the American people," he said.
The scenario of Trump announcing victory and then seeking to stop postal vote tallies had long been seen as a possibility. The Biden campaign stressed that they had a legal team on 24 hours standby to counter any move the Trump team may make in the Supreme Court and elsewhere.
Republican campaigners are expected to renew attempts to get the Supreme Court to stay a decision by Pennsylvania High Court to allow election workers to count all vote postmarked on 3 November or earlier for three days after the election. They have also started legal proceedings to stop Pennsylvania counties to let voters correct mistakes made on ballot papers, or cast replacement ballots. The Republicans have also complained that they were not getting enough access to the voting process to enable them to challenge the Democrat votes.
There will, almost certainly, be other legal challenges and the scenario which has often been reprised is that of what happened in 2000. The result of the election then between Al Gore and George W Bush was held up for 36 days over disputed votes in Florida – "hanging chads" — where Bush's brother, Jeb Bush, was governor. Florida Supreme Court ultimately decided in Bush's favour by a margin of 537 votes, giving him a majority in the electoral college and the presidential election.
But the election two decades ago did not take place against the combustible backdrop of this one. The polling has come after months of angry Black Lives Matter protests and clashes between armed groups of right-wing Trump supporters and their opponents which have led to deaths.
There is widespread expectation of trouble ahead. The president has deliberately linked the outcome of the legal actions to the threat of conflict. The day before the election, after a court decision to allow the counting of Pennsylvania votes or up to three days after the polls, Trump tweeted that was "VERY dangerous", adding "it will allow rampant and unchecked cheating and will undermine our entire systems of law. It will also induce violence in the streets".
Join our new commenting forum
Join thought-provoking conversations, follow other Independent readers and see their replies