Sean Hannity mocked with photo of Trump kissing Ivanka after calling Biden 'creepy' for kissing granddaughter
77-year-old presidential candidate kissed granddaughter during campaign event in Iowa on Sunday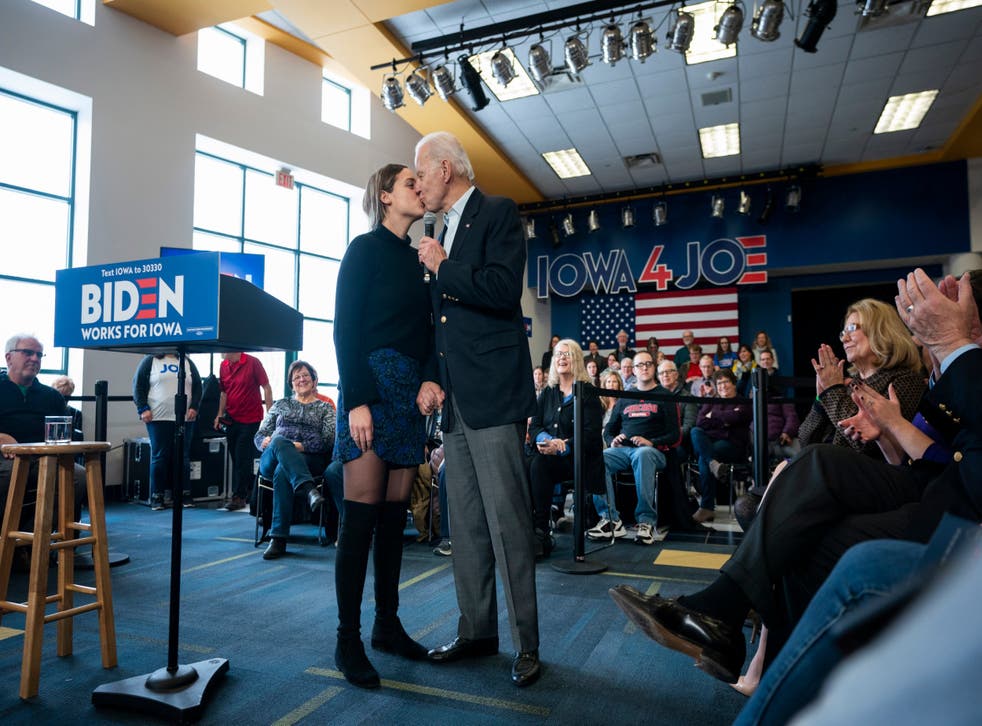 Supporters are coming to the defence of Joe Biden after Sean Hannity attempted to criticise the Democratic presidential candidate for kissing his granddaughter on the lips.
On Monday, the Fox News host tweeted a link to an article about Mr Biden kissing his 19-year-old granddaughter Finnegan during an event in Iowa with the headline: "Biden awkwardly kisses granddaughter at campaign stop."
Hannity also included the hashtag #QuidProJoe, before following up with another tweet in which he asked his followers to take a poll about whether the display of affection was "Creepy or not creepy?"
While the tweet prompted some to side with Hannity, others took the opportunity to point out that Donald Trump also kisses his relatives on the lips, including his adult daughters.
In response to Hannity's tweet, one person shared a photo of the president leaning in to kiss daughter Ivanka on the lips during an appearance in Manchester, New Hampshire.
Another tweeted: "Do you mean creepy like this?" alongside a photo of a teenage Ivanka sitting on her father's lap and kissing his cheek.
Someone else used Hannity's question to reference Mr Trump's past comments about his daughter, writing: "As creepy as Donald Trump saying he'd date his own daughter."
During an appearance on The View in 2006, Mr Trump was asked how he would feel if Ivanka decided to model for Playboy. He responded: "It would be really disappointing – not really – but it would depend on what's inside the magazine.
"I don't think Ivanka would do that, although she does have a very nice figure. I've said if Ivanka weren't my daughter, perhaps I'd be dating her. Isn't that terrible? How terrible? Is that terrible?"
The former vice-president isn't the only notable figure to face criticism for kissing a younger family member on the lips.
Previously, Hilary Duff, Tom Brady and David Beckham have all sparked conversations about the appropriateness of the display of affection.
Even among experts, there is no correct answer about whether kissing on the lips is acceptable behaviour or not.
While child and educational psychologist Dr Charlotte Reznick first raised the question in 2010, when she asked: "If you start kissing your kids on the lips, when do you stop?" others in the field have disagreed.
The Democrat challengers to Trump in 2020

Show all 25
In 2015, Dr Fiona Martin from the Sydney Child Psychology Centre said that anything that promotes "emotional connectivity," such as a kiss, is a good thing.
Join our new commenting forum
Join thought-provoking conversations, follow other Independent readers and see their replies