California Republicans allegedly tricking voters with fake ballot drop boxes
The unauthorised and illegal boxes have been spotted in at least three state counties, including Los Angeles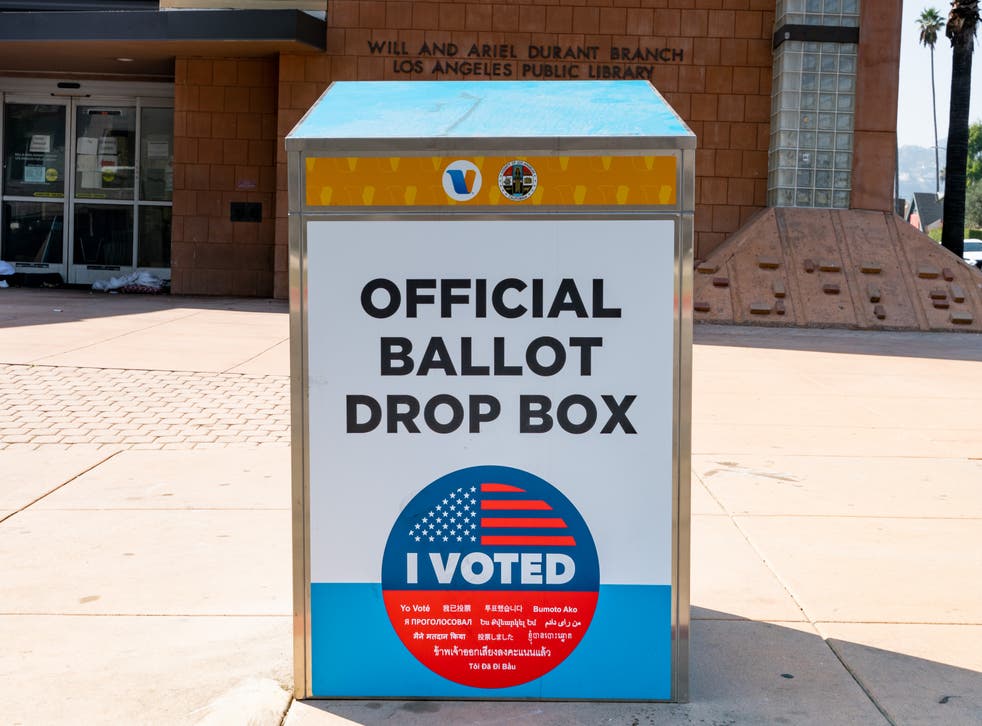 With just three weeks to go until the US election, the California Republican Party is facing questions over unauthorised ballot drop boxes that have been distributed across the state.
According to the Orange County Register, election officials have received reports about legitimate-looking metal boxes purporting to be "official" ballot drop-off vestibules. These boxes, however, are not county-authorised and could be illegal, according to California Secretary of State Alex Padilla.
Mr Padilla, a Democrat, said in a statement, "Operating unofficial ballot drop boxes — especially those misrepresented as official drop boxes — is not just misleading to voters, it's a violation of state law."
He continued, "My office is coordinating with local officials to address the multiple reports of unauthorised ballot drop boxes. Californians should only use official ballot drop boxes that have been deployed and secured by their county elections office."
Mr Padilla's office said ballot drop boxes were solely under the jurisdiction of county election officials, and added that a felony conviction for erecting and operating unauthorised boxes could carry a sentence of two to four years.
The fake boxes have reportedly been distributed in at least three different counties — Los Angeles, Orange, and Fresno — and have been spotted at political party offices, churches, and headquarters for Republican candidates.
One potentially unauthorized box was seen in a tweet posted by Jordan Tygh, a regional field director for the California Republican Party. In the now-deleted post, Mr Tygh posed next to a large box and encouraged people to message him for "convenient locations" to drop off their ballots.
On Sunday, CBS Los Angeles reported on a metal box with a taped sign reading "Official Ballot Drop Box" outside Freedom Way's Baptist Church in LA County. Church officials said they did not have access to the ballots, adding that local Republican officials were responsible for collecting them.
In Orange County, Registrar of Voters Neal Kelly said it was not clear how many voters had used the unofficial drop boxes, but after receiving reports about them, he promptly notified the state and district attorney's office.
"What we did was started to look into it, notified the state, and the Secretary of State issued guidance this afternoon that it is illegal and you can't do that," Mr Kelley told the Orange County Register. "It would be like me installing a mailbox out on the corner — the post office is the one that installs mailboxes."
The Register also discovered a list of "secure" ballot boxes, none of which are actually official county drop box locations, posted by the Fresno County Republican Party. The web page has since been deleted.
The California Republican Party defended itself on Twitter by alleging that the drop boxes are permitted under a 2016 law allowing California voters to designate someone to return their ballot on their behalf.
"If a congregation/business or other group provides the option to its parishioners/associates/or colleagues to drop off their ballot in a safe location, with people they trust, rather than handing it over to a stranger who knocks on their door - what is wrong with that?" the party tweeted in response to someone who claimed the boxes were bogus and "untrustworthy."
State officials, however, have denied that the drop-off boxes are legal, as there is no designated person in place to sign for the ballots.
Mr Padilla offered sound advice to California voters, reminding them that there are multiple secure options for returning ballots.
"Ballots can be returned by mail, to any in-person voting location, or to an official secure drop box," Mr Padilla told the Register. "Never hand your ballot over to someone you don't trust. Official county drop boxes are built with specific security protections, and ballots are retrieved only by designated county personnel."
Join our new commenting forum
Join thought-provoking conversations, follow other Independent readers and see their replies