Cynthia Nixon shuts down Bernie Sanders supporters booing Hillary Clinton
Actor spoke on eve of New Hampshire primary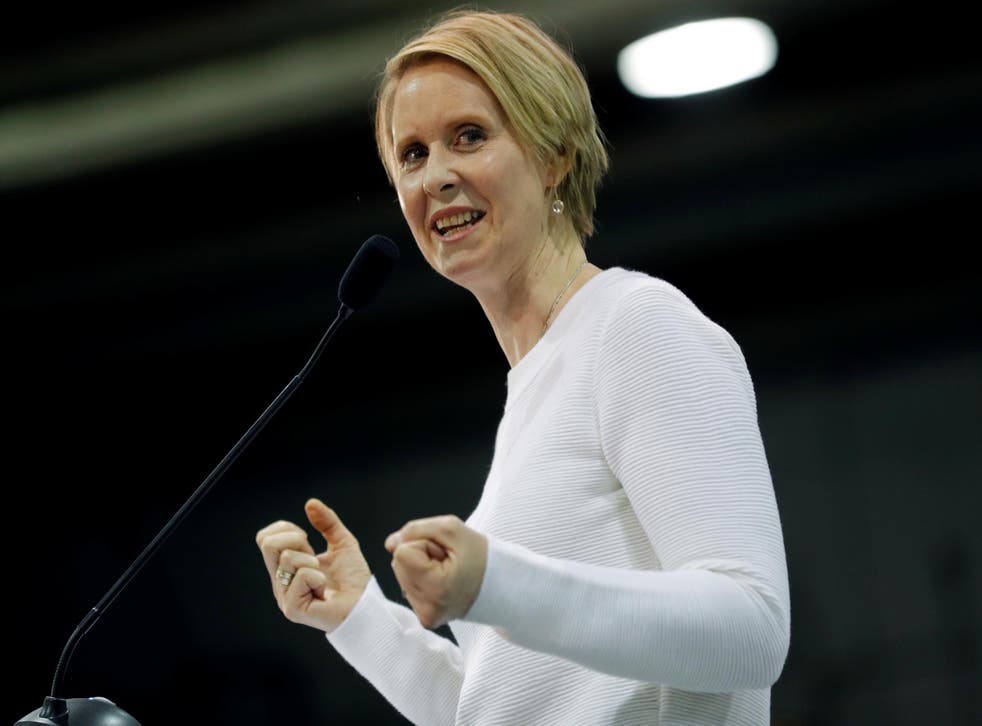 Actor and Democratic campaigner Cynthia Nixon shut down a crowd of Bernie Sanders supporters who began booing at the mention of his former rival Hillary Clinton, telling them: "Oh no, oh no, we're not going to do that here."
Speaking at a Bernie Sanders rally in New Hampshire Monday night, Ms Nixon told the crowd she supported Ms Clinton four years ago, but was now backing Mr Sanders' bid for the Democratic nomination.
Her reaction to the crowd comes in sharp contrast to Sanders-supporting congresswoman Rashida Tlaib, who at a recent campaign event booed Clinton herself and invited the crowd to join in, later facing a backlash over her actions and apologising.​
Ms Nixon was speaking on the eve of the New Hampshire primary, where Mr Sanders is polling in the lead. He defeated Hillary Clinton in the state by more than 22 points in 2016, and is hoping to win the primary again; however, this time he is facing a crowded field of candidates, including the surging Pete Buttigieg and fellow left-winger Elizabeth Warren.
The booing fits a pattern of behaviour among a small number of Mr Sanders's more fervent supporters, sometimes referred to as the "Bernie bros". They are known both for their deep devotion to Mr Sanders and for tearing into anyone who criticises him.
Donald Trump celebrity president: A decade in two halves

Show all 29
In particular, they have a reputation for ferocious behaviour online, where the intensity of their attacks on Mr Sanders critics has seen them compared to the most vitriolic of Trump supporters.
Mr Sanders's huge base of supporters is however a major asset when it comes to organising and fundraising. He raised $34.5m in the last three months of 2019, comfortably outpacing the other candidates even as the average donation to his campaign is a mere $18.
Ms Nixon is an outspoken Democrat who in 2018 ran against New York governor Andrew Cuomo in the Democratic primary. She attacked Mr Cuomo from the left, accusing him of working too closely with Republican state legislators and prioritising the interests of the wealthy.
However, her campaign was widely dismissed as a "vanity project", and she ultimately lost to Cuomo by 31 points.
Join our new commenting forum
Join thought-provoking conversations, follow other Independent readers and see their replies