Bernie Sanders denies telling Elizabeth Warren in 2018 that a woman couldn't be elected President
Democratic debate: Sanders denies saying a woman couldn't beat Trump in clash with Warren
Senators spar as they seek to solidify progressive support, while Joe Biden, Pete Buttigieg and Amy Klobuchar look to attract moderate votes before Iowa caucuses
With just 20 days until Iowa voters come together to formally begin the Democratic Party's 2020 nomination season, the six leading candidates held one final debate to try and make their case to the public.
The prime time event that lasted two hours in Des Moines focused almost entirely on policy over the kinds of scrappy fights beloved by viewers of presidential debates in America, with moderators from CNN and the Des Moines Register asking the politicians for their views on issues ranging from war with Iran to healthcare to trade policy.
But, even for an otherwise sober-minded discussion of policy and vision, the candidates could clearly sense that time is running out to make an impression — and progressives Elizabeth Warren and Bernie Sanders found themselves as the focus of the night's most jarring disagreement, after observing months of cease-fire between themselves.
"I disagreed," Ms Warren said when asked what she told Mr Sanders following his reported comments to her that a woman could not win the presidency in 2020.
The Massachusetts senator was responding to a question that itself portrayed the issue as one rooted in fact, after a he-said she-said spat between the candidates in recent days over whether Mr Sanders had suggested such a thing in a private 2018 meeting between the two.
Minneapolis protesters clash with police outside Trump rally

Show all 12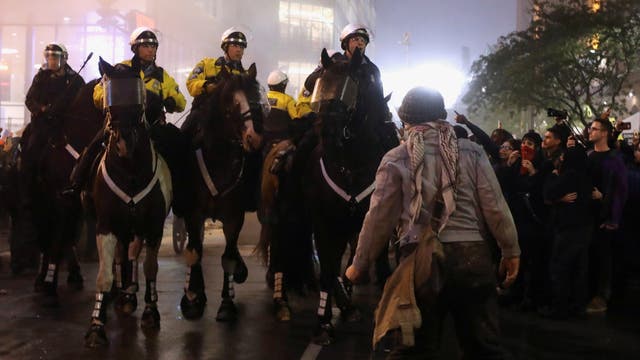 But, Mr Sanders' insistence that he had not said it aside, Ms Warren continued to use the question as a jumping block to tackle the issue head-on anyway, refusing to fight the Vermont senator personally while framing her potential election in historic terms.
"Look at the men on this stage. Collectively, they have lost 10 elections. The only people on this stage who have won every single election that they've been in are the women. Amy and me," Ms Warren said, referring to the other woman on the stage, senator Amy Klobuchar.
She continued: "Look don't deny that the question is there. Back in the 1960s people asked could a Catholic win," she said, referring to former president John F Kennedy. "Back in 2008 people asked if an African American can win. In both times the Democratic Party stepped up and said yes, and got behind their candidate."
Despite the disagreement, the two leading presidential candidates in Iowa maintained their focus on progressive causes, and both attacked the enormous influence of money on politics that they see as a corrupting force in Washington.
The candidates were also asked about the possibility of war, with tensions between the US and Iran at unprecedented highs following Donald Trump's decision to kill an Iranian military general earlier this month.
"What we have to face as a nation is that the two great foreign policy disasters of our lifetimes, [were] the war in Vietnam and the war in Iraq. Both of those wars were based on lies," Mr Sanders, who has attacked Joe Biden frequently for his vote to invade Iraq in 2002, said.
Mr Biden, for his part, put in a debate performance that largely avoided the kinds of gaffes his supporters have come to fear, even as the former vice president was perhaps overshadowed by Ms Warren and Mr Sanders with their focus on progressive policies.
Mr Biden moved on quickly from an apology for his 2002 vote to focus on his efforts during the Obama administration to implement an anti-nuclear arms deal with Iran.
"I was part of that deal to get the nuclear agreement with Iran, bringing together the rest of the world, including some of the folks who aren't friendly to us," Mr. Biden said. "And it was working."
Later, laying out his case for why he should be the one to take on the president in 2020, Mr Biden joked that he has been "the object of his affection" for a long time, claiming he can "hardly wait" to debate Mr Trump in a potential general election mash-up.
Sharing the stage with those leading contenders was South Bend mayor Pete Buttigieg, who delivered a steady debate performance that once again emphasised the generational transformation that his candidacy presents.
"There are enlisted people that I served with, barely old enough to remember those votes on the authorization after 911 on the war in Iraq," Mr Buttigieg, a veteran, said while promising to ensure that the US does not engage in protracted new wars.
Later, Mr Buttigieg appealed to voters by suggesting he is a candidate from the midwest that Mr Trump claims he speaks to, and spoke to his record of turning South Bend around from its frequent inclusion on lists of "bad cities to visit" in the US.
Sharing the stage with those front-runners was Ms Klobuchar, and billionaire Tom Steyer, with the senator making a similar pitch as Mr Buttigieg to note her midwestern roots. Ms Klobuchar is seen as needing a strong showing in Iowa, where she hopes to pull centrist support from the likes of Mr Buttigieg and Mr Biden in an upset early next month.
Mr Steyer was much less of a focus than the front-runners, even as his presence on the stage underscored the strength of his wealth that has allowed him to fill airwaves in Iowa and elsewhere with advertisements promoting his candidacy.
The Iowa caucuses will be held on 3 February. The most recent CNN/Des Moines Register poll has Mr Sanders leading the pack with 20 per cent support, followed by Ms Warren at 17 per cent, Mr Buttigieg at 16 per cent, and Mr Biden at 15 per cent. Ms Klobuchar received 6 per cent support in that poll, followed by businessman Andrew Yang (who did not qualify for the debate on Tuesday) with 5 per cent and Mr Steyer at 2 per cent support.
Join our new commenting forum
Join thought-provoking conversations, follow other Independent readers and see their replies