Not just the postal service: Trump campaign targeting ballot drop off boxes in battleground states
In the midst of a battle over mail-in ballots, the Trump campaign is seeking even more restrictions on their use in Pennsylvania, writes Richard Hall
Monday 24 August 2020 16:18 Comments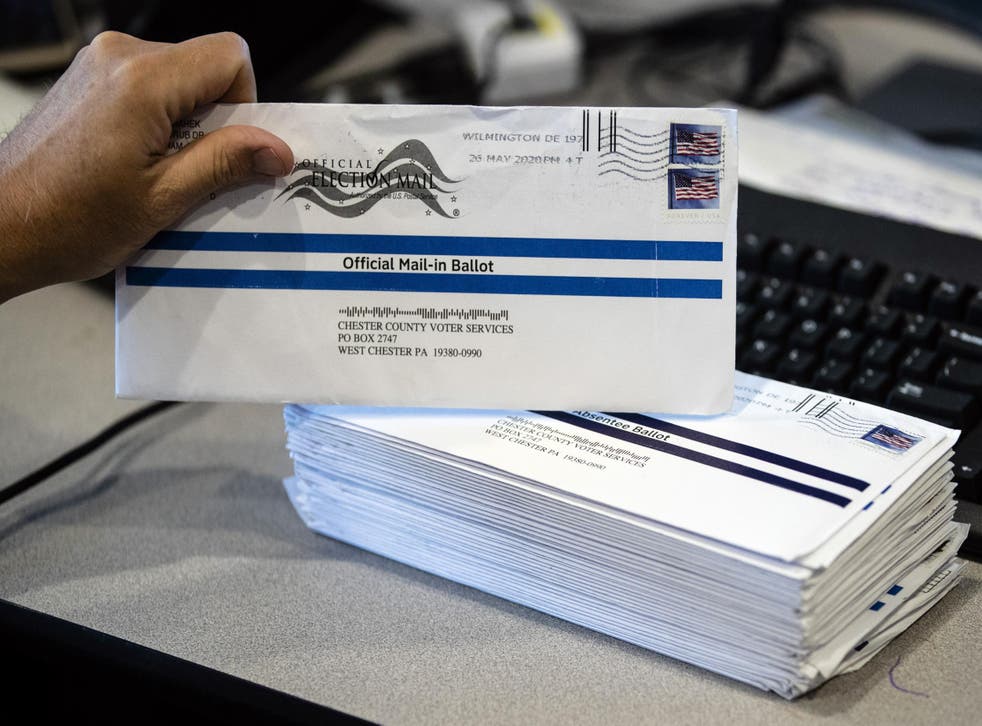 The Trump administration has faced heavy criticism this week over accusations that it is intentionally weakening the postal service in an effort to reduce mail-in voting. But an equally consequential battle is taking place in the courts.
Donald Trump's campaign for reelection is pursuing legal action to block the use of secure ballot drop-off boxes in the battleground state of Pennsylvania, an action that could foreshadow similar fights across the country.
The lawsuit seeks to prevent the use of the boxes — which voters can use to securely drop off their ballots at locations such as schools or libraries to be collected by election officials — in November's presidential election.
The move comes amid a surge of requests for mail-in ballots during the coronavirus pandemic, as states seek to expand access to remote voting as a way of protecting against the virus.
But Mr Trump has repeatedly attacked mail-in voting as being vulnerable to fraud — without any evidence — and sought to limit its use.
Voting rights advocates have warned the lawsuit in Pennsylvania is yet another attempt by a president to undermine the democratic process and suppress the vote. In a state that the president won by only 44,000 votes in 2016 — or 0.7 percent of the vote — the stakes are high.
"This lawsuit is part of a strategy to make it harder for eligible voters to vote in November – by introducing confusion, eliminating choices about how to return a mail ballot, and raising meritless questions about the integrity of our elections," Suzanne Almeida, of voting rights group Common Cause Pennsylvania, told The Independent.
"Drop boxes are a crucial option for voters who receive their absentee ballots too late to return them by mail. Without drop boxes, some people will be forced to choose between their health and their right to vote — and no one should have to make that choice," she added.
Concerns over the targeting of drop off boxes have been heightened by figures from June's primary races, which showed that the number of Democrats who chose to vote by mail was more than double that of Republicans — 1 million to 397,000 respectively.
Pennsylvania has introduced a number of voting reforms in the past year to expand mail-in ballots, including the introduction of drop boxes across the state. In other states where the boxes are used, it is not uncommon for half of all mail-in ballots to be delivered through them.
The battle over their use has been given added urgency in recent weeks amid repeated attacks by Mr Trump on mail-in ballots and attempts to hobble the postal service's ability to handle them.
In recent weeks, Mr Trump has blocked emergency funding asked for by the USPS deal with an expected increase in voting by mail due to the coronavirus, and even explicitly linked the decision to his desire to limit the use of mail-in ballots in the upcoming election.
Already facing a funding crisis, the postal service was thrown into further chaos by sweeping changes introduced by the new postmaster general Louis DeJoy, a Trump donor who took up the position in May. The new measures caused backlogs of mail in processing across the country, including in Pennsylvania, and raised concerns that the chaos would adversely impact the upcoming election.
Drop boxes were seen as a potential alternative for voters who wanted to use mail-in ballots to vote safely and avoid potential delays in the postal service. And while they are new to Pennsylvania, they have been used across the country, in Democratic and Republican states. In the last presidential election, approximately 16 percent of American voters used drop boxes, most of them concentrated in Washington, Oregon and Colorado.
As more states look to expand their use, they are already becoming a new battleground in the fight over voting access — largely along partisan lines. Ohio's Republican secretary of state Frank LaRose announced last week that he would ban county election boards from offering more than a single ballot drop box in the pivotal swing state, citing time constraints. Similar actions have been taken in Missouri, too.
And in the past week, they have become a target for Mr Trump.
"Some states use 'drop boxes' for the collection of Universal Mail-In Ballots. So who is going to 'collect' the Ballots, and what might be done to them prior to tabulation? A Rigged Election? So bad for our Country. Only Absentee Ballots acceptable!" Mr Trump said on Monday.
The Trump campaign's lawsuit in Pennsylvania, filed at the end of June, claims that election officials in the state "have sacrificed the sanctity of in-person voting at the altar of unmonitored mail-in voting and have exponentially enhanced the threat that fraudulent or otherwise ineligible ballots will be cast and counted in the forthcoming general election."
The suit, which is backed by the Republican National Committee and Pennsylvania Republican congressmen Glenn Thompson, Mike Kelly, John Joyce, and Guy Reschenthaler, seeks to prohibit ballot returns to any location other than the county elections office
It argues that permitting the use of drop boxes "allows illegal absent and mail-in voting, ballot harvesting, and other fraud to occur and/or go undetected, and will result in dilution of validly cast ballots."
But like Mr Trump's attacks on mail-in ballots, Republicans have been unable to substantiate their dire warnings about voter fraud. The case hit a roadblock last week after a federal judge ruled that the Trump campaign must provide evidence that mail-in ballots and drop boxes are vulnerable to fraud.
"The Court finds that instances of voter fraud are relevant to the claims and defenses in this case," Judge J. Nicholas Ranjan, a Trump appointee, wrote, adding that "plaintiffs shall produce such evidence in their possession, and if they have none, state as much."
Earlier this month, a federal court allowed the American Civil Liberties Union of Pennsylvania to intervene in the lawsuit on behalf of NAACP Pennsylvania State Conference, Common Cause Pennsylvania and the League of Women Voters of Pennsylvania.
The ACLU's filing accuses the Trump campaign of attempting to limit "Pennsylvanians' constitutionally protected right to vote by preventing the use of ballot drop-off locations."
It adds that the lawsuit would "primarily affect people of colour and medically vulnerable individuals, who experience disproportionately higher rates of infection, illness, and death due to the pandemic and face grave risks to their health and the health of their communities if they vote in person."
Derrick Johnson, president and CEO of the NAACP, said in a statement that a victory for the Trump campaign in the case "has the potential to add another layer of complexity to the voting process in Pennsylvania" in the midst of a pandemic.
"Once again, we're witnessing a deliberate attempt by the Trump campaign to quell the vote and voice of constituents from across this country," he said. "If we are to have a safe and fair election, mail-in ballots and secure ballot drop boxes must be protected during this unprecedented time."
Pennsylvanian Senator Bob Casey, who has been outspoken on the attacks against the USPS, said the efforts taken together amounted to "sabotage".
"Amidst the COVID-19 pandemic, it is more important than ever that Americans are able to cast a ballot without risking their health and safety to vote in person. The President's lawsuit against drop-off ballot boxes in Pennsylvania is just another one of his schemes to steal this election for fear of losing it," he told The Independent.
"It's clear that the President wants to undermine the election by sabotaging the US Postal Service, denying it funding, dismantling vital services, and spreading lies about non-existent mail-in voter fraud. By his own admission, his intent is to make it harder for Americans to exercise their right to vote. These deliberate actions put our democracy at risk," he said.
As more states look to expand the ways in which their residents can vote safely in November's election, the battle over drop boxes may yet spread across the country.
Republicans are also involved in several legal battles to restrict the expansion of mail-in ballots generally, prompting many states to increase their efforts to encourage residents to vote early.
"Regardless of what happens in the litigation, voters should make a plan to vote, either by mail or in-person, to ensure their voices are heard on election day," said Ms Almeida, of Common Cause. "Our government 'of the people' is stronger and more representative when every voter can participate."
The Trump campaign did not respond to a request for comment. Pennsylvania's department of state declined to comment due to the ongoing litigation.
Register for free to continue reading
Registration is a free and easy way to support our truly independent journalism
By registering, you will also enjoy limited access to Premium articles, exclusive newsletters, commenting, and virtual events with our leading journalists
Already have an account? sign in
Register for free to continue reading
Registration is a free and easy way to support our truly independent journalism
By registering, you will also enjoy limited access to Premium articles, exclusive newsletters, commenting, and virtual events with our leading journalists
Already have an account? sign in
Join our new commenting forum
Join thought-provoking conversations, follow other Independent readers and see their replies