Elizabeth Warren accused of hiding while getting off private jet
Right-wing critics accuse Democratic presidential candidate of 'hypocrisy' despite her carbon offsetting campaign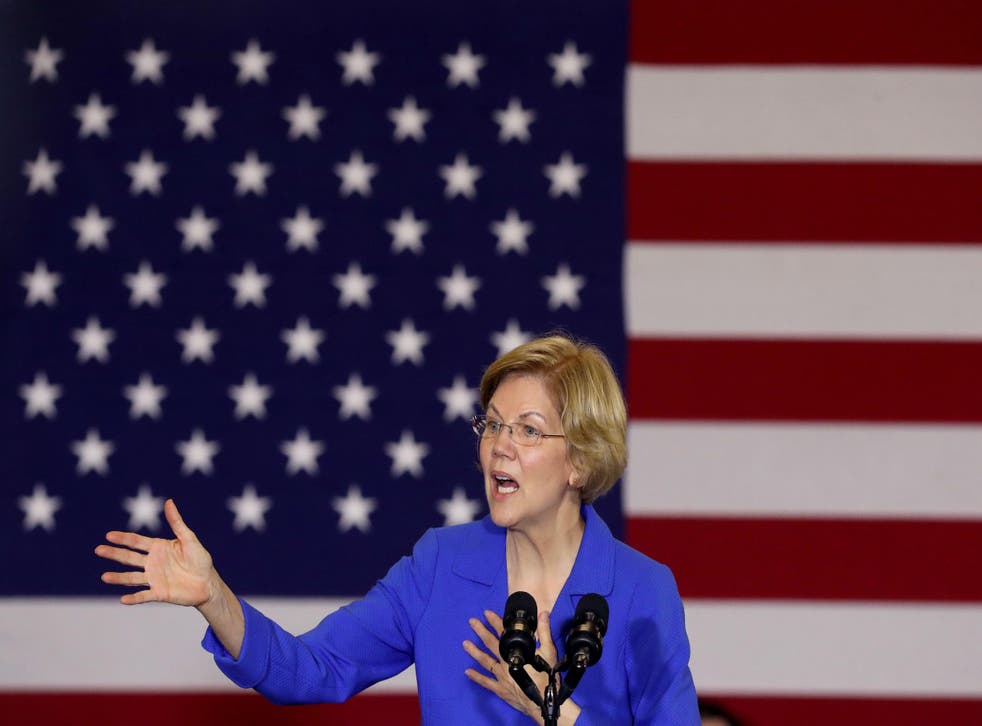 Right-wing activists have accused Democratic presidential candidate Elizabeth Warren of "hiding" after a video shows her de-boarding a plane her that campaign charted for travelling to Iowa.
The Massachusetts senator's campaign has pledged to offset its carbon emissions while travelling across the US to support her presidential run, though the impeachment trial of Donald Trump in Washington DC has wedged the issue of private plane travel into her campaign as well Bernie Sanders. Ms Warren's campaign has spent more than $10,000 on offsets since September.
Both senators were forced to make flexible accommodations to support their crucial Iowa campaigns while resuming their responsibilities in the Senate, leaving little room for scheduling commercial flights.
But that hasn't stopped conservative critics from leaping at what they see as a "gotcha" moment to prove their conspiracy that climate change is a hoax while branding Ms Warren a "hypocrite".
The senators have pledged support for a Green New Deal to tackle the climate crisis. If elected, Ms Warren's administration would address the threat of climate change by mobilising efforts towards domestic net-zero carbon emissions by 2030. The $1 trillion plan, funded over 10 years, would be financed by reversing the president's corporate tax cuts.
The Democrat challengers to Trump in 2020

Show all 25
A video shows Ms Warren and her campaign staff leaving a jet as the candidate greets airport staff, then she appears to make eye contact with the person filming her from the runway. The video captures her behind a member of her staff during the rest of the short clip.
Transportation emissions are among the largest climate-harming emissions in the US, according to the Energy Information Administration.
Air travel is responsible for roughly 3 per cent of global carbon emissions, a figure that is expected to triple as traffic increases over the next few decades.
Democrats have criticised the president's frequent travel on Air Force One to his privately owned properties on the taxpayer's dime. Ms Warren also has joined several other senators to demand that his administration recoup more than $340,000 in private travel expenses that Health and Human Services Secretary Tom Price billed to the government.
In 2019, Ms Warren told the Washington Post that "climate change is a threat to the safety and health of Americans -- and it disproportionately impacts our most vulnerable communities. I'm in this fight all the way -- and that includes offsetting emissions in this campaign."
Mr Sanders was the first candidate to announce campaign offsets, sending thousands of dollars to environmental groups to help mitigate the environmental cost of his campaign's emissions.
The president, meanwhile, has reversed and weakened several environmental policies and protections, opening the door for a gold rush of oil, gas and coal development while suppressing government science pointing to the health and environmental consequences of increasing climate threats.
Six months into his administration, Mr Trump pulled the US out of a global agreement to significantly cut carbon emissions and support poorer countries already devastated by climate change.
Register for free to continue reading
Registration is a free and easy way to support our truly independent journalism
By registering, you will also enjoy limited access to Premium articles, exclusive newsletters, commenting, and virtual events with our leading journalists
Already have an account? sign in
Register for free to continue reading
Registration is a free and easy way to support our truly independent journalism
By registering, you will also enjoy limited access to Premium articles, exclusive newsletters, commenting, and virtual events with our leading journalists
Already have an account? sign in
Join our new commenting forum
Join thought-provoking conversations, follow other Independent readers and see their replies