Iowa senator Joni Ernst slammed for questioning coronavirus death toll and saying she's 'curious' about a QAnon theory
Imperilled Iowa lawmaker was castigated by opponent for suggesting that doctors are falsifying Covid-19 death numbers for financial gain
Andrew Naughtie
Wednesday 02 September 2020 16:08 Comments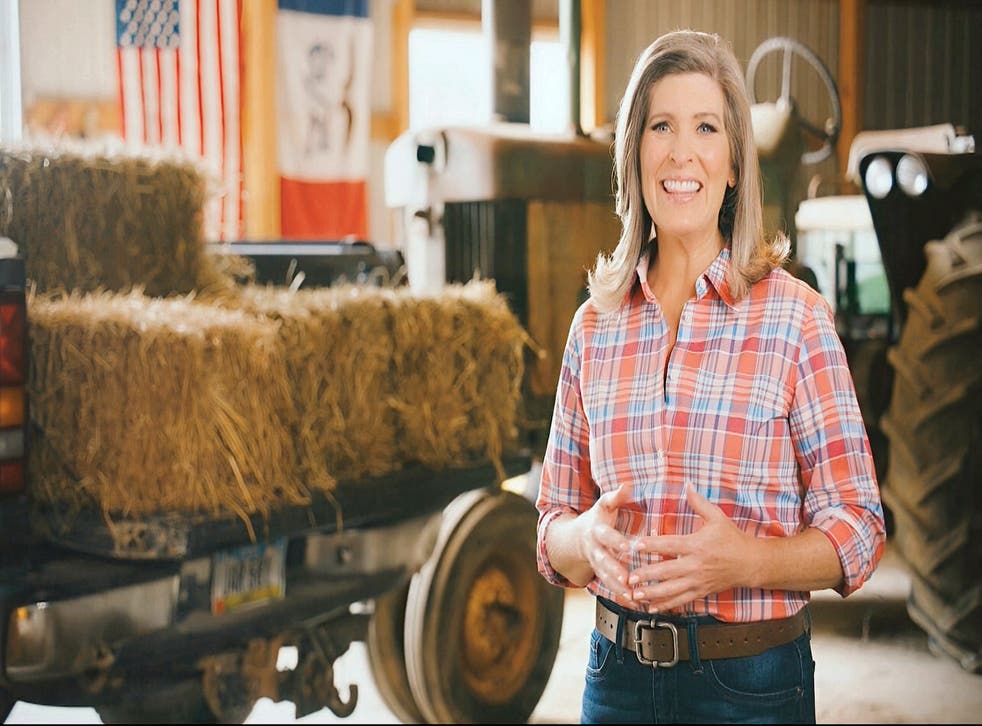 One of the most vulnerable Republican senators in this year's elections has drawn flack for publicly pondering whether the US's official Covid-19 death toll is in fact accurate.
Joni Ernst, the junior senator from Iowa, also said she is "curious" about a conspiracy theory shared among the QAnon movement that misrepresents a recent study to claim only 6 per cent of those deceased were in fact killed by the coronavirus.
Speaking at an event in the state's Black Hawk County earlier this week, Ms Ernst was asked by one attendee whether she agreed that the death toll numbers were inflated.
According to a report from the local Waterloo Cedar Falls Courier, she replied that she too was "so skeptical" of the numbers, and suggested that health care providers might be inflating them for financial benefit.
"These health-care providers and others are reimbursed at a higher rate if Covid is tied to it," she reportedly told the crowd, "so what do you think they're doing?"
The report from the Courier's Amie Rivers quotes Ms Ernst digging deeper. "They're thinking there may be 10,000 or less deaths that were actually singularly Covid-19, I'm just really curious. It would be interesting to know that."
The theory to which Ms Ernst referred is a discredited claim that only 6 per cent of the US's official coronavirus fatalities are in fact attributable to the disease.
That number derives from a misinterpretation of data from the Centres for Disease Control, which has updated its statistics to say that only in only 6 per cent of confirmed coronavirus deaths listed was Covid-19 the only cause recorded on the death certificate.
The false number has been circulated heavily among supporters of the QAnon conspiracy movement, and was even picked up by Donald Trump himself, who retweeted a message propagating it that was later removed by Twitter.
The report of Ms Ernst's remarks was immediately seized upon by her Democratic opponent, Theresa Greenfield, calling her musings "appalling" and accusing her of not taking the pandemic seriously.
Iowa has suffered badly in the coronavirus outbreak, and has struggled to bring the rate of new cases down after a surge in recent months.
Black Hawk County, where Ms Ernst delivered her conspiracy theory-tinged remarks, has seen 224 deaths, many of them linked to a cluster at a meat plant that reopened in May even after cases were diagnosed among its workers.
Ms Ernst is a solid ally of Mr Trump, and spoke in support of him at last week's Republican National Convention. She is also one of the most vulnerable Republican senators up for re-election this year, 
She first won her seat in 2014, propelled in part by a famous campaign ad in which she posited with a smile that a life spent castrating hogs on an Iowa farm was the perfect rehearsal for a career in legislative politics.
However, Ms Greenfield has forced her into a tough fight, painting her as pandering to Washington interests while conspiring to gut Social Security and cosying up to a president whose trade policies have decimated Iowa's agricultural producers.
Iowa broke decisively for Mr Trump in 2016, and is generally considered more likely than not to back him once again. However, it has long been considered a swing state; it twice opted for Barack Obama, once for George W. Bush, once for Al Gore and twice for Bill Clinton.
If the state's voters do reject Mr Trump, it will be hard for Ms Ernst to make the case to them they should still trust her when she has thrown her lot in with him so enthusiastically.
Register for free to continue reading
Registration is a free and easy way to support our truly independent journalism
By registering, you will also enjoy limited access to Premium articles, exclusive newsletters, commenting, and virtual events with our leading journalists
Already have an account? sign in
Join our new commenting forum
Join thought-provoking conversations, follow other Independent readers and see their replies