Karen Bass: How lesser known representative defended her past with Cuba to earn potential vice president nod
'I'm not a socialist. I'm not a communist. I've belonged to one party my entire life and that's the Democratic Party,' California congresswoman says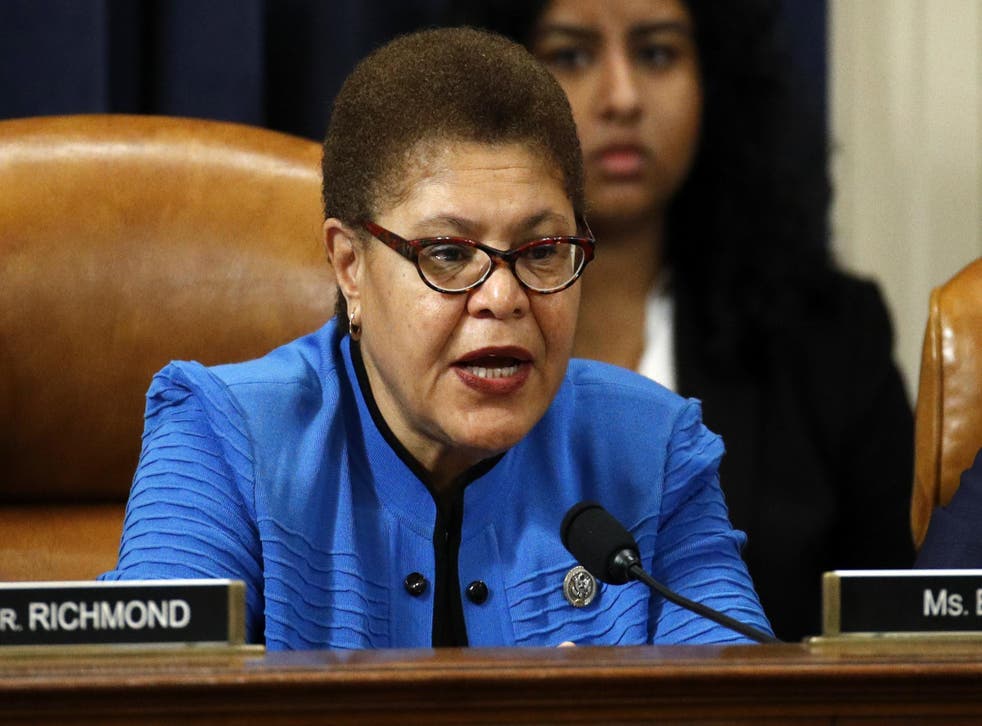 As one of the lesser known names under consideration, Karen Bass's selection as Joe Biden's running mate would certainly be a surprise. And while she is widely seen as a hardworking and bipartisan politician, her past comments on Cuba could cause problems in the key swing state of Florida.
The California representative, 66, has served as the chairwoman of the Congressional Black Caucus since January 2019, and previously held the position of state assembly speaker before becoming a five-term congresswoman.
Although she lacks the name recognition of other potential vice president picks for Mr Biden – such as Senator Kamala Harris and former National Security Adviser Susan Rice – her decorated experience as a veteran in Congress and low profile in the media boosted her up.
Interest in politics started for Ms Bass at the young age of 14 when she would knock door-to-door in her Los Angeles neighbourhood in 1968 to convince neighbours to vote for Robert F Kennedy for president.
The presidential candidate was later assassinated, and Ms Bass found herself again mourning a prominent leader after the deaths of Martin Luther King Jr and Malcom X.
"I realised it's not about a single individual leading the charge," she said in a recent interview. "The assassinations I saw growing up taught me that every time you had a major leader lost, things fell apart."
These murders didn't turn her away from public office, however.
Ms Bass' career first started as a physician's assistant with a degree in health sciences. Then in 1990, in response to the inner city problems grappling America, specifically crack cocaine and gang violence in Los Angeles, she founded the Community Coalition. Her work as the founder of the coalition helped address the drug and violence epidemic in Los Angeles while also inspiring community members to become more engaged.
When she was picked as California's state assembly speaker, she became the first black woman in the US to lead a state legislature.
She then moved to national politics by becoming a representative for California.
During her five terms in Congress, her legislative platform has stayed true to her passion of addressing problems that plague low-income Black and brown neighbourhoods – such as inadequate healthcare, a lack of job opportunities, and overcrowded foster care systems.
In response to the current racial climate in the US, Ms Bass co-authored the George Floyd Justice in Policing Act, which would ban chokeholds and establish a national police misconduct database. Her act passed the Democratic-led House but has yet to go through the Republican-controlled Senate.
Although Ms Bass' reputation remains rather clean-cut within the media, she has had to answer questions over her past experiences with Cuba.
In the 1970s, the future congresswoman worked in construction in Cuba with the Venceremos Brigade, a pro-Cuban group that organised annual trips to the country for young, liberal-leaning Americans. At the time Ms Bass went, Fidel Castro was in power.
Republicans have accused Ms Bass of being fixated on the Castro regime, but she's previously told The Atlantic she went to Cuba as a "young black activist who was deeply concerned about what the activists are raising today: systemic racism."
The reason Ms Bass' relationship with Cuba could be a problem is because of Florida, a swing state for the election. The state is home to many anti-Castro Cubans, which could all turn the electoral votes from Florida towards Mr Trump instead. She renounced Mr Castro following his death in 2016, claiming she had no clue how much the dictator was despised by his own people.
Ms Bass' relationship with Cuba has also called into question the politician's opinion of communist and socialist regimes. She spoke at a 1988 forum sponsored by the Democratic Socialists of America and the 1993 West Coast Socialist Scholars Conference at the University of California.
"I'm not a socialist. I'm not a communist. I've belonged to one party my entire life and that's the Democratic Party and I'm a Christian," Ms Bass recently told NBC News when addressing rumours of her political allegiance.
Another point of criticism in recent months was past events Ms Bass attended relating to the Church of Scientology, which was founded in her state of California.
A video surfaced in recent weeks of Ms Bass attending the opening of the church in Los Angeles a decade ago. When addressing the video, Ms Bass said she attended to find an "area of agreement" with the church. Since then, the church has faced accusations from defectors of participating in intimidation, human trafficking, and abuse of members, all of which it has denied.
Ms Bass has one daughter and four stepchildren with her ex-husband, Jesus Lechuga, whom she was married to from 1980 to 1986.
The Biden campaign might see Ms Bass' bipartisan appeal and experience with social justice causes like police reform as enough to combat criticism for her past involvement in Cuba and not being a household name in the political arena.
Register for free to continue reading
Registration is a free and easy way to support our truly independent journalism
By registering, you will also enjoy limited access to Premium articles, exclusive newsletters, commenting, and virtual events with our leading journalists
Already have an account? sign in
Register for free to continue reading
Registration is a free and easy way to support our truly independent journalism
By registering, you will also enjoy limited access to Premium articles, exclusive newsletters, commenting, and virtual events with our leading journalists
Already have an account? sign in
Join our new commenting forum
Join thought-provoking conversations, follow other Independent readers and see their replies