New Hampshire Rally: Elizabeth Warren battles to stay in the Democratic race
'We persist and we win': Elizabeth Warren battles to stay in the Democratic race
'I think she's learned all the lessons of the Bernie Sanders campaign,' one Warren supporter says
Just a 30 minute drive from one another, Elizabeth Warren and Bernie Sanders both found themselves on stages before packed basketball gymnasiums in western New Hampshire on Sunday.
As a light snow dusted the streets outside, and the sun set on the Vermont side of the Connecticut River, the two candidates hoping to become the Democratic Party's standard bearer made their case to the assembled voters, just over a day before the first votes would be cast in the first-in-the-nation primary.
For many of those supporters and the assembled media, the speeches were perhaps similar – and familiar. But with that fast approaching election in mind, the urgency had changed. And Warren, who has trailed in polls – flat-lining while Sanders and Pete Buttigieg have surged in recent weeks – seemed well aware of the pressure.
"Unwinnable fights are about getting into the fight and staying in the fight," she told the crowd of volunteers and prospective voters. She was talking about beating Donald Trump in November, despite the unsettling feeling among some Democrats that he may well win again. But she may as well have been talking about beating Sanders or Buttigieg on Tuesday, too.
"There a lot of people who talk about what races aren't winnable or what kind of people can't win," Warren said. "The way I see it, they're going to keep saying that right up until we get in the fight, we persist and we win."
Democratic candidates compete on the campaign trail: In pictures

Show all 18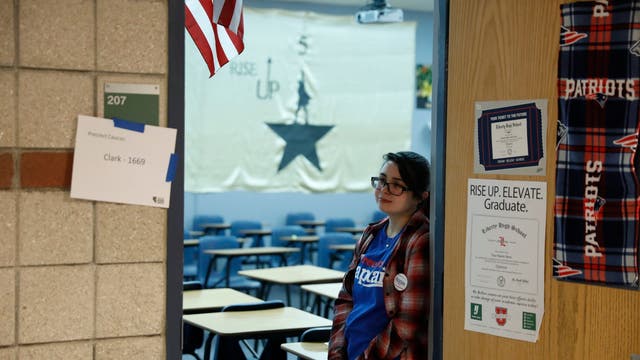 In New Hampshire, it is something of a truism that presidential candidates from neighbouring states tend to win the primary there, giving a home field advantage that set a politician hurtling towards a potential party nomination. But in 2020, that describes both Sanders and Warren, so: which progressive champion can prove to New Hampshire voters seeking a dramatic shift in government that they're the best choice?
The answer, at least for Warren, could mean the difference between a second wind for a campaign that has faltered in recent months, or the beginning of a potentially terminal decline.
In Claremont, Sanders supporters packed into the gym of Stevens High School, after forming a short line outside in the cold before the doors were opened.
There, Sanders leaned on some of his best known surrogates, including Ohio state senator Nina Turner, who paced the stage and delivered a rousing speech touching on the popular messages of the Sanders movement.
"Whose side are you on?" she asked repeatedly almost as punctuation, drawing battle lines between average American workers and the major corporations that are the foes for Sanders and his supporters. Turner was received like a rock star.
When his turn came, Sanders claimed credit for the progressive political movement sweeping the nation, noting that he received a lot of push-back during his 2016 run for ideas that have become commonplace in 2020. In his eyes and those of his supporters, this year is a political reckoning that is the fruit of decades of chipping away at the the political establishment and the moneyed interests that prop it up.
"You have got to ask ourselves what does it mean that CEOs knew the product they were selling was killing people," he said, taking on one of America's most entrenched industries, the pharmaceutical industry, and its long denials about the lethal impacts of opioids. In New Hampshire, one of the states with the highest rates of overdose deaths, he noted that he thinks those efforts amount to a "criminal offence".
Pete Buttigieg and Bernie Sanders claim Iowa wins despite results delay
John Jones, a Vietnam veteran who lives in Sutton Mills, New Hampshire, and who was standing in the freezing temperatures with a large banner to support his candidate, said he has been a fan of Sanders since the 1980s, when he was the mayor of Burlington, Vermont.
"I'm for Bernie because he's been well-liked and well-received by veterans. He's progressive. He talks about a living wage. He talks about daycare for working couples," Jones, a former green beret, said. "He talks about universal healthcare. And he talks about dismantling the big pharma in this country. And bringing us into the 21st century as far as healthcare goes. Affordable healthcare."
Claremont rally: Voters show up to support Bernie Sanders
Twenty miles north of Claremont in Lebanon, and in yet another gym, Warren jogged alongside supporters to a stage with her golden retriever, Bailey, who she has made a political star in his own right. Dolly Parton's "Nine to Five' blared as she jogged, a campaign staple and one that easily evokes the working class plight both she and Sanders have made mainstays on the campaign trail.
In spite of their seemingly ideological similarities, a Warren event and a Sanders event are much different experiences. Sanders has largely stuck to giving what are now well-known speeches touching on the injustices facing American workers and the environment. Warren, meanwhile, talks about many of those same issues, but hews closer to a more traditional politician who cracks jokes for the crowd.
"Guy in the back says, 'Whew, this woman is not unreasonable'," she joked at one point after detailing the wealth tax of 2 per cent on estates worth $50m or more as a way to pay for policies such as eliminating college loan debt.
At another moment, when a supporter asked began to ask her who she might pick as a running mate, she slammed vice president Mike Pence and the president's tendency to rely on yes-men in office.
"Do you ask 'Who is going to be my Mike Pence, who will look at me with adoring eyes?'" the supporter asked.
"I already have a dog," she quipped, to laughter from the crowd. She looked back at the crowd, and added commentary of her on their behalf: "You gotta watch these feisty women!"
Michael Corchoran, a 58-year-old from Thornton, New Hampshire, said that Warren's emphasis on planning has made her an attractive leadership candidate.
"I've been knocking doors and volunteering for Elizabeth since she won me over. Single payer healthcare is very important to me. I think she is more of a moderate progressive. And I just love her detail, I love her intelligence and integrity that she has in her plans," Corchoran, who thinks Sanders has scared off some voters with his gruff politicking, said: "She keeps providing the motivation to stick with her and to continue knocking doors and canvassing for her."
Tom Schade, a 70-year-old who drove up from Rhode Island for the event, said the surface-level differences between the two candidates make all the difference to him.
"I think she's learned all the lessons of the Bernie Sanders campaign. Instead of talking about something like socialism she's talking about corruption. Instead of putting out these big slogans she has these detailed plans," he said. "Instead of being a grouchy old man she's incredibly open and friendly and likeable. I think, if you're looking for a bigger change, she's going to be able to do that better than Bernie is."
On Monday, on the eve of the New Hampshire primary, it appeared as though whatever lessons Warren may have learned may not be enough, though. A poll out on that day by the UMass Lowell Centre for Public Opinion found Sanders leading all Democrats with 25 per cent of the vote, followed by second-place Buttigieg, with 17 per cent.
Warren came in third in that poll – just like she did in the Iowa caucuses – with 15 per cent.
A third-place win won't necessarily mean an end to her candidacy, but it certainly wouldn't help. Warren had $13 million of cash on hand at the end of the most recent campaign finance deadline, which could help her to stay competitive into Nevada and even South Carolina, should she decide to keep going. It's not the most money in the field, but it isn't nothing.
But, losing to Buttigieg and Sanders could sting, given the close proximity of her home state of Massachusetts to New Hampshire. And, for some Sanders supporters – many of whom in New Hampshire seem to be much more comfortable with Warren than leftist Twitter conversations might imply – maybe a loss for her would show a weakness that could be exploited by Trump in a general election.
"I feel pretty good about her but she's not electable. Donald Trump has her number," said Jones, the former Green Beret. "He will make her seem foolish. We'll go out with the Pocahontas nonsense again and I think she'd be vulnerable. I'm fearful that he would just tear her to shreds, that he would make a joke out of her. He's a magician, you know?"
Join our new commenting forum
Join thought-provoking conversations, follow other Independent readers and see their replies