'I'm the only one who has actually won in a Trump state': Steve Bullock didn't make the debate stage, but has no regrets
The governor from Montana says he waited to announce his 2020 candidacy because he had a job to do. He tells Clark Mindock his successes in Helena show he can take on Donald Trump — and why he's staying in the race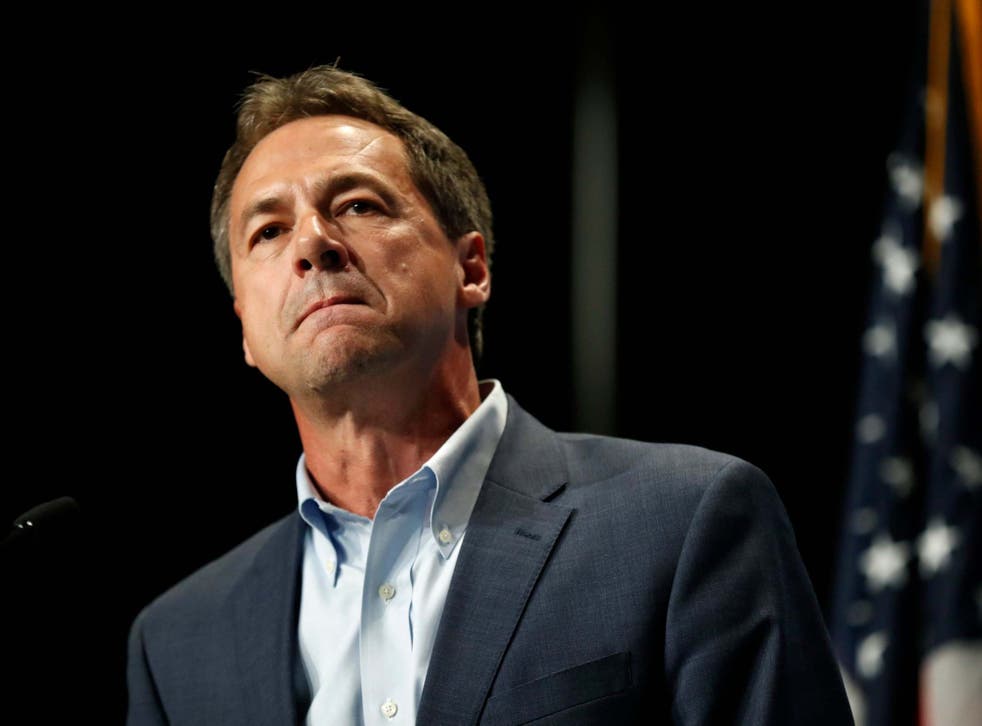 Steve Bullock has been running for president for roughly a month and a half, but even with early setbacks to his 2020 campaign, the Montana governor says he would not take a do-over if one was offered.
With a polling average just a smidgen above zero, Mr Bullock will be notably absent from the first Democratic debate stage this week in Miami. While other US governors in the race, as well as a couple of mayors, duke it out with the top brass of the presidential primary on NBC's prime time, the governor of America's 41st state and his team are left scrounging for attention.
Even so, Mr Bullock says he has no regrets about the flailing polls, or his decision to put off entering the race until so late in the spring — a decision the Democrat made in order to help pass a series of legislative priorities in a statehouse controlled overwhelmingly by Republicans.
It's that decision, in fact, that the 53-year-old said shows he has something nobody else can offer, even in the crowded and historically diverse primary field that 2020 has become.
"I'm the only one in the field that actually won in a Trump state," Mr Bullock said, illustrating his argument that he has what it takes to attract attention from voters who aren't enchanted by Washington Beltway political gossip: Donald Trump won Montana in 2016 by 20 per cent over Hillary Clinton, while Mr Bullock beat his rival that year by 4 per cent.
"I bring a perspective outside of Washington, DC, which I think helps," he continued. "Because, in time, DC has become a place where talking has become the substitute for actually getting things done. And, as a governor, I don't have that luxury."
Who are the Democrat candidates running for US president in 2020?
Even with the late entrance into the race, Mr Bullock said he barely missed the cut for this week's debates in Miami.
With a record-setting two dozen contestants, the debate stages were always going to be crowded, and this year the Democratic National Committee (DNC) cut the qualifiers down into two groups of 10. In order to qualify, those contestants needed to receive at least 1 per cent support in three separate polls honoured by the DNC, or to receive donations from 65,000 unique donors spread out in at least 20 states.
The Montana governor nearly made the first criteria, only to find out that one of three surveys showing his support at 1 per cent was disqualified. He now claims he has met the requirements to make the second debate stage next month in Detroit.
Support free-thinking journalism and attend Independent events
Instead of campaigning earlier in the year like some front-runners who have managed to make a big splash — or, even like some candidates who are still virtually unknown — Mr Bullock said he was engaged with the Republican-controlled legislature in Montana, where they pushed forward on a Medicaid reauthorization, and passed sweeping campaign finance legislation in the state that would effectively eliminate so-called "dark money" in the state.
"Look, I only got into this race a little bit over a month ago, because I had a job to do," he said. "My legislature meets 90 days every two years. And, I had to save healthcare for 100,000 Montanans."
"So, truly had I gotten in earlier, I think all of that would have been at risk," Mr Bullock said of the efforts in Helena, before highlighting that he failed to attract the 65,000 unique donors to his campaign. "If I had to choose between providing healthcare or saving healthcare for 100,000 people, or chasing 100,000 donors, [it's the] easiest choice I'll ever make."
Mr Bullock faces some other, pretty stiff obstacles as he makes his long-shot bid to become the Democratic standard bearer — and missing out on the first debates may be the least of his problems.
He faces a crowded Democratic field, and one that includes a historically diverse set of candidates. That's both in terms of the number of women and minorities running, but also in terms of the range of ideologies on display, from centrists like Joe Biden to the progressives receiving plenty of attention like Bernie Sanders and Elizabeth Warren.
With that long list of competition in mind, Mr Bullock pushed back at the notion that he should have stayed out of the race and made a case to Montanans that they should elect him as a US Senator — an important arm of Congress that could help determine the success of a Democratic president — and promised to help "do everything that I can to make sure that" a Democrat is elected to that office.
When asked, Mr Bullock also defended his record on climate change, an issue that has emerged as an important litmus test in the Democratic primary, with polls consistently showing the issue as one of the most important if not the most important issue among voters.
Mr Bullock refused to commit to signing the No Fossil Fuel Money Pledge, but noted that he will not accept donations from corporate donors or PACs.
When asked about his cosy relationship with coal mining as governor — he once called Barack Obama "wrong" after the former president pushed to ban new coal leases on federal lands, for instance — Mr Bullock said that he believes markets are already pushing fossil fuels towards being obsolete, and cited Montana's investment in renewable energy sources like wind turbines.
"We have to do something about it," Mr Bullock said of climate change. "And, if we don't recognise the Republicans when they turn around and won't even acknowledge climate change is human caused, that's in part because of the dynamics of spending."
Donald Trump on his discussion with Prince Charles on climate change, and whether he believes in it
When Elizabeth Warren, Joe Biden, Bernie Sanders, and the other 17 Democrats who qualified for the debates take stage on Wednesday and Thursday, Mr Bullock plans on taking his pitch directly to the voters in Iowa on the first day, and then New Hampshire the second.
Mr Bullock's plan seems to be fairly straightforward: convince voters that not only is he progressive on issues where it counts, but that he can appeal to the kinds of swing voters who might turn their backs on the president in 2020 and deliver a win to a Democrat.
He said that 25 to 30 per cent of the voters in Montana who cast their ballots in his favour in 2016 also supported Mr Trump. And he says that shows how important it is to focus on the ability to get things done.
"I wouldn't have made the decision any differently as far as making sure people are taken care of and I'm excited that I will be qualified for the second debates," he said. "I look forward to being on stage because ... if you look at this field … it's important to have a voice like mine on that stage. Someone that's actually won in a Trump state. Someone who's gotten government to work, not just talked about."
Join our new commenting forum
Join thought-provoking conversations, follow other Independent readers and see their replies