Biden compares Buttigieg to his son Beau
'He reminds me of Beau': Biden praises Buttigieg as he racks up Super Tuesday endorsements
Beto O'Rourke among those who back ex-vice president
Joe Biden has praised Pete Buttigieg, saying he reminded him of his late son, as he picked up the endorsement of the former Indiana mayor, senator Amy Klobuchar and Beto O'Rourke in a massive shake-up of the race on the eve of Super Tuesday.
"I don't think I've ever done this before, but [he] reminds me of my son, Beau. I know that may not mean much to most people, but to me it's the highest compliment I can give any man or woman," Mr Biden said ahead of a rally in Dallas, Texas.
He added: "Like Beau, he has a backbone like a ramrod. I really mean this. I think about it."
For his part, Mr Buttigieg, whose decision on Sunday to drop out electrified the race to take on Mr Trump, said the former vice president had what was required to "bring back dignity to the White House" and "restore the soul" of the nation.
Mr Buttigieg, whose fortunes were perhaps unprecedented given he won in Iowa and came second in New Hampshire, said Democrats needed to win back the White House in November "in a way that starts to change the toxic and divisive nature of our politics right now".
Democratic candidates compete on the campaign trail: In pictures

Show all 18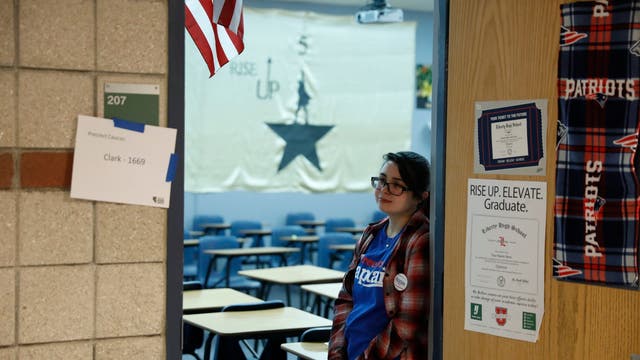 The flurry of activity came on the eve of Super Tuesday, perhaps the single most important day in the primary season, when more than a dozen states hold elections to select a presidential candidate.
Ahead of Tuesday's elections, among the most important in terms of delegate hauls will be California and Texas, Mr Sanders led the delegate tally on 60, ahead of Mr Biden on 54, Mr Buttigieg on 26 and Elizabeth Warren.
An average of polls collated by RealClearPolitics placed the Vermont senator on 28 points, again ahead of Mr Biden on 20, and Ms Warren and Michael Bloomberg tied in third place on 15 points.
Of the many things that remained unclear as the Democrat race narrowed to just five hopefuls – congresswoman Tulsi Gabbard is also still contesting – is whether endorsements from candidates dropping out will see their support automatically switch to Biden, the 77-year-old former vice president.
A Morning Consult poll taken last month before Mr Buttigieg, 38, exited the race, showed that 21 per cent of his supporters named Mr Sanders as their second choice, whole 19 per cent said Mr Biden, 19 per cent said Ms Warren and 17 per cent opted for Mr Bloomberg.
For his part, using language that has often been missing at many of his campaign appearances, Mr Sanders made a direct appeal to supporters of Mr Buttigieg and Ms Klobuchar at his own rally in St Paul, Minnesota.
He praised the Minnesota senator and said Mr Buttigieg had ran a campaign that was nothing short of historic, given he was the first openly gay candidate for a major party.
"Tonight, I want to open the door to Amy's supporters, to Pete's supporters, he said. "I know that there are political differences, but I also know that virtually all of Amy's support and Pete's support understand that we have got to move towards a government which believes in justice, not greed."
At his rally in Texas, Mr Biden lapped up an extraordinary day of political consolidation among the centre lane of his party.
"It is up to us, all of us, to put our country back together, to heal this country and then to build something even greater. I believe we can do this together, and that is why today I am ending my campaign and endorsing Joe Biden for president," said Ms Klobuchar.
"[Mr Biden] can bring our country together and build that coalition of our fired-up Democratic base, and it is fired up, as well as Independents and moderate Republicans, because we do not in our party want to just eke by a victory. We want to win big. And Joe Biden can do that."
Mr O'Rourke, whose own presidential bid failed to catch fire in the same way his 2018 effort to defeat senator Ted Cruz did, also took to the stage.
"Tomorrow, I will casting my ballot for Joe Biden," he said. "We need someone who can defeat Donald Trump. The person in the White House today is an existential threat to our country."
Speaking to supporters, Mr Biden, whose campaign raised around $10m over the last 48 hours following his landslide win in South Carolina, said America deserved better than the current occupant of the Oval Office.
"It's time to get back," he said, looking unusually energised. "We are better than the president. It's time to take back this country."
Additional reporting by Associated Press
Join our new commenting forum
Join thought-provoking conversations, follow other Independent readers and see their replies