White House denies claim Trump returned to work in Oval Office despite Covid diagnosis
The White House says that Larry Kudlow misspoke and that the president has not returned to the Oval Office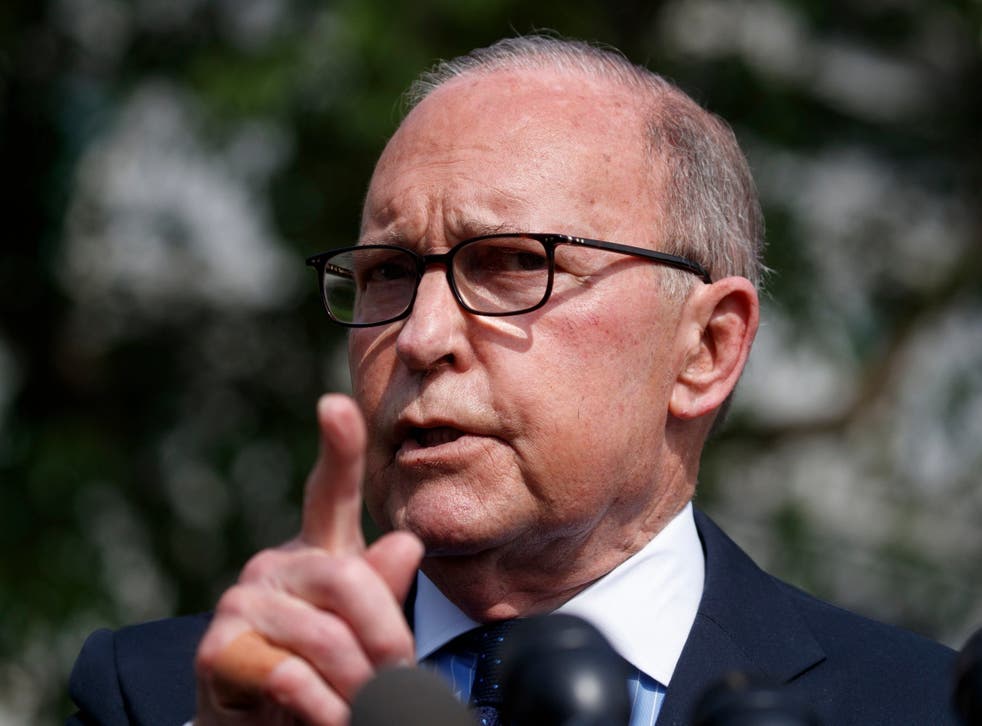 Leer en Español
The White House denies claims that Donald Trump returned to the Oval Office on Tuesday with "extra precautions", after the president's economic advisor Larry Kudlow "misspoke" during an interview. 
Mr Kudlow told CNBC that "traffic was limited" when the president worked in the Oval Office, but said he couldn't "be specific" when asked if Mr Trump wore a mask.
Moments earlier, the administration's chief of staff Mark Meadows told reporters that Mr Trump wanted to go to the Oval Office yesterday and may do so today, according to White House press pool.
The White House says that Mr Kudlow misspoke when he said Oval Office, and rather meant the president was working from the residence. While preparations were reportedly made, Mr Trump did not end up going to the Oval Office on Tuesday.
"While the president wanted to be in the Oval Office yesterday, he was not there – he stayed back in the residence working from there," said White House communications advisor Ben Williams.
"Safety preparations have been underway in the event he moves to working out of the Oval in the coming days."
In the interview on CNBC's Squawk Box, Mr Kudlow said a lot of people were working from home after a "bunch of folks" had tested positive.
"First of all, the government is functioning, the president actually showed up in the Oval Office yesterday, with extra precautions with respect to his Covid-19 and he's getting a lot better and he's much stronger so there was some limited activity," Mr Kudlow said.
When asked directly if Mr Trump wears a mask in the Oval Office, and who was with him, Mr Kudlow said he can't be specific as that is the work of the top rung of government.
"The president as you've seen has been masking quite a bit and everyone else who comes into contact in the Oval, the traffic is limited as you might expect, but there are addittional precautions, addittional measures that have been take much greater than simply masking," he added.
Register for free to continue reading
Registration is a free and easy way to support our truly independent journalism
By registering, you will also enjoy limited access to Premium articles, exclusive newsletters, commenting, and virtual events with our leading journalists
Already have an account? sign in
Register for free to continue reading
Registration is a free and easy way to support our truly independent journalism
By registering, you will also enjoy limited access to Premium articles, exclusive newsletters, commenting, and virtual events with our leading journalists
Already have an account? sign in
Join our new commenting forum
Join thought-provoking conversations, follow other Independent readers and see their replies