Donald Trump claims he is 'least racist person in the world' despite repeated racist attacks
Trump launches scathing attack on 'Squad' congresswomen: 'They reject everything we hold dear'
President also mocked special counsel Robert Mueller
Donald Trump has doubled down on his attacks on a group of Democratic congresswomen, claiming the party was now led by "four-left wing extremists who reject everything that we hold dear".
At a rally for supporters in Cincinnati, Ohio, the crowd did not break into racist chants as happened two weeks ago in Florida, when the president referred to the four women of colour.
But it did start chanting "lock her up" when he spoke about Hillary Clinton, who he beat in the crucial "Buckeye State" in 2016, on his way to winning the White House.
"While Republicans are working every day to build up our country, the rage-filled Democrat Party is trying to tear America apart," said Mr Trump.
"The Democrat Party is now being led by four left-wing extremists who reject everything that we hold dear."
All the times that bigger crowds than Trump's showed up to DC

Show all 7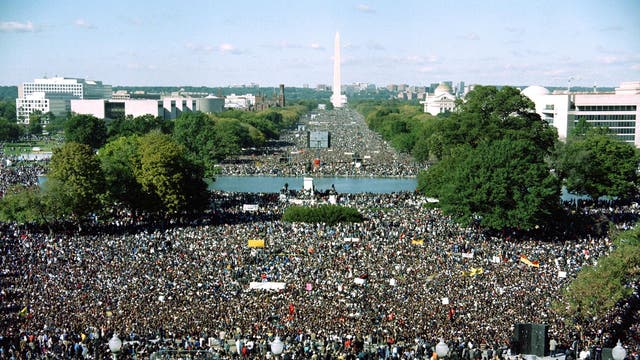 Mr Trump claimed he was seeking to avoid "controversy", which is perhaps why he did not spend too long talking about the congresswomen, Alexandria Ocasio-Cortez, Ayanna Pressley, Ilhan Omar and Rashida Tlaib, or mentioning them by name.
Last month, he was widely criticised and his tweets formally condemned as racist by the House of Representatives, after tweeting and commenting that the the women should "go home". Three of them were born in the US, while the fourth, Mr Omar came here 20 years ago after her family escaped from Somalia as refugees.
On Thursday, one of four Republican members of congress who voted in favour of the House bill condemning the president's remarks about the progressive women, announced he was not seeking reelection.
Will Hurd, who represents Texas's 23rd congressional district and is the only black Republican in the House, had condemned Mr Trump's remarks as racist and xenophobic.
Trump's former economic adviser Gary Cohn admits his tariffs are hurting US and helping China
"Look, I'm the only black Republican in the House of Representatives. I go into communities that most Republicans don't show up in order to take a conservative message," he told CNN last month.
"This makes it harder in order to take our ideas, and our platform, to communities that don't necessarily identify with the Republican Party."
Mr Hurd made his announcement while Mr Trump was on stage attacking Democratic mayors across the country, including the mayor of Cincinnati, John Cranley.
He claimed the crowd at the US Bank Arena had broken records, and he alleged it was "Democrats" who for health and safety reasons had not allowed more people inside.
During the course of the event, the president also mocked and poked fun at former special counsel Robert Mueller, whose recent testimony on Capitol Hill has given fresh energy to Democrats seeking to impeach Mr Trump. president.
"He was sharp, wasn't he," he said sarcastically, referring to the 74-year-old's appearance during which he sometimes appeared confused. "He was sharp as a tack!"
Mr Trump also picked up on a theme from Wednesday night's Democratic presidential debate, in which former Democratic president Barack Obama's legacy came under criticism from some candidates seeking their party's nomination to run against him next year. He claimed they spent more time attacking Mr Obama than attacking him.
Mr Trump was interrupted by protesters holding a banner that read "Immigrants Built America" and who began chanting. The president paused his remarks for nearly three minutes, and banner was ripped in the process as security eventually escorted the protesters out
Mr Trump then continued his speech, by saying "Cincinnati, do you have a Democrat mayor?"
Join our new commenting forum
Join thought-provoking conversations, follow other Independent readers and see their replies