'People will die': Trump indoor rally in Nevada called 'negligent homicide' by doctor
'Super-spreader events' have become a flashpoint in the US's coronavirus culture wars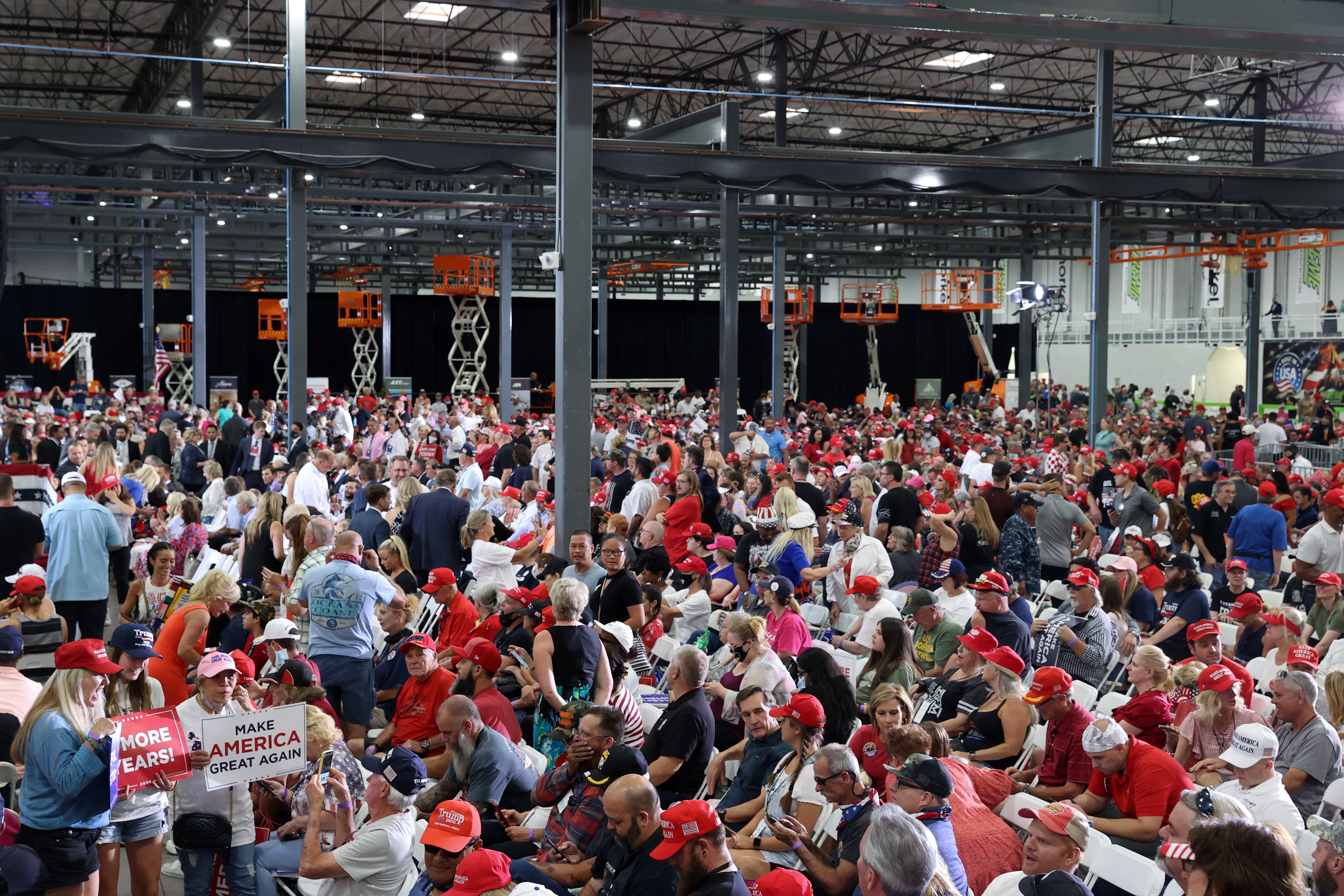 Leer en Español
A doctor who called Donald Trump's first rally this summer "criminal endangerment" because of the risk the crowd would spread coronavirus to each other has described the president's latest indoor gathering as "negligent homicide".
Interviewed on CNN, George Washington University's Jonathan Reiner was asked what he thought of the rally, Mr Trump's first full-fledged indoor event in months, given the national coronavirus death toll is approaching 200,000 and the virus is still spreading in many states.
"Negligent homicide," he said. "What else could you call an act that because of its negligence results in the death of others?
"If you have a mass gathering now in the United States in a place like Nevada or just about any other place with hundreds of thousands of people," he said, "people will get infected and some of those people will die."
The event drew thousands of supporters to a plant belonging to Xtreme Manufacturing, with the crowd densely packed together. While those seated on a riser behind the president wore masks emblazoned with the word "Trump", most of the crowd went barefaced.
"Despite reports from his own White House," Mr Sisolak wrote, "despite local officials in Southern & Northern Nevada reiterating to the venues the existing restrictions in State emergency directives, tonight, the President is knowingly packing thousands into an indoor venue to hold a political rally."
Pointing to the tape released last week in which the president can be heard telling journalist Bob Woodward that he preferred to play the virus down despite knowing how serious it was, Dr Reiner put the blame for the consequences of the event fully on the president.
"There has been a lot of talk over the last week about whether the president played down the risks of this virus to his followers and the country as a whole. And you have to just look at what's going on now to understand that.
"If you took this virus seriously, you would never hold a big indoor rally or almost any rally now, and particularly one that doesn't enforce very strict rules on masks. People will die as a consequence of this. I think that Nevada has a law right now limiting gatherings to more than 50 people. So, the president is defying that. Makes no sense."
Many countries including the US have seen even relatively small events bring together groups of people who go on to spread the virus widely in their home communities. Indoor gatherings are thought to be particularly dangerous, with incidents of group spread identified on buses, at choir practices and inside restaurants and bars.
On CNN, Dr Reiner was as uncompromising as could be.
"The virus doesn't care whether you believe in it or not. The virus doesn't care what party you belong to. If enough people contract the virus – and at a gathering like this, people will – some people will die."
Join our commenting forum
Join thought-provoking conversations, follow other Independent readers and see their replies