Trump's re-election rally shows a president with momentum, and one invulnerable to facts
Analysis: Trump acts as though everything is easy, but winning in 2020 will not be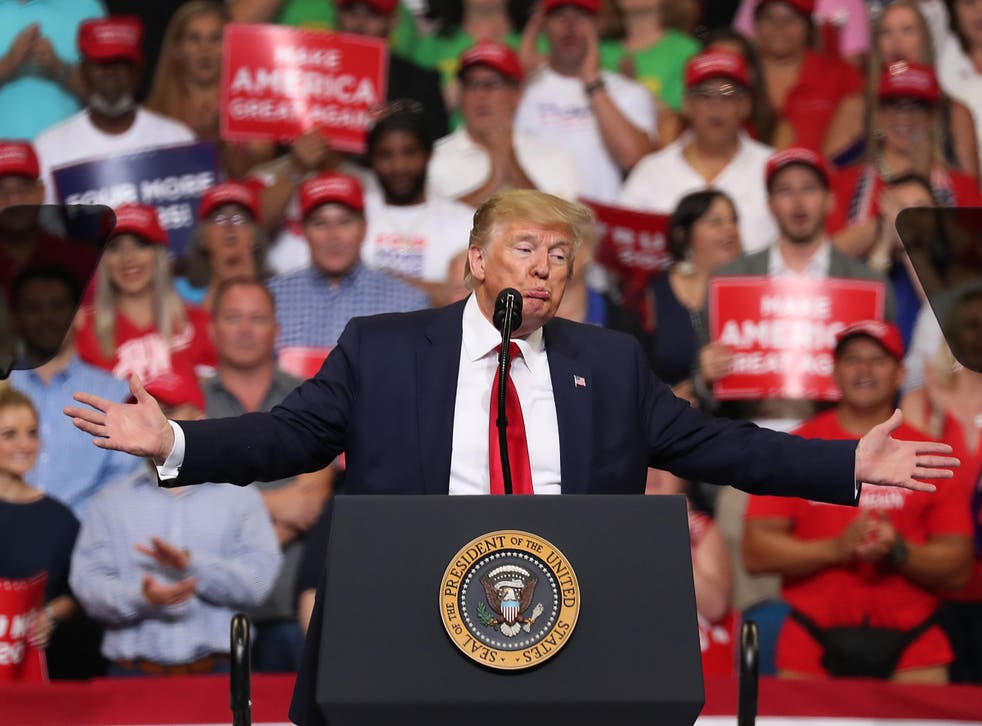 Donald Trump's political shadow has become pretty long over the past few years. And, despite our collective tendency to mock his love of overestimating the crowds that come to see him, the dude can fill a room.
As the president meandered through his prepared remarks in Orlando on Tuesday night, Mr Trump showed just how easy this whole thing is for him. Stopping to consider the campaign slogan he hailed as the best in political history — the Make America Great Again thing that, to be fair, was first pitched by Ronald Reagan — he asked the Amway Centre what they thought of a new one.
"If I lose, people are going to say what a mistake that was," he said, before launching into a rough poll of the room to determine if his 2020 banners should say "Keep America Great".
Keep America Great won, if only because the pollster may have had something of a confirmation bias for his own performance. It was a theatrical call and return, and one that got the room chanting and the blood pumping.
"But we're not going to lose," he said.
Trump 2020 launch: Fascist Proud Boys, baby blimps and Uncle Sam

Show all 30
The stadium, of course, roared for each. Just like it did when the president brought up his departing press secretary, Sarah Huckabee Sanders, for a quick couple of words. Just like it did each and every time the president mentioned the Second Amendment.
All this is to say that, for all the polls that have dogged Mr Trump in recent weeks, it's hard not to remember that just four years ago this man was hardly on the political radar. His campaign announcement — literally four years ago this past Sunday — included in the crowd some surprised and confused tourists who were pulled in off the street outside Trump Tower Manhattan. That guy on The Apprentice is running for president, who knew?
Support free-thinking journalism and attend Independent events
Now, people are lining up 40 hours in advance to get into his rally. Vendors are following him around the country selling knock off MAGA hats, flags, and memorabilia, including some Democrats who know that there's zeal and a quick $10 to be made off the first timers or the late risers who forgot their red hats in the closet at home. One guy said he had driven 18 hours from Ohio to be in Florida. Another put in at least 12 hours on the road Monday night into Tuesday.
That's not to mention that Mr Trump stands behind a presidential seal when he talks now. His every tweet is obsessively covered in the media, and analysed, and retweeted, and liked, and groaned at. Whether you like him or not, the reality TV star has the momentum of an incumbent, and a considerable following.
Trump pledges to cure cancer, eradicate AIDs and send astronauts to Mars
It's anyone's guess what will happen during the "503 day campaign for America's future" that Mike Pence described before his boss took the podium in Orlando (now 502, for those keeping count). Perhaps the president's oratory style that includes a pinch of lies, and mistruths, and just general nonsense that doesn't tend to say much about anything, but sounds like it might have be about something, will fall flat in a 2020 America that sees record stock market performance, but questionable wage growth for the every-man and serious questions for the American middle class.
The polls certainly aren't looking good for Trump's chances against seemingly every Democrat in the general election. But, then again, when have they ever?
President Trump kicks off 2020 campaign at Orlando rally
The president likes to complain that the media doesn't get the whole story right, and you can expect that in 2020. They don't give him credit for his accomplishments, he says, and said in Orlando. The media, and the Washington elite he rails against, in spite of his current job title, are coming to get him, he said.
During his rally, the president described the Mueller investigation and the fallout since as as an "illegal attempt to overturn the results" of the 2016 election, and noted he had won both that election and the battle since with the investigators who are analysing Russia's meddling in that election. It's all about winning, and Trump knows how to claim a victory even in the murkiest of circumstances. And, now he makes headlines every time he does.
As the media in the centre of the Amway Centre on Tuesday ignored heckles from the MAGA crowd to write up fact checks on the president's speech — where to even start? — it was clear from his supporters that the media's interpretation of the facts don't really matter to the 40 per cent or so of Americans who approve of the 45th president's job performance.
"He's the greatest president we've ever had, his policies are great," one supporter in Orlando said, highlighting that she loves he is trying to build a border wall, and that he's deporting "illegals".
"He's turned the economy around, he's reduced unemployment," another said, referencing economic trends that have been seen during this presidency, but had started long before during the Barack Obama years. Either way, Trump gets the win.
"He's one of the toughest presidents we've ever had," said another.
With polls showing him trailing most of his likely 2020 opponents, it will take some strength if the president hopes to win, too. He certainly has the tools for the job, including a campaign apparatus that claimed he raised $24.8m in the first 24 hours of his re-election bid. His supporters say he's tough; now we get to see whether saying that can make it true.
Register for free to continue reading
Registration is a free and easy way to support our truly independent journalism
By registering, you will also enjoy limited access to Premium articles, exclusive newsletters, commenting, and virtual events with our leading journalists
Already have an account? sign in
Register for free to continue reading
Registration is a free and easy way to support our truly independent journalism
By registering, you will also enjoy limited access to Premium articles, exclusive newsletters, commenting, and virtual events with our leading journalists
Already have an account? sign in
Join our new commenting forum
Join thought-provoking conversations, follow other Independent readers and see their replies