'This year is different': Trump second term would 'shatter' US democracy, warns retired general
'I thought if our citizens lose faith in how they go about electing their leaders, then democracy itself is at risk,' says Chuck Boyd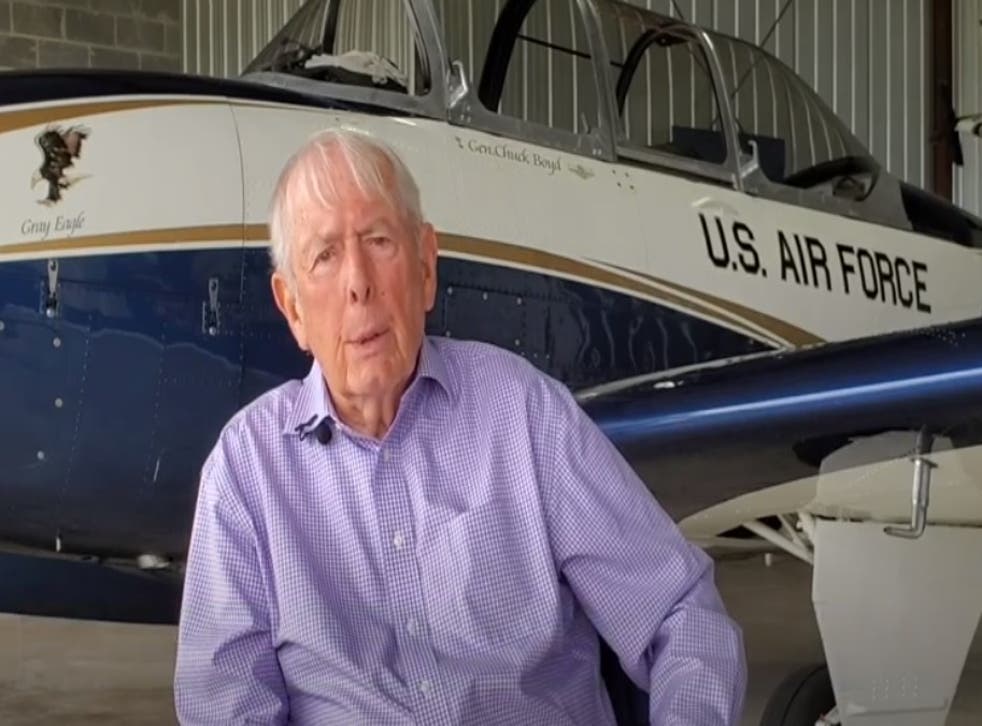 Leer en Español
A retired general who was held in Vietnam for seven years as a prisoner of war has said a second Donald Trump term in the White House poses a fundamental threat to American democracy.
Chuck Boyd, who earned four stars while serving in the United States Air Force, offered a scathing assessment of Mr Trump's tenure in the White House before doubling down on his support for Joe Biden.
"As I watched him over the years, my unease with his presidency has increased," Mr Boyd, a Republican, told NPR on Friday. "It increased to the point that I believe that our democracy will be in shatters by the time he has served two terms".
He added: "While I am reticent about getting involved in presidential politics by any military men, in this case, keeping out of the political process is something I don't feel like I can do."
Mr Boyd is among some 500 national security leaders who have come out in support of Mr Biden, 77, as concerns continue to grow over the president's increasingly erratic behaviour as he seeks to win reelection.
Trailing his rival by a considerable margin in all major polls, Mr Trump, 74, has attemped to cast doubt on the legitimacy of November's election by claiming - without evidence - that mail-in ballots could fall foul to voter fraud, as millions of Americans vote by post due to the coronavirus pandemic.
At campaign rallies, the president has also repeatedly told his supporters that a "rigged" election is the only way that his Democratic challenger can win.
The president's attempts to mislead the US electorate were a tipping point for Mr Boyd, who served as a combat pilot in the air force and is the only Vietnam war veteran to reach the four-star rank.
"I thought if our citizens lose faith in how they go about electing their leaders, then democracy itself is at risk, at deep risk. That's the point at which I said I've got to get involved in this in some way," he said.
"What really worries me — and this is one of the objectives of the Russians for a long time — is to cause people to lose faith in democratic processes. A lot of other countries, fragile democracies, look to the United States as an example of democracy in action. And when they see our democratic processes not functioning, then I think other nations lose faith in their own process."
Mr Boyd also hit out at the commander-in-chief over a recent report in The Atlantic which claimed that he had once referred to military veterans as "suckers" and "losers". Mr Trump has denied ever making the remarks.
"I found it sickening — and I believe it by the way," Mr Boyd said of the comments. "To know that [he] holds those who serve in disdain, that's a knife right straight into the heart of any military man...to call those people suckers is one of the most disgusting things I can imagine. That's one of the reasons I've made the commitment to support and endorse Joe Biden for president".
With less than a month to go until election day, Mr Trump continues to lag behind his rival in the polls and his campaign was dealt a huge blow last week when he was hospitalised after contracing coronavirus, having for months downplayed the seriousness of a disease that has so far claimed some 213,000 US lives.
After spending the weekend recieving treatement in hospital, Mr Trump got back to the White House on Monday and appeared on the Truman balcony, in a highly staged performance that drew comparisons with the fascist dictator Benito Mussolini.
On Tuesday, it was back to business as usual as the president returned to the Oval Office before delivering a bizzarre speech in which he said his diagnosis was a "blessing from God".
By Thursday, Mr Trump was back on the phone to Fox News, declaring that he would not take part in the next presidential debate after oranganisers moved it online due to his coronavirus diagnosis.
In a subsequent interview - in which he coughed and repeatedly cleared his throat - the president told the network he plans to hold a campaing rally in Florida on Satuday.
White House spokeswoman Kayleigh McEnany said on Friday the president was hard at work and ready to go as soon as he got the OK from his doctor.
"He wants to talk to the American people, and he wants to be out there. Logistically, whether tomorrow's possible, it would be tough. It'd be a decision up to the campaign," she said.
Trump campaign officials have yet to confirm whether the plans will go head.
Mr Biden has continued to campaign during his rivals illness and is set to appear in Las Vegas on Friday.
Join our new commenting forum
Join thought-provoking conversations, follow other Independent readers and see their replies