'Election is choice between ballot and bullets': New Lincoln Project ad says armed militia will try to keep Trump in office at all costs
The Lincoln Project, a group of "Never Trump" Republicans, have warned in their latest ad that he will do anything to stay in power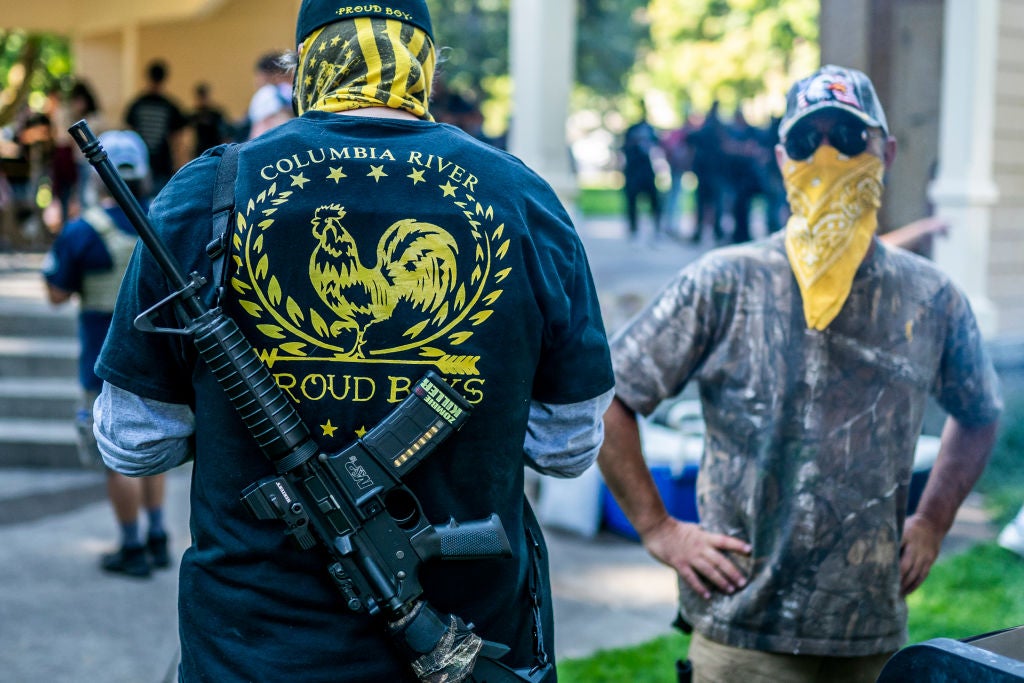 Donald Trump will stop at nothing to keep hold of the presidency, a new attack ad has warned, describing the November vote as "a choice between ballots and bullets".
The Lincoln Project, a group of anti-Trump Republicans, are investing millions in a series of campaign videos designed to drive Trump from office.
Their high-impact strategy of quick-turnaround videos, memes, swift clapback and trolling the president has won them a strong following online.
On Wednesday, their latest ad warned of violence around the election, using footage of the heavily-armed pro-Trump militia.
"First, Donald Trump tells America he won't accept the results of the election unless he wins," the voiceover states.
"Then Trump tells his violent, anti-Semitic Proud Boy allies to stand by - stand by for violence, stand by for attacks, stand by to keep him in office, at all costs.
"His words aren't a dog whistle - they're a siren.
"Trump's violent mobs make it clear this election is a choice between ballots and bullets. Between America or Trump."
The president has struggled, on the campaign trail, to know how to handle the issue of the white supremacist groups that back him.
During the first presidential debate on September 29 his rival, Joe Biden, challenged him to denounce by name the far-Right Proud Boys.
He paused, then said: "Stand back and stand by" - comments that were seized upon by members of the neo-fascist gang.
Senator Tim Scott of South Carolina, the lone black Republican in the Senate, said he thought Trump had misspoken during the debate and "he should correct it."
Asked directly if Trump misspoke, White House spokesman Kayleigh McEnany denied he had.
"When the President denounced white supremacy and said 'sure', no, he did not misspeak," she said.
Join our commenting forum
Join thought-provoking conversations, follow other Independent readers and see their replies