Ted Cruz names former CEO Carly Fiorina as his running mate
The former Hewlett-Packard boss sang to Mr Cruz's daughters after being announced as his vice presidential pick
Tim Walker
US Correspondent
Thursday 28 April 2016 12:50 Comments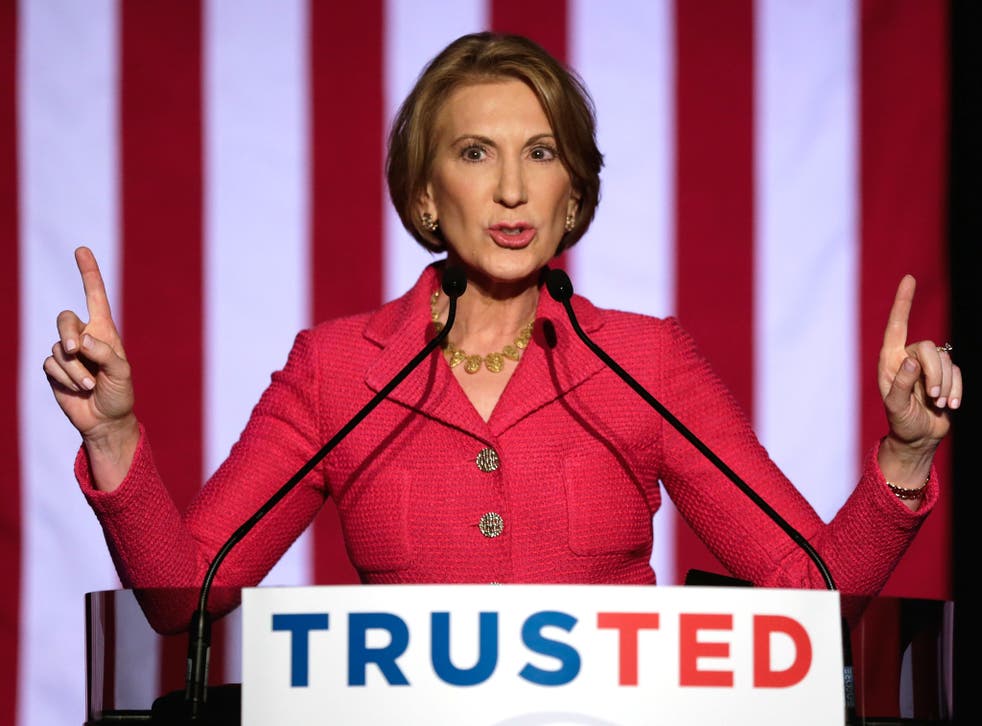 Carly Fiorina, the former Hewlett-Packard CEO whose failed White House bid burned brightest during a feud with Donald Trump, has been unveiled as the running mate to Mr Trump's main rival, Ted Cruz.
Mr Cruz announced his surprise vice presidential pick at a rally in Indianapolis, where Ms Fiorina joined him ahead of next week's Indiana primary. The Texas Senator said Ms Fiorina was "brilliant and capable" and "a woman of deep principle", who had "over and over again… shattered glass ceilings." In naming her as his running mate, he said, "I am also telling you that she is someone you can be confident in if the occasion should arise to be commander in chief and keep this country safe."
The Senator revealed that Ms Fiorina had bonded with his daughters Caroline and Catherine by singing them made-up songs on the campaign bus. When she appeared on stage after him, Ms Fiorina sang a verse of one of those songs, including the lines: "I know two girls that I just adore / I am so happy I get to see them more."
The businesswoman attacked both the Republican and Democratic front-runners, saying "Donald Trump and Hillary Clinton are two sides of the same coin," who would be "disastrous for this country… They are not going to challenge the system. They are the system."
Insisting that Mr Cruz was "a heck of a lot of fun", Ms Fiorina said: "I am prepared to stand by his side and give him everything I have, to restore the soul of this party, to defeat Donald Trump, to defeat Hillary Clinton and to take our country back."
Ms Fiorina has become an enthusiastic Cruz surrogate since dropping out of the Republican presidential race in February, following her poor showings in Iowa and New Hampshire. Earlier this week, she was confirmed as being among a handful of potential vice presidential candidates to have submitted tax returns to the Cruz campaign for vetting.
On Monday, Mr Cruz's campaign chairman Chad Sweet confirmed that the Senator was vetting Ms Fiorina, telling CNN that she was "one of the most talented business leaders of modern times."
The announcement could help Mr Cruz to reclaim the news cycle after his crushing loss in Tuesday's so-called Amtrak primaries in Pennsylvania, Maryland, Connecticut, Delaware and Rhode Island. Mr Trump won a clean sweep of all five states, and Mr Cruz came in third, behind Ohio Governor John Kasich, in all but one of them, Pennsylvania.
Mr Trump, who is steadily advancing on the 1,237 GOP delegates he needs to secure the Republican nomination before the party's convention in July, said he was unimpressed by the prospect of a Cruz-Fiorina ticket, describing Ms Fiorina as an "insignificant player" in the presidential race. "Not because she's a woman, but Carly did not resonate at all with people," the property mogul told ABC, saying Ms Fiorina had only had "one good debate".
That debate was in September 2015, shortly after Mr Trump had disparaged Ms Fiorina's appearance in an interview with Rolling Stone. "Look at that face!" he was reported to have said. "Would anyone vote for that?" Invited to respond to his remarks, Ms Fiorina said: "I think women all over this country heard very clearly what Mr Trump said."
As he introduced Ms Fiorina to the crowd in Indianapolis, Mr Cruz recalled "the grace, the class, the élan with which Carly responded" to the insult.
The episode marked the first of many times during his campaign that Mr Trump has been accused of misogyny. Ms Fiorina's response was also considered a rare example of a rival scoring points against Mr Trump on the debate stage. It proved to be the high point of her short-lived White House bid.
Ms Fiorina adds not only a female face to the Cruz ticket, but also a political outsider, in a Republican presidential cycle that has punished traditional politicians. The former CEO ran a failed bid for the US Senate in California in 2010, but has never held elected office.
Yet her CV could also cause problems for the Cruz campaign in a climate where voters are deeply sceptical of corporate America. During her time as HP's chief executive, some 30,000 people were laid off by the tech firm, while some jobs were sent overseas to China. When Ms Fiorina herself was forced out in 2005, she received a $21m (£14.4m) severance package.
Vice presidential picks are normally made public in the run-up to the convention, when a party has already picked its nominee. But this is no normal presidential cycle, and Mr Cruz presumably hopes to add legitimacy to his claim on the Republican nomination by announcing a running mate at this early juncture.
His pick could nevertheless prove irrelevant. The Texas Senator is behind Mr Trump in polls in Indiana, and it is already mathematically impossible for him to clinch the nomination on the first ballot. His only hope now is a contested convention, where GOP delegates will also pick the vice-presidential nominee in a separate ballot.
It is "too early" for Mr Cruz to name a running mate, Mr Trump said, adding: "Frankly, he's wasting his time because he won't be the nominee."
Register for free to continue reading
Registration is a free and easy way to support our truly independent journalism
By registering, you will also enjoy limited access to Premium articles, exclusive newsletters, commenting, and virtual events with our leading journalists
Already have an account? sign in
Join our new commenting forum
Join thought-provoking conversations, follow other Independent readers and see their replies