US football referee Ricardo Portillo dies after being punched by player in row over yellow card
According to a police report the attack on Ricardo Portillo happened on April 27 at a youth match at Eisenhower Junior High School in Taylorville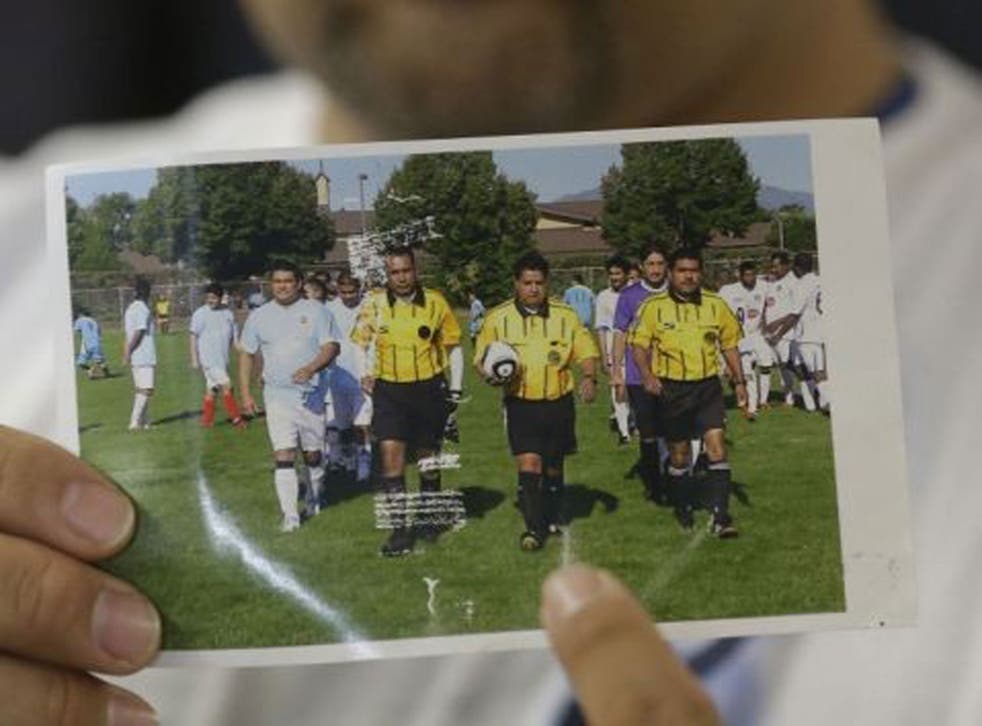 A US football referee has died after being punched in the head by a player in a row over a yellow card.
Ricardo Portillo, 46, of Salt Lake City died at the hospital, where he was being treated following the assault.
Police said the 17-year-old boy accused of punching Mr Portillo remains in a juvenile detention facility but has not been charged with any crime.
"Formal charges will be screened early next week with the Salt Lake County District Attorney's Office," a police press release said.
"Since Portillo has passed away additional charges will be screened in connection with his death."
According to a police report the attack on Ricardo Portillo happened on April 27 at a youth match at Eisenhower Junior High School in Taylorville.
As players were jostling for position ahead of a corner Mr Portillo saw the goalkeeper push an opponent with his hands.
He went on to issue the player with a yellow card. It is alleged that the goalkeeper punched Mr Portillo in the head as he was writing in his notebook.
The teenage goalkeeper was playing in his first game for the La Liga Continental de Futbol squad when he became enraged by the yellow card.
As a consequence Mr Portillo suffered swelling in his brain and had been listed in critical condition, Dr. Shawn Smith said Thursday at the Intermountain Medical Center in the Salt Lake City suburb of Murray.
The victim's family, which publicly spoke of Portillo's plight this past week, has asked for privacy.
Johana Portillo, 26, said last week that she wasn't at the April 27 game in the Salt Lake City suburb of Taylorsville, but she said she's been told by witnesses and detectives that the player hit her father in the side of the head.
"When he was writing down his notes, he just came out of nowhere and punched him," she said.
When police arrived around noon, the teenager was gone and Portillo was laying on the ground in the fetal position.
Through translators, Portillo told emergency workers that his face and back hurt and he felt nauseous.
He had no visible injuries and remained conscious. He was considered to be in fair condition when they took him to the Intermountain Medical Center.
But when Portillo arrived to the hospital, he slipped into a coma with swelling in his brain. Johana Portillo called detectives to let them know his condition had worsened.
That's when detectives intensified their search for the goalie. By Saturday evening, the teenager's father agreed to bring him down to speak with police.
Portillo's family said he had been attacked before, and Johanna Portillo said she and her sisters begged their father to stop refereeing because of the risk from angry players, but he continued because he loved soccer.
"It was his passion," she said. "We could not tell him no."
Join our new commenting forum
Join thought-provoking conversations, follow other Independent readers and see their replies