US House Speaker John Boehner blames his exit on constant sniping from Republican right
As another government shutdown looms, Republican congressman stuns Washington by declaring he has had enough
David Usborne
Friday 25 September 2015 19:07 Comments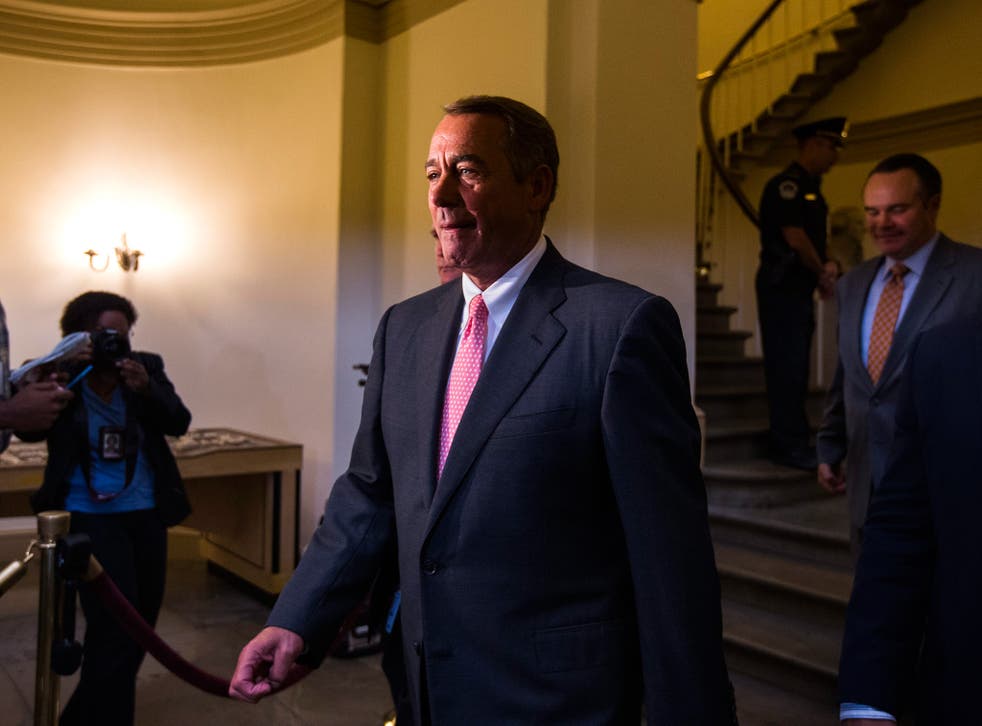 John Boehner, the Republican congressman from Ohio, has astonished Washington by promising to resign his seat and his office as speaker of the House, the third most powerful position in the United States, at the end of October – having been worn down by constant rebellion from the right flank of his party.
Mr Boehner, who has held the gavel in the House, the lower chamber of Congress, for nearly five years, has cut an increasingly lonely figure atop a party riven by disputes between a conservative rump that wants an uncompromising line on issues ranging from healthcare reform to abortion – up to and including using the threat of closing the government to get their way – and moderates who favour a more conciliatory approach.
Another possible government shutdown is looming now as some conservatives have vowed to block passage of a new federal budget next week if it includes funding for Planned Parenthood. Mr Boehner as well as Republican leaders in the US Senate have made clear they would not tolerate another shutdown, arguing it would severely damage the party as it seeks to win back the White House.
The 30-strong conservative camp has in recent weeks repeatedly threatened to seek a no-confidence vote in Mr Boehner, 65, in his 13th two-year term in Congress, accusing him of failing to stand up to President Barack Obama.
No such floor vote to oust a sitting speaker has happened in over 100 years. He could only have survived it with support from Democrats, a politically unpalatable prospect.
Mr Boehner said he had decided to step down to protect Congress from further strife: "Prolonged leadership turmoil would do irreparable damage to the institution."
The row over Planned Parenthood, a network of women's health clinics around the country some of which offer abortion services, blew up earlier this summer when activists secretly filmed some of its top officials discussing the handling of foetal tissues for research. The allegation is that the organisation profits from the sale of the tissue, something Planned Parenthood has denied. About a third of its funding comes from government grants and contract, but none of that money goes to abortion services. The announcement came just a day after an often emotional Mr Boehner welcomed Pope Francis to Capitol Hill, alongside other top congressional leaders.
A devout Catholic, it is possible that the Papal visit was the moment when he decided he no longer had the will to fight the intra-party battles. "Obviously the pope had a big impact on him," said Congressman Richard Nugent. "That's about the most selfless act I've ever seen, willing to step down to save this country and save this nation." Some of his critics were quick to celebrate. "I think it's a victory for the American people," said Tim Huelskamp, a Congressman from Kansas, who said that Mr Boehner had proved no match to Mr Obama. "He's run circles around us since John Boehner was speaker of the House. We need a speaker who is going to be a conservative leader."
The party now faces further distraction choosing a new leader and speaker. It might for the current number two in the House, Kevin McCarthy, currently the majority leader and a widely liked member from California, to lose. But he may face a challenge if conservatives decline to rally behind him. Whoever replaces Mr Boehner, they will inherit the same party strains that have bedevilled him.
"I knew that John was under a lot pressure and also tired," commented Senator John McCain. "He is an outstanding leader and a wonderful man". Nancy Pelosi, the Democrat leader in the House, said the decision was "seismic" at a time when a new budget needed approval and a "distraction".
Register for free to continue reading
Registration is a free and easy way to support our truly independent journalism
By registering, you will also enjoy limited access to Premium articles, exclusive newsletters, commenting, and virtual events with our leading journalists
Already have an account? sign in
Join our new commenting forum
Join thought-provoking conversations, follow other Independent readers and see their replies