US intelligence chief James Clapper defends NSA surveillance of foreign leaders
Germany is smarting from revelations that the US secretly tapped into the cell phone of Chancellor Angela Merkel beginning in 2002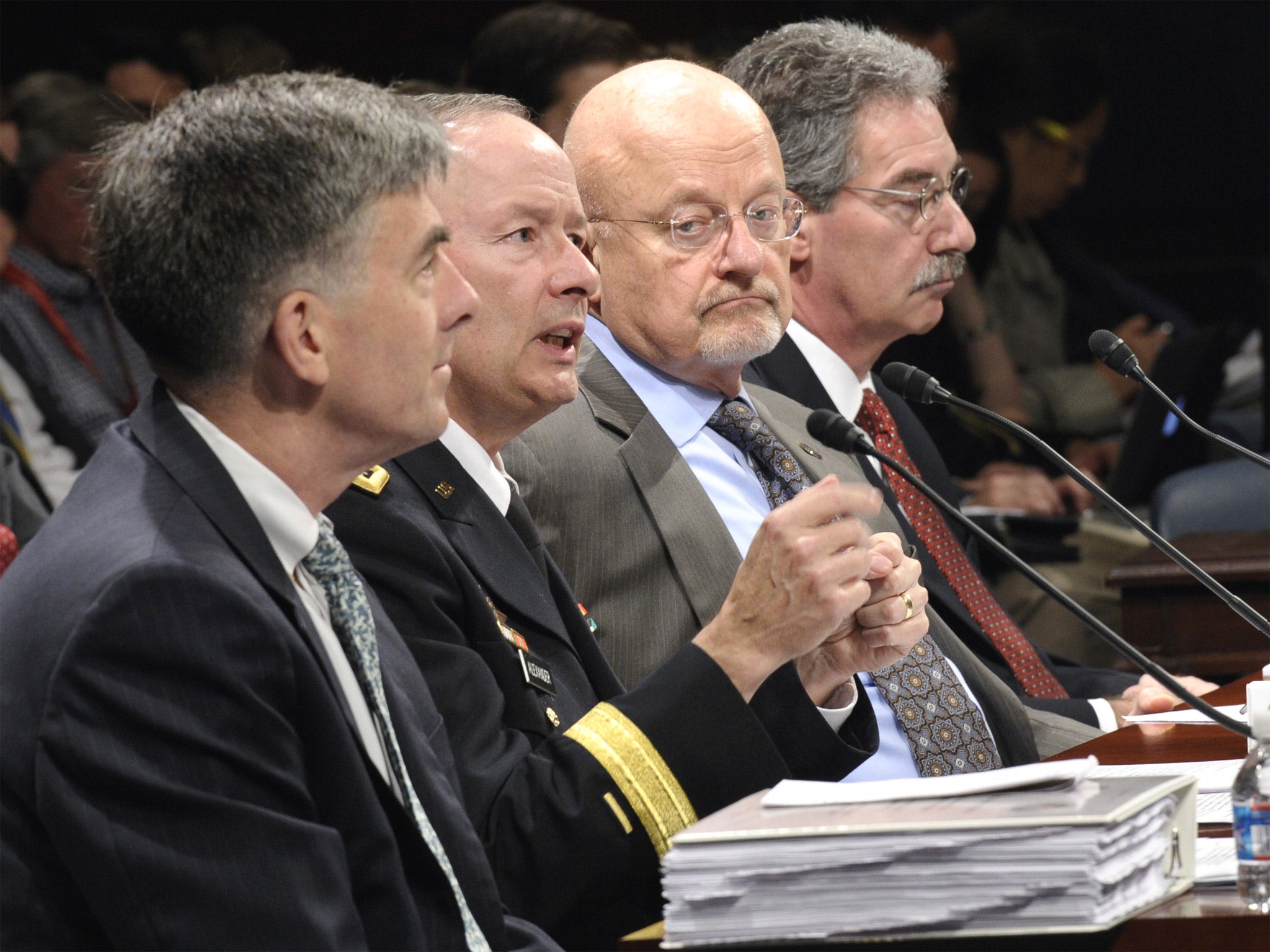 On the back foot at hearings on Capitol Hill, the chiefs of America's intelligence arms tried to disarm the bomb that has blown up over the eavesdropping into Angela Merkel's phone countering that the US has been spying on foreign allies for decades and its allies have returned in kind.
The closely watched and sometimes tense hearings opened as pressure continued to mount on the White House and Congress explicitly to ban the monitoring of leaders of friendly countries by the National Security Agency, NSA, and instigate broader reforms to curtail its reach and increase its accountability.
National Intelligence Director James Clapper defended the NSA's programmes. "To be sure, on occasion we have made mistakes," he said. As for spying on foreign leaders he offered it was a "kind of a basic tenet" of US intelligence-gathering to find out their intentions and ensure that "what they are saying gels with what's actually going on". Asked if allies spy on US officials, he replied, "absolutely".
Democrat lawmakers on the intelligence panel in particular pressed Mr Clapper and General Keith Alexander, the Director of the NSA, and voiced wide misgivings as Washington grapples with a growing anger from foreign allies, notably Germany amid reports US began tapping Ms Merkel's phone in 2002.
Part of the response took the form of hand-wringing about Edward Snowden, the former NSA contractor who has been the source of the most of the recent revelations. "He did get great access to what we'll call the core capabilities we have…and he took a lot of that," Gen. Alexander confirmed, adding the damage was being made worse by the way it has been "dribbled out".
"It's being done in a way that would cause maximum harm. I don't know why they would want to harm our country. But that's what's being done. And our allies." Both Alexander and Clapper concurred quickly when asked by Republican congresswoman Michele Bachmann whether they considered Snowden a traitor.
Yet, in a reversal of one part of the narrative of recent days, US officials pushed back against reports that the NSA had been engaged in sweeping up data on millions of phone calls made in France and Spain, asserting rather that those countries' own domestic intelligence agencies had been gathering the information – in war zones and areas outside their borders – and then sharing it with the NSA.
In his testimony, Gen Alexander called "absolutely false" media reports about the collection of phone 'metadata' – meaning items like numbers dialed, locations calls are made from and duration of calls – in France, Germany and Spain. He said the NSA had received data provided by NATO partner countries.
Republicans on the panel, including Republican chairman Mike Rogers, attempted to shield the NSA and cautioned against legislation that might hobble its ability to keep Americans safe. "We can't ask the FBI to find terrorists plotting an attack and then not provide them with the information they need," he said, adding: "This is the time for leadership, it is not a time to apologise."
Already circulating on Capitol Hill is a sweeping intelligence gathering reform bill drafted jointly by Senator Patrick Leahy, the Democrat chair of the Senate Judiciary Committee and Republican congressman James Sensenbrenner. It was initially triggered by revelations during the summer that the NSA was sweeping up data on millions of phone communications made domestically by American citizens.
Dianne Feinstein, the Democrat chair of the Senate Intelligence Committee, declared herself "totally opposed" to spying on the leaders of allies and called for a "total review of all intelligence programs". Also apparently distancing itself from the NSA's actions, officials at the White House said President Barack Obama only learned of the tapping of Ms Merkel's phone this summer and ordered it stopped.
Gen Alexander in his testimony seemed to back the White House saying it knows the general sweep of the NSA does but not everything. "They can and do (now)," he said, "but I have to say that that does not necessarily extend down to the level of detail... so we do not necessarily review with the White House what the collection deck is... that is done at levels below the White House or national security staff."
Separately, US officials were cited by Reuters revealing that President Obama recently gave an order to the NSA to curtail its spying on foreign missions at the United Nations headquarters in New York.
Russians 'did not give PM USB stick at G20'
Downing Street says David Cameron did not receive a USB stick reportedly used by Russia's secret services to spy at the G20 summit last month, after Italian media claimed the devices were given to world leaders. But No 10 did not rule out the possibility that officials were given one of the drives that are said to have contained a Trojan horse programme allowing documents stored on laptops to be accessed.
Italian media claimed that heads of state and other delegates were given the devices at the meeting last month. The Prime Minister's official spokesman said: "My understanding is that the Prime Minister didn't receive a USB drive because I think they were a gift for delegates, not for leaders."
PA
Join our commenting forum
Join thought-provoking conversations, follow other Independent readers and see their replies