Journalist reporting on immigration released from 'inhumane' US migrant detention centre after 15 months
Manuel Duran believes he was targeted in attempt to curtail his journalism after decade of reporting on immigration officials
Marisa Iati
Friday 19 July 2019 11:22 Comments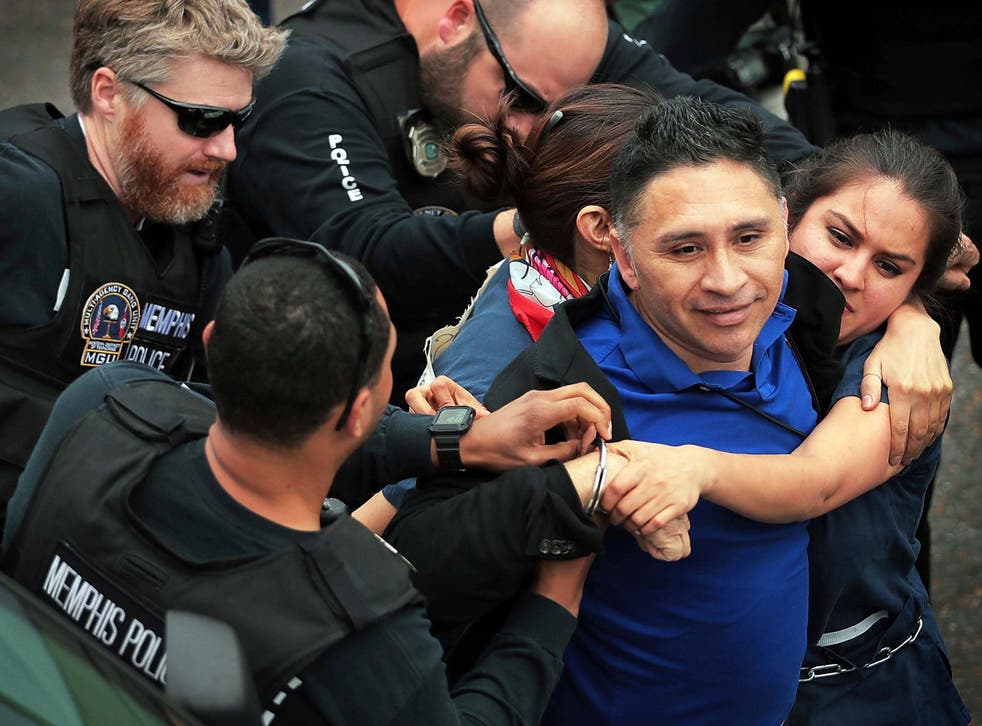 There were bugs, and the showers were cold. Air conditioning was not available, but the heat was turned on inexplicably.
If you didn't have family in the United States to send money for food, you would go hungry.
Those are just some of the conditions Manuel Duran described after he was released from a US immigration detention centre.
As a journalist in Memphis, Tennessee, Mr Duran had been reporting on immigration enforcement officials and sordid conditions for more than a decade by the time they took him into custody last year.
Now, he says he's experienced the neglect himself.
'Dangerous' overcrowding of migrants in US border facilities

Show all 6
"I've seen the cruelty of the mass detention of immigrants firsthand," Mr Duran told reporters in Spanish on Wednesday, "and it is unnecessary and inhumane."
Mr Duran, a native of El Salvador, had been working for the Spanish-language news outlet Memphis Noticias.
After being released last week from 15 months in detention, Mr Duran, 43, decried what he called the brutal treatment of immigrants by Donald Trump's administration.
Detention centres have faced severe overcrowding in the past several months, prompting outrage and calls for change.
Unlike many reporters who focus on immigration, Mr Duran has lived through the detention conditions he covers.
Migrants did not get enough food at any of the four facilities where Mr Duran was held, he said at the news conference on Wednesday.
They had to buy rations with money sent by their families, and if they didn't have relatives in the United States, the migrants would go hungry.
The holding facilities were infested with cockroaches and spiders, Mr Duran said. At Etowah County Detention Centre in Alabama, he said he had to bathe with cold water from hoses for two months.
The air conditioner was being repaired for most of the spring, Mr Duran said, and the heat was turned on at one point, making it difficult to sleep.
"I've seen the disastrous effect of Trump's anti-immigrant policy," Mr Duran said. "I've seen working men, businessmen, who have lived their whole lives in this country and who haven't committed crimes crying and longing to reunite with their families."
Mr Duran alleged that ICE had singled him out for detention because he was a journalist from El Salvador.
Honduras: Inside ground zero of the Central American migrant crisis
His attorneys at the Southern Poverty Law Centre also argued in a court document that law enforcement had arrested and detained Mr Duran in an attempt to suppress his reporting critical of immigration enforcement.
"In the US, we are made to believe that freedom of the press is valued, but I can tell you all that under the Trump administration, this isn't true," Mr Duran said.
He was released from detention on bond on 11 July while the Board of Immigration Appeals considers whether to grant him asylum because journalists face dangerous conditions in El Salvador, his attorneys said.
Gracie Willis, a staff attorney at the Southern Poverty Law Centre, said Mr Duran decided to speak to reporters about his experience in detention because he considers journalism a form of advocacy.
"I think for him, it was important for him to speak to the press, who are his brothers and sisters in his vocation – to inform them about the things that he saw," Ms Willis said.
On 3 April 2018, Mr Duran was reporting on a protest of local police helping Immigration and Customs Enforcement (ICE) when Memphis police arrested him while they were trying to clear people from the street, according to Mr Duran's attorneys.
Mr Duran was charged with disorderly conduct and obstruction of a highway, the lawyers wrote in the court document, but the charges were dropped two days later.
Instead of releasing Mr Duran from jail, his attorneys said he was turned over to ICE and brought on an eight-hour bus ride to the LaSalle detention centre in Jena, Louisiana – without access to a bathroom and with his wrists, ankles and waist in shackles.
Mr Duran migrated to the United States in 2006, when his television reporting in El Salvador subjected him to death threats, his attorneys wrote.
Mother of toddler who died in migrant detention centre speaks about conditions at border facilities
He missed an immigration court hearing the next year because he was not told about it, according to his lawyers, causing a judge to issue a removal order for him.
ICE on Thursday did not respond to a request for information about his case and for a response to his criticisms of the detention centres.
Mauricio Calvo, the executive director of advocacy group Latino Memphis, said many other immigrants face the same conditions that Mr Duran described.
Attorneys from Latino Memphis, an organisation that provides services and advocates for policies that benefit Latinos, were part of Mr Duran's legal team.
"This guy had a lot of support because he's a journalist and all these different things," Mr Calvo said, "but we have 500 cases at Latino Memphis, and most people cannot get the attention that Manuel did."
Mr Duran is not the first foreign-born journalist to be detained by ICE.
Emilio Gutiérrez Soto, a Mexican reporter, migrated to the United States in 2008 after he says soldiers broke into his home and took his identity documents.
He and his son Oscar were denied asylum in 2017 and temporarily detained. Their immigration cases are ongoing.
Washington Post
Register for free to continue reading
Registration is a free and easy way to support our truly independent journalism
By registering, you will also enjoy limited access to Premium articles, exclusive newsletters, commenting, and virtual events with our leading journalists
Already have an account? sign in
Join our new commenting forum
Join thought-provoking conversations, follow other Independent readers and see their replies