Deadly form of black lung disease hits more American miners than ever - as Trump fights to boost coal output
'This is history going in the wrong direction'
Jane Dalton
Tuesday 22 May 2018 22:15 Comments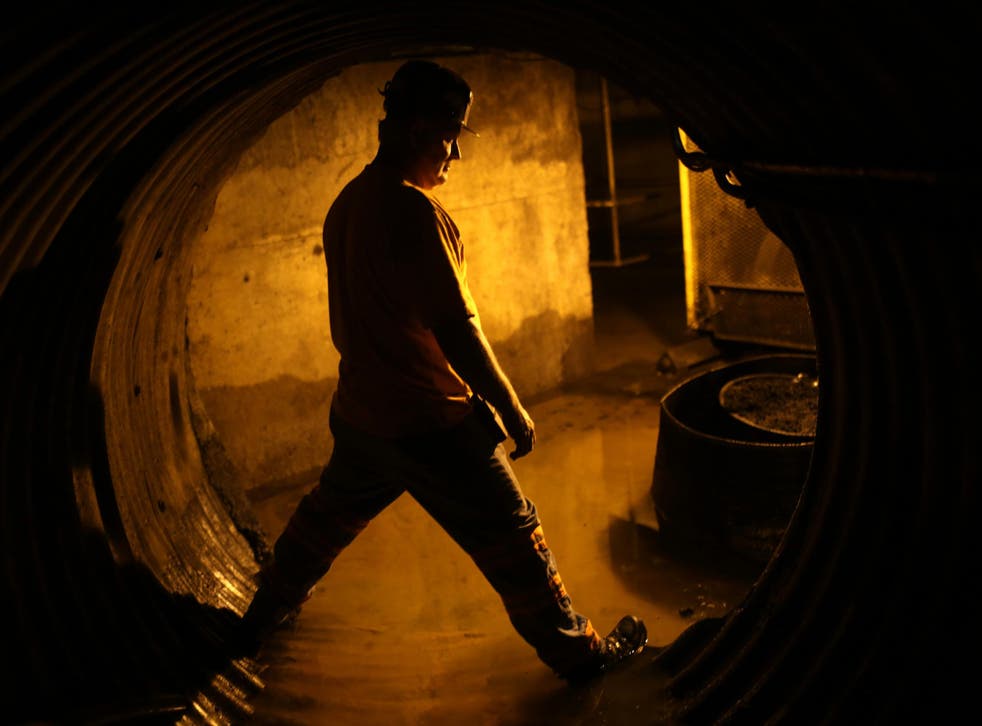 Researchers have been "astounded" to discover a resurgence in the deadliest form of black lung disease in American miners – an industry that Donald Trump is attempting to revive.
Since 1970, there has been a "substantial" rise in the number of workers suffering progressive massive fibrosis despite efforts to introduce modern dust-control measures in mines.
The increase has sped up since the turn of the millennium.
Scientists say one factor is a lack of investment in dust-reduction systems. Another is that miners have been working longer hours and more days each week as the industry has come under ever more pressure thanks to the abundance of cheap natural gas and the plummeting cost of renewables.
US coal plants have been closing at an unprecedented rate, and President Trump has pledged to revive the beleaguered industry and put miners back to work.
Researchers analysed data from the US Department of Labor collected from former coal miners applying for benefits from 1970 to 2016 under the Federal Black Lung Program, which provides payments and medical benefits to coal miners disabled by the disease, whose medical term is pneumoconiosis.
Over those 46 years, 4,679 coal miners were found to have the "disabling but preventable" condition progressive massive fibrosis (PMF) – the most severe form of black lung.
Half of those came from miners applying for benefits since 2000, when new dust-control measures began.
Kirsten S Almberg PhD, the lead author and assistant professor at the University of Illinois at Chicago, said the findings were not completely surprising after the National Institute of Occupational Safety and Health published data on active miners in 2014 showing an increase in PMF since 2000. She added that black lung clinics nationally were also reporting increased numbers of cases.
"We were, however, surprised by the magnitude of the problem and are astounded by the fact that this disease appears to be resurging despite modern dust-control regulations," Dr Almberg said. "This is history going in the wrong direction."
The study found that most of those with PMF last worked in mines in the central Appalachian states of West Virginia (28.4 per cent), Kentucky (20.2 per cent), Pennsylvania (20 per cent) and Virginia (15.3 per cent). West Virginia, Kentucky and Virginia also experienced the largest increases - from 9 to 12 per cent - in PMF diagnoses over the past four decades.
During that time, Tennessee reported a 10 per cent rise in claims - a trend that had not been seen before.
Dr Almberg said the miners affected appeared to be working in smaller operations that may have invested less in dust-reduction systems.
"Mines operational today likely produce higher levels of crystalline silica, which is more damaging to the lungs than coal dust, during coal extraction," she said. "And miners appear to be working longer hours and more days per week, leaving less time for their lungs to clear the dust that has been inhaled."
Black lung disease turns lungs from pink to black. If it progresses to PMF, nodules may form in the lungs, along with a type of emphysema and fibrosis - lung scarring.
Together, these conditions lead to airway obstruction, shortness of breath and often premature death.
The longer someone is exposed to dust, the greater their chance of becoming ill, and Dr Almberg says miners who have worked 10 years or more are particularly at risk.
The study authors concluded: "The resurgence of this disabling but preventable disease points to the need for focused research on and implementation of primary prevention, such as reducing coal mine dust exposures, and for improved secondary prevention, including medical surveillance of working coal miners to identify early stages of disease and halt its progression."
Mr Trump has repeatedly pledged to halt the decline in coal and end the "war" on mining communities by repealing environmental regulations introduced by his predecessor, Barack Obama.
Since 2010, more than 260 US coal plants have closed, but last year coal production and exports bucked the trend and rose thanks to a bump in exports.
Register for free to continue reading
Registration is a free and easy way to support our truly independent journalism
By registering, you will also enjoy limited access to Premium articles, exclusive newsletters, commenting, and virtual events with our leading journalists
Already have an account? sign in
Join our new commenting forum
Join thought-provoking conversations, follow other Independent readers and see their replies