Why North Korea threatened the tiny US territory of Guam
'I want to reassure the people of Guam that currently there is no threat to our island or the Marianas,' says island's Governor Eddie Baza Calvo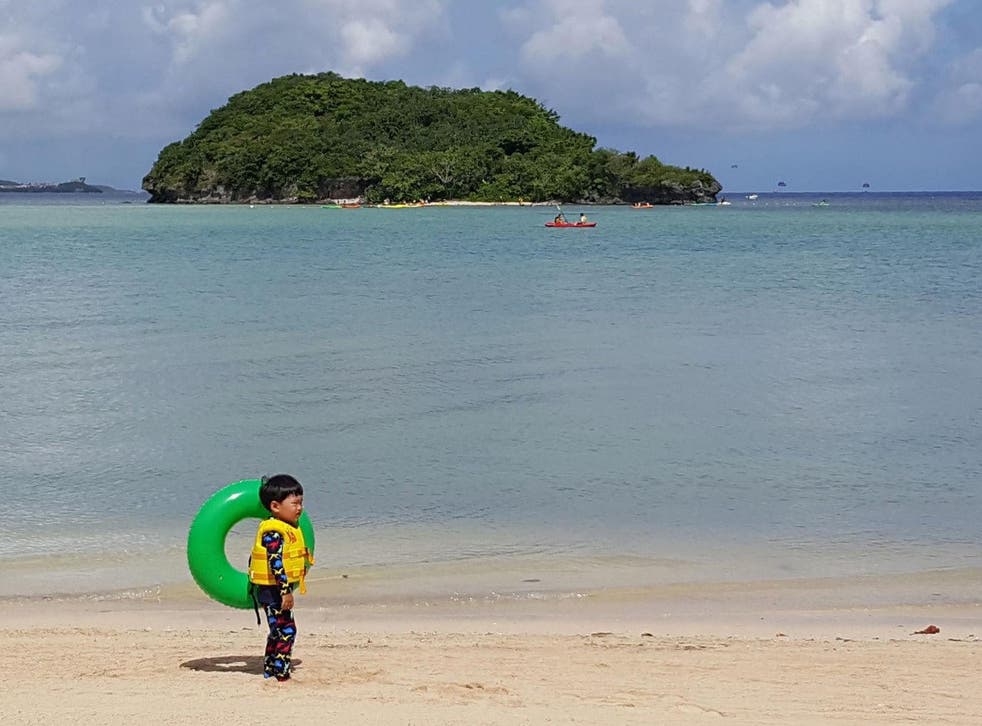 North Korea is reviewing plans to strike US military targets in Guam with its medium-range ballistic missiles to create "enveloping fire," according to state media.
The message came hours after President Donald Trump warned North Korea that it will be "met with fire and fury and, frankly, power, the likes of which this world has never seen before" if the country does not stop threatening the United States.
The threats follow a unanimous vote by the UN Security Council to impose strict new sanctions on North Korea.
North Korea's state media have often warned of strikes against the United States, but the threats are usually vague and do not typically include targets this specific, the Wall Street Journal said.
That Kim Jong-un is eyeing Guam, the sovereign US territory with a strategic airfield and naval station, is no surprise to the 160,000 Guamanians on the island.
"Every time there is some sabre rattling in the part of the world, Guam is always part of the occasion," said Robert F. Underwood, the president of the University of Guam and the island's former delegate to the House of Representatives.
"When you're from Guam and live on Guam, it's disconcerting, but not unusual," Underwood told The Washington Post.
The governor of Guam, Eddie Baza Calvo, posted an address early Wednesday morning on YouTube, telling island residents not to worry.
"I know we woke up to media reports of North Korea's talk of revenge on the United States and this so-called newfound technology that allows them to target Guam," the governor said. "I'm working with Homeland Security, the rear admiral and United States to ensure our safety, and I want to reassure the people of Guam that currently there is no threat to our island or the Marianas."
Calvo said "there is no change in the threat level resulting from North Korea events" and that "there are several levels of defence, all strategically placed to protect our island and our nation."
Noting that "Guam is American soil" and that "an attack or threat on Guam is an attack or threat on the United States," Calvo said he had reached out to the White House, and that American officials have assured him that the island "will be defended."
"With that said, I want to ensure that we are prepared for any eventuality," Calvo said, adding that he is convening a group "to discuss the state of readiness of our military and our local first responders."
"May God bless the people of Guam, and may God bless the United States of America," he concluded
Long a strategic linchpin
At about 4,000 miles west of Hawaii,and 2,200 miles southeast of North Korea, Guam is on the edge of US power in the Pacific. Its combined Navy and Air Force installation, Joint Region Marianas, is the home port for nuclear submarines, a contingent of Special Operations Forces and the launching point of flights for strategic bombers conducting rotational flights over Japanese territories and in the Korean Peninsula.
Guam has been a strategic linchpin since Spain relinquished control to the US Navy following the Spanish-American War in 1898. Japanese forces sped to the island following the bombing of Pearl Harbour in 1941 and captured it, subjecting its people to violence that some historians estimate to have killed 10 percent of its population.
The island just celebrated its 73rd Liberation Day, commemorating the start of the US-led effort to liberate Guam on 10 July 1944, Underwood said.
Now, the island paradise relies on tourism and military activity to buoy its economy, which is marked by high unemployment.
There have been recent efforts to grant Guam more control over its government, including support from the United Nations. Guamanians cannot vote for president in the US elections, but they do vote for party delegates in primaries and have a nonvoting delegate to the US House of Representatives.
A building military presence
Robert E. Kelly, an expert on North Korea at Pusan National University in South Korea, said the North Koreans always respond to threats with the "most outlandish rhetoric," but that Pyongyang also knows that attacking the United States would be suicidal.
"They're not apocalyptic ideologues like Osama bin Laden, willing to risk everything on some suicide gamble," Kelly said.
North Korea has warned of strikes against the United States before.
Last August, the country's Foreign Ministry said that all US military bases in the Pacific would "face ruin in the face of all-out and substantial attack," according to the Associated Press.
This followed a 2013 warning that Kim Jong-un had ordered his military to prepare plans to attack US bases in Guam, Hawaii, South Korea, and the continental United States.
Guam's growing strategic importance is due to its sovereign status, Underwood said.
The United States must get clearance from ally nations like South Korea and Japan to build up its military hardware in the event of defence escalations, which can be a lengthy process. But Guam has been used to project power immediately, Underwood said.
The island is also home to a terminal high-altitude area defence missile defence battery, which targets ballistic missiles. The presence of THAAD systems in South Korea has drawn consternation from Pyongyang and Beijing, which view the defensive system as an escalating presence.
A pair of B-1B Lancer bombers arrived in Guam from South Dakota recently to fly with South Korean and Japanese counterparts. That mission follows an operation over the Korean Peninsula in late July, in which the warplanes were scrambled from Guam as a response to North Korea's second test of an intercontinental ballistic missile that experts said could have reached as far as New York.
It was unclear Tuesday whether the Pentagon had elevated the readiness posture of its Guam-based fleet of ships and planes following the threat from North Korea.
"We always maintain a high state of readiness and have the capabilities to counter any threat, to include those from North Korea," Johnny Michael, a spokesman for Defence Secretary Jim Mattis, said in a statement to The Post.
The numerous installations on Guam host about 6,000 troops, a number that's growing as the United States seeks to rebalance its forces in the Pacific amid a growing reach of China's military and North Korea's increasingly sophisticated nuclear programme.
In 2014, then-Deputy Defence Secretary Bob Work said 60 percent of the Navy and 60 percent of combat air forces would be located in the region.
"Guam has always been a central part of our plans - certainly a central part of the Navy's plans but now a central part of the entire Department of Defence's plans," he said at the time.
Outsized contributions to the US
That leaves an island of US citizens watching the news closely as posturing escalates on either side of the Pacific.
Rep. Madeleine Z. Bordallo, the island's congresswoman, said in a statement Wednesday that "North Korea's most recent threat to target Guam is dangerous and it further heightens tensions in our region."
Underwood pointed out that "most of the time the overheated rhetoric comes from North Korea. This time it's coming from the US side."
Guamanians share two common sentiments about their role in foreign policy, Underwood said. Media reports focus on the importance of military installations, making locals feel like they are bit players on a large stage, he said. Others would rather shed the crosshairs.
"People say 'I hate being a target. We're the tip of the spear. Why can't we be another part of the spear?' " Underwood said.
In pictures: North Korea military drill

Show all 8
But Guam also has a proud tradition of supplying US troops from its island, with a disproportionate number of recruits coming from there and American Samoa, Underwood said.
Eighteen Guamanian troops were killed in Iraq and Afghanistan, pointing to an outsized sacrifice for a territory with a population smaller than Eugene, Oregon.
"We have more skin and more land in the game," Underwood said.
The Washington Post
Join our new commenting forum
Join thought-provoking conversations, follow other Independent readers and see their replies