I sacrificed goat 'to wilderness god' and drank its blood, admits US politician Augustus Sol Invictus
 'I know that's probably a quibble in the mind of most Americans...I sacrificed an animal to the god of the wilderness.'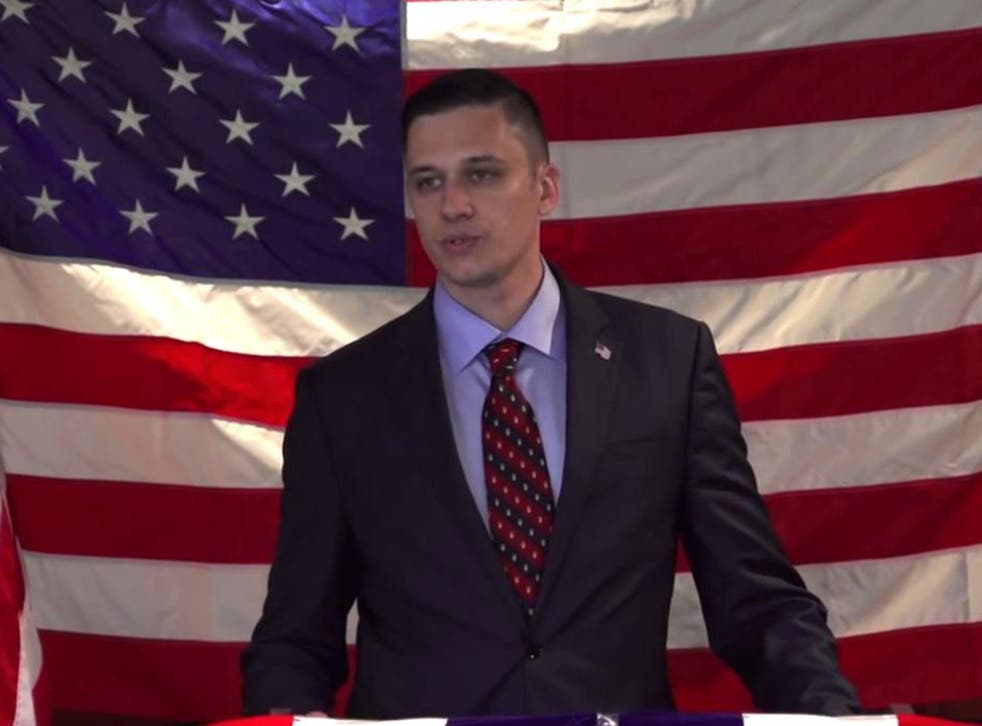 A lawyer running for election to the US Senate has admitted killing a goat and drinking its blood as a "sacrifice to the god of the wilderness".
Augustus Sol Invictus, a member of the Libertarian Party in Florida, admitted carrying out the ritual after a rival called his candidacy "absolute insanity".
"I did sacrifice a goat," the 32-year-old told the Associated Press. "I know that's probably a quibble in the mind of most Americans.
"I sacrificed an animal to the god of the wilderness…yes, I drank the goat's blood."
The news agency reported that the goat was killed two years ago, after Mr Invictus walked from central Florida into the Mojave Desert and spent a week fasting and praying.
Adrian Wyllie, the former chairman of the Libertarian Party in Florida, resigned from his post in protest after revealing the sacrifice and levelling accusations that Mr Invictus wanted to start an American civil war.
He said he felt compelled to speak out against the only candidate for the Libertarian Senate nomination, writing that he practices Thelema, a pagan religion based on the teachings of self-declared English prophet Aleister Crowley.
"I would never disparage anyone on the basis of their religion. But, since Mr Invictus cites his religion as the motivation for his violent intentions, I believe it must be scrutinised," Mr Wyllie wrote.
"Clearly, this man is the absolute antithesis of a libertarian."
Mr Invictus called the allegations a "smear campaign" and said that although white supremacists support his candidacy, he is not a racist.
The father-of-four's campaign website describes him as an attorney and community leader based in Orlando, Florida, who is the managing partner of Imperium, a law firm he founded in 2013.
"His father, a criminal defence attorney, instilled in him a deep respect for justice and an equally deep distrust of government," his biography reads.
"As a Senator, Augustus will seek to correct the evils of government – especially the extraordinary damage caused by prohibition and interventionism, both of which harm American interests."
In a letter to his fellow graduates from the DePaul College of Law in 2013, Mr Invictus wrote that he was about to start his journey into the wilderness.
Denouncing his US citizenship, qualifications, licence to practice law and "all material possessions", he reportedly wrote: "I have prophesied for years that I was born for a Great War; that if I did not witness the coming of the Second American Civil War I would begin it myself.
"Mark well: That day is fast coming upon you. On the New Moon of May, I shall disappear into the Wilderness. I will return bearing Revolution, or I will not return at all."
Speaking to the Associated Press, Mr Invictus said he would not initiate violence but that if the American government is "waging war on citizens", they have a right to self-defence.
"The only question is when are the citizens going to start fighting back?" he added.
"I don't think I'm the only person who sees a cataclysm coming, but I think I'm the only person saying it, and I think that scares people."
Mr Invictus chose his current name, which is a Latin phrase meaning "majestic unconquered sun" and declined to say what his previous name was.
On Facebook, he describes himself as a "captain, lawyer, agitator, rebel. The most dangerous Libertarian in America".
As criticism continued to pour in over the goat sacrifice, he wrote that the "feud" between him and Mr Wyllie was over and it was time to "leave this crisis behind and move forward".
"Pagans are mad at me right now for giving them a bad rap," he added. "If you're upset about a witch hunt, blame the media, not the guy on your own team."
A vote to suspend his membership with the Libertarian Party of Florida failed.
Register for free to continue reading
Registration is a free and easy way to support our truly independent journalism
By registering, you will also enjoy limited access to Premium articles, exclusive newsletters, commenting, and virtual events with our leading journalists
Already have an account? sign in