New wave of candidates seeks to make Democrats more progressive and avoid another election 'disaster' in 2018
Established Democrats are facing difficult fights against challengers across the country who are looking for more diversity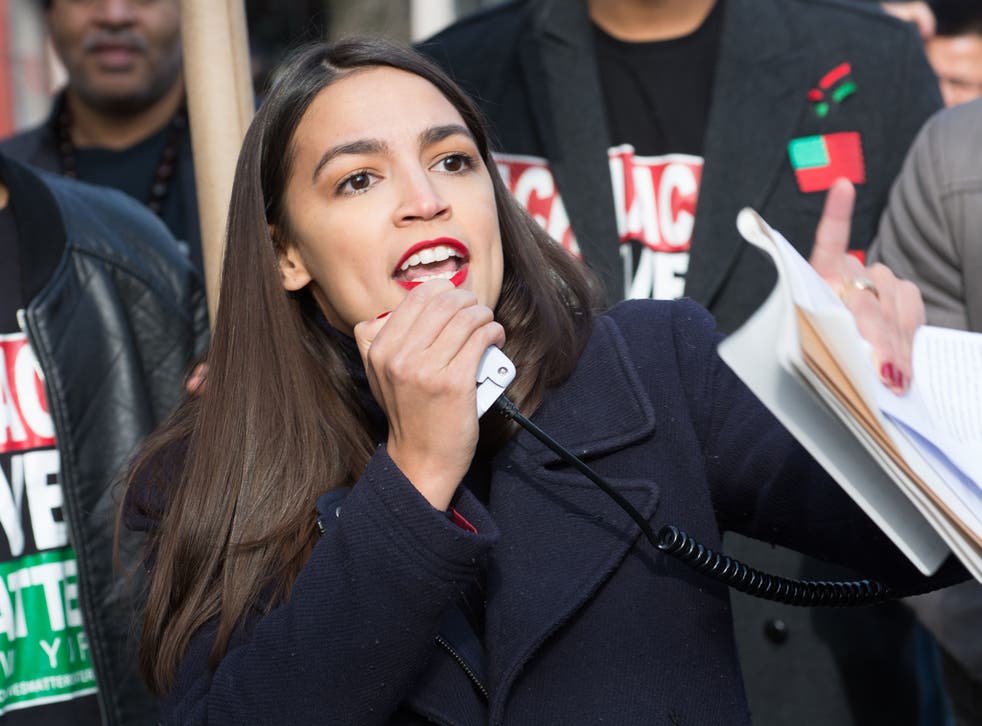 Congressional challenger Alexandria Ocasio-Cortez believes the Democratic Party could be "setting the country up for another disaster" if it does not get more progressive candidates on the ballot for crucial November midterm elections, with the party seeking to wrestle back control of Congress.
But, the challenge is not only about defeating Republicans, who hold the House, the Senate and have President Donald Trump in the White House. Ms Ocasio-Cortez is one of many candidates around the country trying to unseat so-called "establishment Democrats" – those who have been in Congress for decades and grown, as Ms Ocasio-Cortez puts it, "complacent".
"I think if we go in to the midterms with the same slate of incumbents as we had in 2016, we're setting the country up for another disaster," Ms Ocasio-Cortez said, referencing the win for Mr Trump that has caused much soul-searching in both parties. "It's time to move past 2016."
Her opponent Joe Crowley, has been a US House member for the 14th Congressional district running through the New York boroughs of the Bronx and Queens, for 20 years.
At 28, Ms Ocasio-Cortez could easily be thought of as naive for trying to take on the political machine built by Mr Crowley, and indeed faces an uphill battle to win the primary on Tuesday and head to the general election in November without taking a penny from corporate interests.
But, sitting in a cramped, hot office the Bronx native from a Puerto Rican family has a clear passion for the task at hand, explaining to The Independent that the reality is Mr Crowley is simply no longer representative of a district that is 70 per cent people of colour, a majority of them working-class.
"What I want the party and people all over the country to know is that my campaign represents authentic, accountable racial and social justice", Ms Ocasio-Cortez said, claiming her opponent seeks to "prioritise lobbyists over working families".
World news in pictures

Show all 50
Pure determination and a solid background in political organising for, among others, Senator Bernie Sanders' 2016 presidential run has taken Ms Ocasio-Cortez from campaigning between shifts as a waitress to growing name recognition on the national stage. Her opponent has labelled her a 'Sanders Democrat,' which Ms Ocasio-Cortez believes is "divisive and patronising" – although both Sanders and herself champion Medicare for all, debt free university education, higher minimum wages, and labour unions.
But the challenger knows the mission is bigger than just her own goals.
"I see myself as a toehold. I know change has to come from inside and outside the House chamber so it's not about me as an individual but about a movement," she said.
That seems to be true for the entire wave of progressive Democrat candidates who are challenging establishment, who do not differ much from their opponents in terms of policy: LGBTQ rights, women's equality, gun control reform, and improving public education, but feel more voices should be heard.
Donald Trump says the Republicans must win the House of the Democrats will impeach him
Ms Ocasio-Cortez and Ayanna Pressley, running for US Congress in Massachusetts, are clear they want more voices from women of colour and minorities in the Democratic Party going forward. It is traditionally a reliable voting bloc but one that has increasingly been taken for granted.
"We're at a crossroads," Ms Pressley told The Independent. "Change can't wait."
Ms Pressley worked for Congressman Joseph Kennedy II and Senator John Kerry before becoming the first woman of colour to be elected to the Boston City Council – she is ready to take things to the next level.
"We need a different brand of leadership," she said, adding that the party in Massachusetts, and the national party as a whole has "been so focused on the white working class, we're trading our heart for our soul".
"We don't have to be in this crisis of faith... we have to keep pushing," Ms Pressley said of the aftermath of the 2016 election.
"Innovating and legislating should not be abdicated because we are not the majority," Ms Pressley said, pointing to a similar sentiment from Ms Ocasio-Cortez who thinks her opponent and other established Democrats have been facing a "Trumpist defeatism".
Suraj Patel is challenging another New York career politician, Carolyn Maloney, who has been in the US House for 25 years, for the city's 12th district. He believes that the current slate of candidates have comprised themselves even before they face their opposition party. "If you negotiate with yourselves before you get to Republicans you're going to give up a lot more when you get there," Mr Patel said.
Joe Salazar, vying for the Democratic nomination in the Colorado Attorney General race, told The Independent he is still loyal to the party he has belonged to his whole life.
"We are the party of humanity," Mr Salazar said, adding that it was time to start acting like it, by providing a progressive agenda that helps the working poor and immigrant communities.
"It's all our party, not just the Establishment's, we're not just some invited guests," he said.
Ms Pressley said this was like a "family fight" that would ultimately push the whole party forward.
As for Ms Ocasio-Cortez, she wants to make sure Congress is making the impact "I know that political change is actually cultural change," she said, adding: "Congress has the power to do more than just write bills". The challenger in the 14th district claimed that establishment candidates like Mr Crowley "move money...I can move people,"
Mr Patel explained it this way: "Politics is the only business that blames its customers for not buying a s*** product" and that "markets break down when there's only one seller."
Whether any of these candidates win their primaries, or even the vote in November there is a larger issue at hand. "Voters have the courage to pick us," according to Ms Ocasio-Cortez, but it is unclear whether the Democratic party structure will embrace the grassroots campaigns.
Marissa Barraow, a spokesperson for the Progressive Change Campaign Committee, told The Independent that people have been asking themselves that since one particular candidate's victory: Kara Eastman who won the party nomination for a US House seat in Nebraska against Brad Ashford, a former Republican candidate who was endorsed by the Democratic Congressional Campaign Committee (DCCC).
Ms Barrow said that if the party is serious about regaining control of the House in particular during the Congressional elections, change must come: "They can't ignore this groundswell, they're going to have to come around."
Join our new commenting forum
Join thought-provoking conversations, follow other Independent readers and see their replies