Bernie Sanders: AOC and Rashida Tlaib to join Ilhan Omar in backing 2020 candidate
Ms Omar says Vermont senator is 'best candidate to take on Donald Trump in 2020'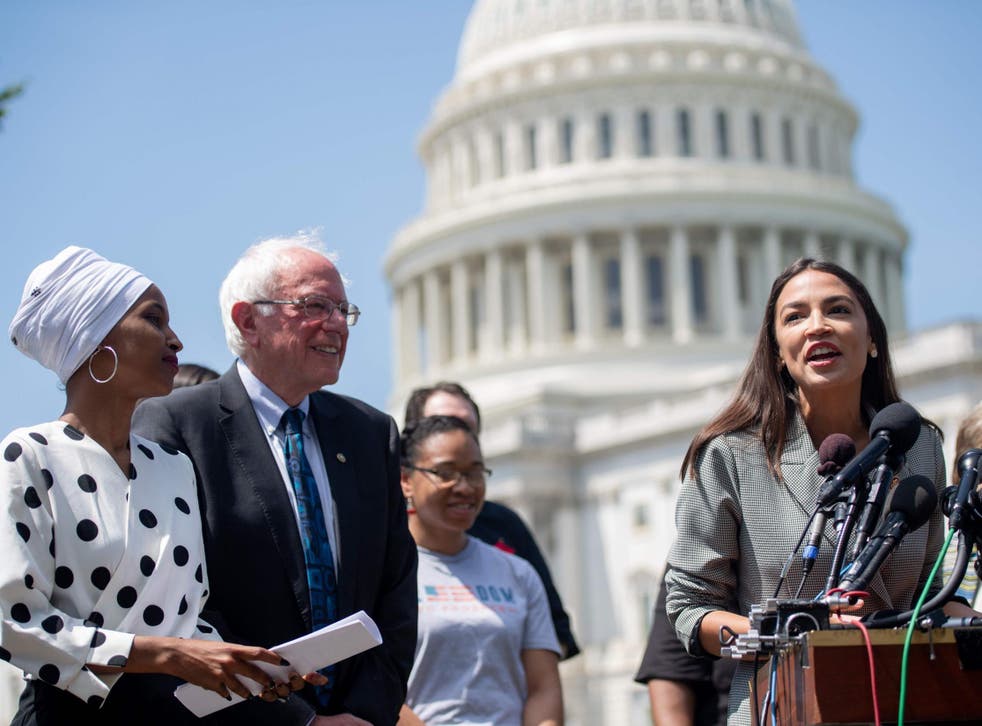 Bernie Sanders is expected to gain the endorsement of influential left-wing congresswomen Alexandra Ocasio-Cortez and Rashida Tlaib in the coming days – joining fellow member of 'The Squad' Ilhan Omar in backing the senator in his campaign for the presidency.
Ms Omar threw her support behind Mr Sanders after the senator for Vermont appeared in the latest televised primary debate – with the 78-year-old using the stage to dismiss concerns over his health following a heart attack he suffered two weeks beforehand.
Mr Sanders and the Minnesota congresswoman have previously worked together on progressive policies including legislation to provide free school meals to American students and cancel student debt while making higher education fee-free.
"Bernie is leading a working class movement to defeat Donald Trump that transcends generation, ethnicity, and geography," Mr Omar said in a statement, adding that he was "the best candidate to take on Donald Trump in 2020".
Meanwhile, Ms Ocasio-Cortez is expected to endorse Mr Sanders at a rally in Queens, New York, on Saturday, according to Sanders campaign officials cited by US media.
Alexandria Ocasio-Cortez - the Democratic congresswoman in pictures

Show all 15
The New York representative, who has become a leading light of the American left by supporting ideas including the green new deal and the introduction of a 70% tax on the wealthy, worked as an organiser on Mr Sander's 2016 campaign.
Rashida Tlaib is also expected to follow suit, according to CNN, potentially leaving Ayanna Pressley of Massachusetts as the only member of the four-congresswoman group left to declare her support for a candidate.
The support of three of the four-member grouping known as The Squad follows a concerted effort by both Mr Sanders and Elizabeth Warren to paint themselves as the Democratic Party's progressive candidate of choice.
The endorsements could also provide a reviving burst of youthful energy to Mr Sanders campaign amid the concerns over his age and health which caused a slight dip in his poll ratings at the start of the month.
However, the approval could prove to be a double-edged sword – with the group's outspoken views on a range of issues becoming a subject of attack from conservative voices who have painted them as dragging the Democrats to the left.
Donald Trump meanwhile, who in July tweeted that "'Progressive' Democrat Congresswomen" should "go back and help fix the totally broken and crime infested places from which they came", has regularly played on the divide between the group and centre-left figures like Nancy Pelosi.
Join our new commenting forum
Join thought-provoking conversations, follow other Independent readers and see their replies