Alaska Republican Lora Reinbold forced to take daylong ferry and car trip after airline ban over mask
Alaska Airlines bans Republican for 'continued refusal to comply with employee instruction regarding the current mask policy'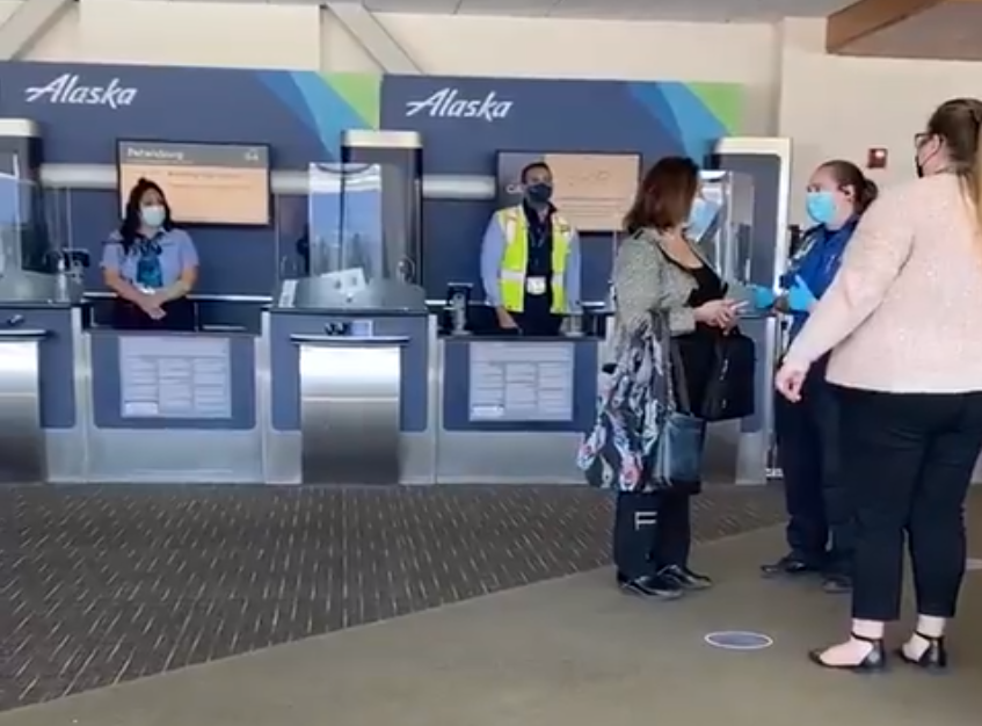 Leer en Español
Video captured at Juneau International Airport purportedly shows the interaction leading to Alaska Airlines' ban of state senator Lora Reinbold.
The Republican senator for Eagle River was banned from the only airline flying between her home in Anchorage and the State Capitol, causing her to make a long trip by road and ferry to make the start of the legislative session on Monday.
While Alaska Airlines did not immediately respond to a request for comment, a spokesman toldThe Alaska Landmine news site that the senator was banned "for her continued refusal to comply with employee instruction regarding the current mask policy".
It came after the outlet posted a video of Ms Reinbold talking to Alaska Airlines staff while flanked by airport security and police. In the video, Ms Reinbold can be seen wearing a mask while staff say she won't be let on the flight if she doesn't pull it up.
When she responds "it is up", a male staff member replies: "It is not, it's down below your nose, we can't have it down there".
The Independent has reached out to Ms Reinbold for comment.
In a Facebook post on Sunday, Ms Reinbold said she was reasonable with all Alaska Airlines employees and was respectful of their policies before she was allowed to board for the "pleasant safe flight with happy flight attendants and great talented pilots".
"I inquired about mask exemption with uptight employees at the counter. The timing of complaint and a specific employee is of keen interest," she wrote.
"The most divisive disaster bill hb76 is up Monday. I have been assured this be looked into."
The bill HB 76 would extend governor Mike Dunleavy's 15 January public health emergency declaration to September, and receiving a ban from the only airline flying to Juneau put Ms Reinbold's attendance in doubt.
She said the monopoly on Alaska Airlines' service into the city needs to be reviewed, while expressing a "new appreciation for the marine ferry system".
"Nothing could get in the way to be in the Capitol to fight to executive branch infringement on the legislature  & defending your rights by trying to stop HB76 which is on the Senate floor tomorrow!" she wrote in a Facebook post.
Alaska Airlines said in its statement that Ms Reinbold's ban was pending further review, noting that "federal law requires all guests to wear a mask over their nose and mouth at all times during travel, including throughout the flight, during boarding and deplaning, and while travelling through an airport".
The Juneau Police Department, meanwhile, said no enforcement action was necessary as a result of the interaction.
"JPD has an officer staffed at the airport full time, so we would be present or in the area of any issues there, but we didn't take any enforcement action," Lieutenant Krag Campbell told the Anchorage Daily News.
The outlet reported that the airport would only release surveillance video of the incident by court order. While Ms Reinbold herself can also be seen filming the incident, she has yet to publicly release it.
Ms Reinbold also said she was not notified of the ban before Alaska Airlines released the details publicly without her consent.
"Until there is a fair determination, after a thorough review of both sides,  I believe this should be confidential," she said.
"I do believe constitutional rights are at risk under corporate Covid policies," she added.
Join our new commenting forum
Join thought-provoking conversations, follow other Independent readers and see their replies