Alexandria Ocasio-Cortez hits back at Fox News 'communist' criticism over staff salaries
The top salaries of her congressional office will be capped at $80,000 under her policy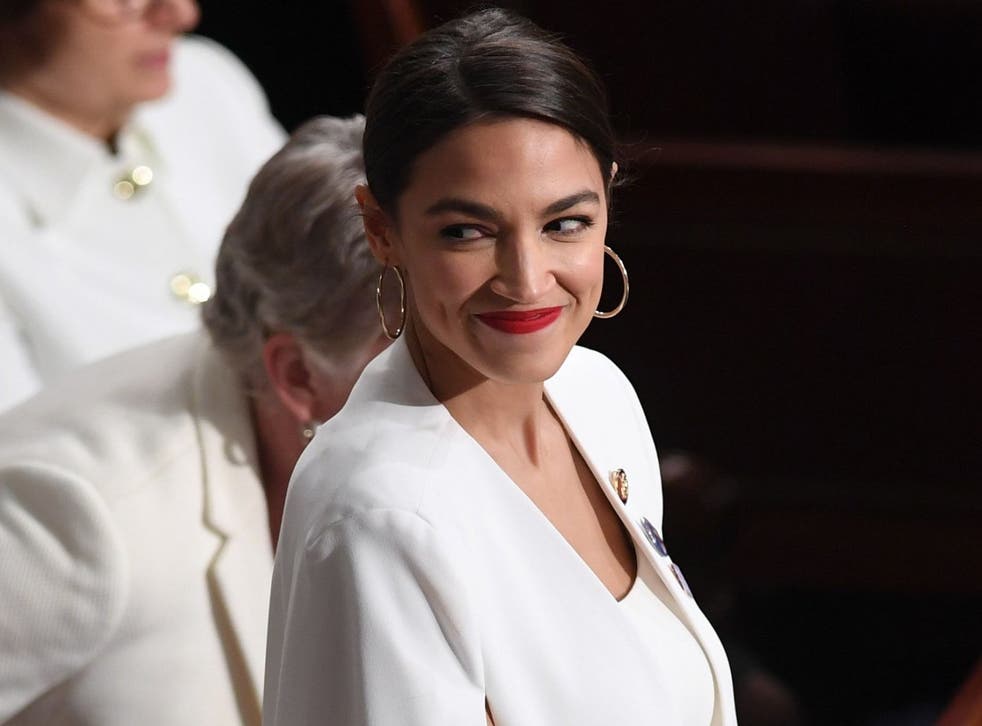 Representative Alexandria Ocasio-Cortez did not mince her words when she fired back at Fox News for criticising her decision to cap higher-level staff salaries in order to pay every staff member a $52,000 annual salary as "socialism and communism on display."
The progressive firebrand took to Twitter on Monday to say the GOP is "disconnected" from the simple concept that people should be paid a liveable wage.
"The GOP is so disconnected from the basic idea that people should be paid enough to live that Fox actually thinks me paying a living wage in my office is 'communism,'" Ms Ocasio-Cortez tweeted.
She added, "so the next time GOP screams 'socialist,' know that's their go-to attack for any common-sense, humane policy."
Pete Hegseth, a weekend co-host of "Fox & Friends", said on Sunday that the Bronx-born lawmaker's planned $52,000 salary for her staff as an example of communism and socialism.
Corbin Trent, Ms Ocasio-Cortez's communications director told Roll Call that the top salaries of the congressional office would cap at $80,000 under the policy.
According to USA Today, it's a sharp contrast to the median salary for top congressional staffers in the 2018 fiscal year: $154,634.
Alexandria Ocasio-Cortez - the Democratic congresswoman in pictures

Show all 15
Mr Trent also said that the progressive congresswoman's staff would reach the congressional limit with 18 members.
In December, Ms Ocasio-Cortez also said she would pay her interns at least $15 an hour.
Mr Hegseth acknowledged that "every Capitol Hill office has a limited amount of money to pay their staff," before arguing that her chief of staff would be earning a salary below the "actual market rate."
He went on to challenge Ms Ocasio-Cortez by asking if she would share portions of her salary with her staff.
"Will you share some of that money, Miss Congresswoman, with the rest of your staff who is not making as much as you?" Mr Hegseth added.
Support free-thinking journalism and attend Independent events
The New York lawmaker also took to Instagram to double-down on her response to Mr Hegseth and Fox News. She argued that the "lack of socioeconomic diversity" in Washington, DC has real consequences for government being disconnected with the people it is supposed to represent and serve.
"Low pay is also a big reason for lack of socioeconomic diversity in DC, aka why many spaces in government can feel like a silver spoon club: only people who work 80+hr weeks w/ multiple jobs without an outside life, or whose parents can supplement their pay can have the opportunity to work in the nation's capital," Ms Ocasio-Cortez said. "That has real consequences for government being out of touch w/ the people we serve on all levels. There's a TON of work that needs to be done when it comes to the workplace (parental leave, hiring practices, living wage, healthcare as a right and not a perk, etc), but it starts with paying people enough to live as a minimum requirement, and not a luxury (and I guess that gets you called a communist these days)."
Register for free to continue reading
Registration is a free and easy way to support our truly independent journalism
By registering, you will also enjoy limited access to Premium articles, exclusive newsletters, commenting, and virtual events with our leading journalists
Already have an account? sign in
Register for free to continue reading
Registration is a free and easy way to support our truly independent journalism
By registering, you will also enjoy limited access to Premium articles, exclusive newsletters, commenting, and virtual events with our leading journalists
Already have an account? sign in
Join our new commenting forum
Join thought-provoking conversations, follow other Independent readers and see their replies