Alexandria Ocasio-Cortez 'can't afford Washington apartment' before job in Congress starts
The youngest woman ever elected to congress has been serving drinks and tacos in Manhattan.
Kristin Hugo
New York
Friday 09 November 2018 21:57 Comments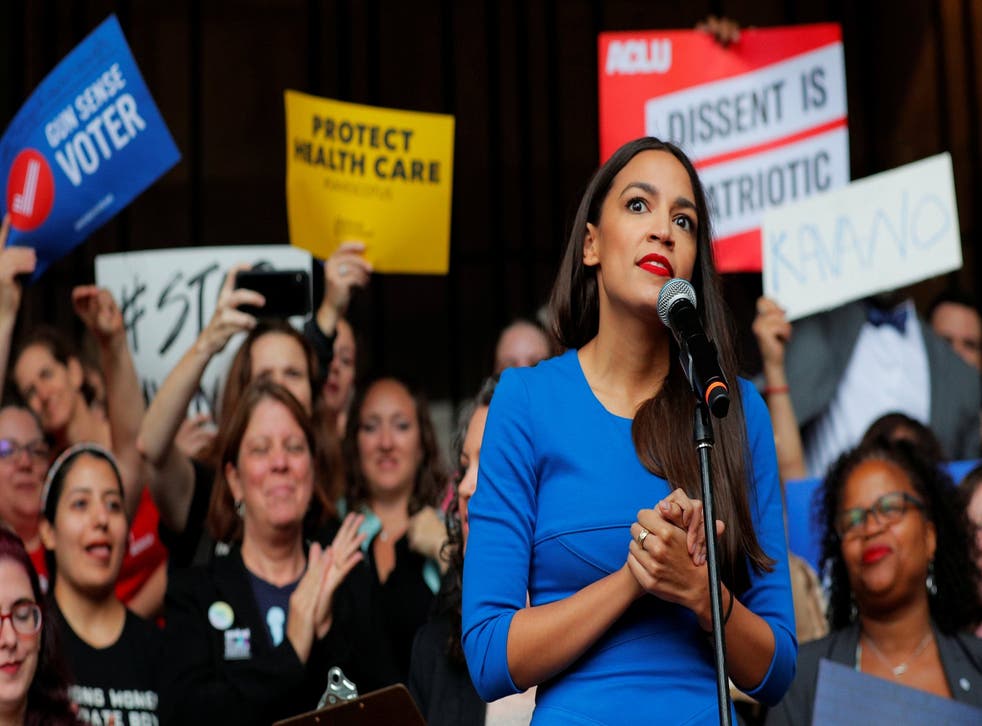 Congresswoman-elect Alexandria Ocasio-Cortez has said she will nor be able to afford an apartment in Washington DC until her salary kicks in when she takes office in January.
Ms Ocasio-Cortez is the youngest woman ever to be elected to congress, at the age of 29. Before her new job starts, she'll have to find a place to live in the capital after months without a job,.
That three-month window will be "very unusual, because I can't really take a salary," Ms Ocasio-Cortez told The New York Times. "I have three months without a salary before I'm a member of Congress. So, how do I get an apartment? Those little things are very real."
While Ms Ocasio-Cortez has to scramble, she said that she and her partner will be fine, tweeting "don't worry... we're working it out!"
However, in tweeting the article
Ms Ocasio-Cortez currently lives in the Bronx, New York, and previously in a taqueria in Manhattan, fixing food and drinks, before her . For the next few months while she prepares for her job in congress, she won't have an income.
Washington, DC is the fifth most expensive city in the nation, and Ms Ocasio-Cortez made the point that the obstacles such as this can block low-income individuals from seeking office.
"There are many little ways in which our electoral system is not even designed for working-class people to lead," she said.
Support free-thinking journalism and attend Independent events
Ms Ocasio-Cortez's campaign did not accept corporate donations, and she spent $194,000 on her campaign. Her opponent, Joe Crowley, spent $3.4 million.
According to Rentcafé, the average rent for a 1-bedroom in the Bronx, New York is $1,764 per month. In Washington DC, the average rent for a 1-bedroom is $1,996.
Register for free to continue reading
Registration is a free and easy way to support our truly independent journalism
By registering, you will also enjoy limited access to Premium articles, exclusive newsletters, commenting, and virtual events with our leading journalists
Already have an account? sign in
Join our new commenting forum
Join thought-provoking conversations, follow other Independent readers and see their replies