American marines have been in Taiwan training troops for at least a year, US officials reveal
Revelation comes amid period of increased China-Taiwan tension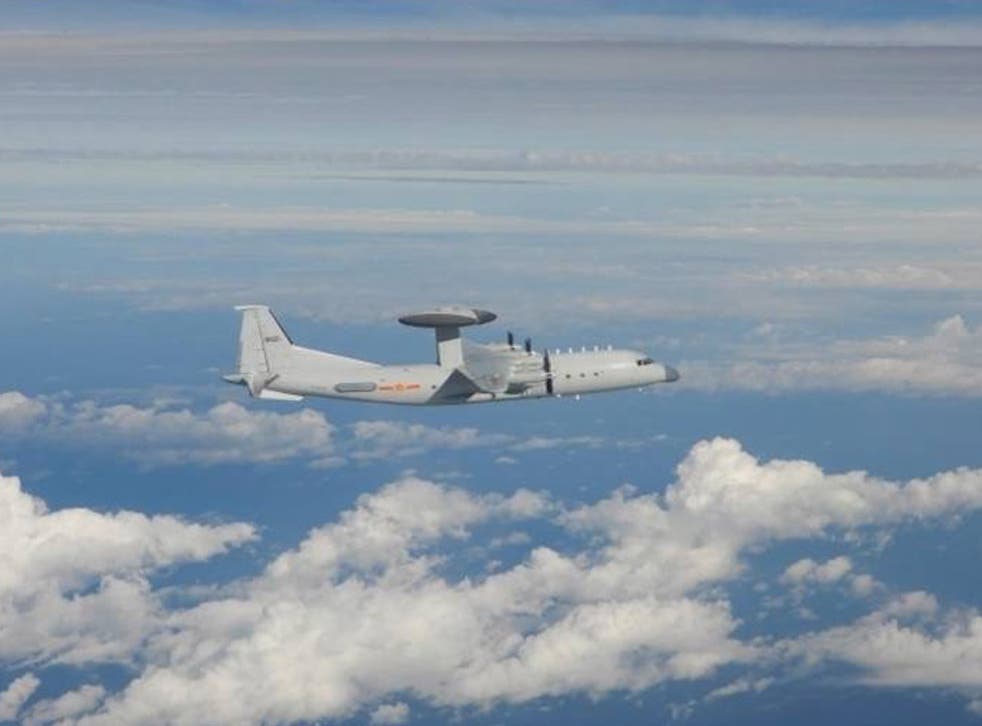 Leer en Español
US troops are in Taiwan, where they have been operating for at least a year, American defence officials have revealed.
The revelation, first reported by The Wall Street Journal on Thursday, comes as China's military has been pressuring Taiwan in recent days and worrying local officials about the potential for conflict or an accidental strike.
According to the newspaper, a contingent of US Marines are working with Taiwanese forces on small-boat training, while a separate special operations group is working with Taiwanese ground forces.
Dozens of Chinese jets and other military aircraft have entered Taiwan's air defence identification zone over the past few days, which includes part of the Chinese mainland due to the island's proximity to China.
The flybys have prompted warnings from Taiwanese and US officials, with White House press secretary Jen Psaki urging China to back off from her podium on Monday.
"We urge Beijing to cease its military, diplomatic, and economic pressure and coercion against Taiwan," she said. "We have an abiding interest in peace and stability across the Taiwan Strait. That's why we'll continue to assist Taiwan in maintaining a sufficient self-defense capability."
Her comments come as President Joe Biden reaffirmed the US' commitment to the "One China" agreement, which recognises Beijing as the sole authority in China but allows the US to arm and support the government of Taiwan as well.
Taiwanese officials told Reuters and other media outlets that the US relationship with Taiwan remained unchanged after Mr Biden's comments, which did not directly rebuke the Chinese military actions.
The island's president and foreign minister have grown increasingly vocal in their warnings about the potential for a Chinese invasion of the island, which is self-governing but claimed as part of mainland China's territory by Beijing.
"We are very concerned that China is going to launch a war against Taiwan at some point," Taiwan's foreign minister, Joseph Wu, told Australia's ABC TV, before adding of Beijing: "We are very concerned if domestic discontent or economic slowdown is getting very serious, Taiwan could become a target."
"If China's going to launch a war against Taiwan, we will fight to the end." Mr Wu continued. "I'm sure that if China is going to launch an attack against Taiwan, I think they are going to suffer tremendously as well."
A spokesperson for China's foreign ministry condemned US arms sales to Taiwan and referred to the military buildup near the island as "necessary countermeasures". She added that any attempt for Taiwan to declare independence would be crushed by China's military.
"'Taiwan independence' leads nowhere. China will take all necessary measures to resolutely crush all attempts at 'Taiwan independence'," said Hua Chunying. "China has firm resolve and will to safeguard national sovereignty and territorial integrity."
"Taiwan belongs to China and the US is in no position to make irresponsible remarks. The relevant remarks by the US side seriously violate the one-China principle and the stipulations of the three China-US joint communiqués and send an extremely wrong and irresponsible signal," she continued.
The US followed a path of direct support for Taiwan under the Trump administration, and China-Taiwan policy is one area in which the Biden administration has differed little from the previous White House.
In January, US Secretary of State Antony Blinken vowed that the US commitment to arming Taiwan for the purpose of resisting Chinese military pressure "will absolutely endure in a Biden administration".
Join our new commenting forum
Join thought-provoking conversations, follow other Independent readers and see their replies