Andrew Wheeler: Former coal-lobbyist nominee confirmed as Trump's new EPA chief
Just one Republican senator voted against the nominee, highlighting the partisan divide over Donald Trump's energy policies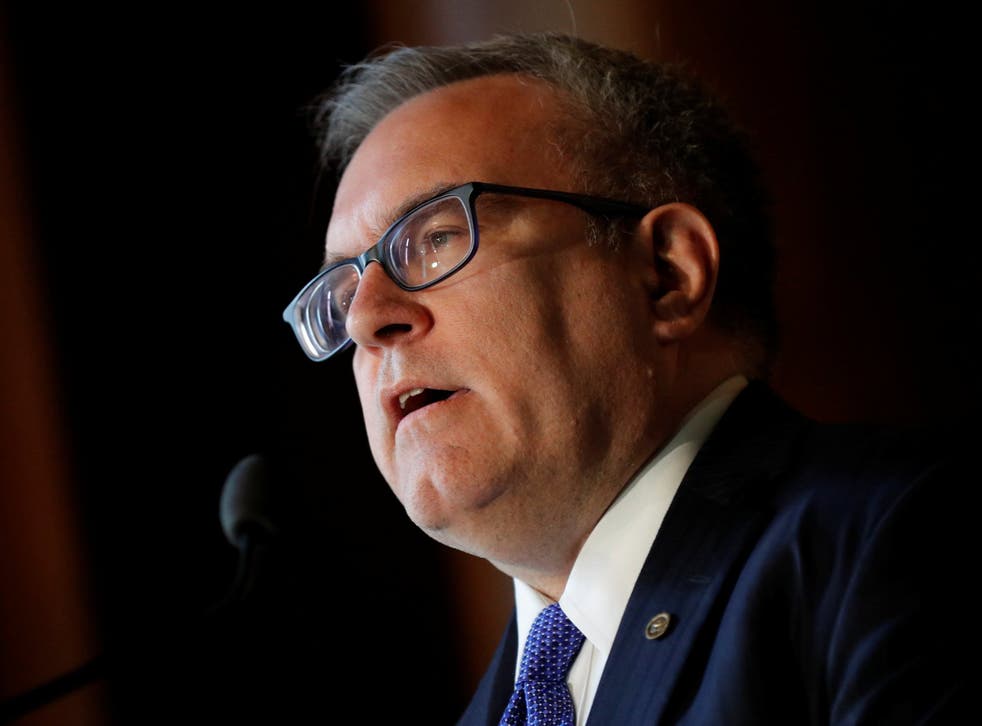 The US Senate has voted to confirm former coal lobbyist Andrew Wheeler as the next administrator of the Environmental Protection Agency in a vote largely along party lines.
Mr Wheeler has been serving as the acting administrator for the EPA since his predecessor, Scott Pruitt, resigned in July amid multiple ethics enquiries.
The incoming administrator has been praised by Republicans for his deregulation agenda, while Democrats have protested the installation of a former energy lobbyist who has refused to take action on climate change as the head of America's main environmental protector.
The Senate confirmed Mr Wheeler's nomination with a vote of 52-47, illustrating the sharp partisan differences in Congress, especially in terms of Donald Trump's environmental policy agenda since becoming president.
Senator Susan Collins, the only Republican to vote against Mr Wheeler, said that she voted against Mr Trump's nominee out of concern for the nation's health and climate.
"The policies he has supported as acting administrator are not in the best interest of our environment and public health, particularly given the threat of climate change to our nation," she said.
Lisa Murray's climate change photography

Show all 12
Mr Wheeler — whose career started at the EPA in the 1990s before he went on to work as a staffer for a Republican senator and then as an energy industry lobbyist — has largely stayed the course set by his predecessor to cut back on energy regulations implemented during the Obama administration. That has included a stated intention to eliminate environmental protections that were intended to reduce greenhouse gas emissions, which drive climate change and threaten the planet.
During his congressional hearing ahead of his confirmation, Mr Wheeler said that climate change is not one of the greatest threats to the world, in his opinion.
"I would not call it the greatest crisis," Mr Wheeler said when asked if climate change is a major concern. However, he added that was an "issue that has to be addressed globally".
Support free-thinking journalism and attend Independent events
When pressed by Senators Ed Markey and Bernie Sanders, Mr Wheeler said that he thought the issue was important, but that other concerns had higher priority.
"You are putting up a smokescreen to ensure there is an advancement of Donald Trump's dirty policies," Mr Markey said. "That's why it is relevant that you are a former coal industry lobbyist".
Mr Wheeler's career actually started at the EPA, where he served from 1991 until 1995 during the administrations of George HW Bush and Bill Clinton.
He then spent more than a decade working for Republican Senator Jim Inhofe — mostly as a chief council and staff director for the senator on the Senate Committee on Environment and Public Works. Mr Inhofe is a well-known climate change denier, and has advocated for reduced environmental regulations.
Mr Wheeler then left public service to become a lobbyist for the law firm Faegre Baker Daniels, according to Senate lobbying disclosure records. During that time, he represented Murray Energy, a coal company that paid Mr Wheeler's firm between $166,000 and $599,000 each year from 2009 until 2017, according to a data analysis from the Centre for Responsive Politics (CRP).
Notably, Murray Energy was a top revenue source for Mr Wheeler's firm, and donated handsomely to Donald Trump's inauguration fund. Just after Mr Trump's election, the chief executive of Murray Energy — which paid Mr Wheeler to lobby against climate change mitigation policies and regulations on greenhouse gas emissions — gave that fund $300,000, according to CRP. That executive, Robert Murray, also reportedly gave the president a wish list of coal industry regulations he would like to see repealed.
Register for free to continue reading
Registration is a free and easy way to support our truly independent journalism
By registering, you will also enjoy limited access to Premium articles, exclusive newsletters, commenting, and virtual events with our leading journalists
Already have an account? sign in
Register for free to continue reading
Registration is a free and easy way to support our truly independent journalism
By registering, you will also enjoy limited access to Premium articles, exclusive newsletters, commenting, and virtual events with our leading journalists
Already have an account? sign in
Join our new commenting forum
Join thought-provoking conversations, follow other Independent readers and see their replies