AOC comforts weeping Rashida Tlaib as she recounts 'trauma' of death threats in Capitol riot testimony
Graeme Massie
Los Angeles
Friday 05 February 2021 01:50 Comments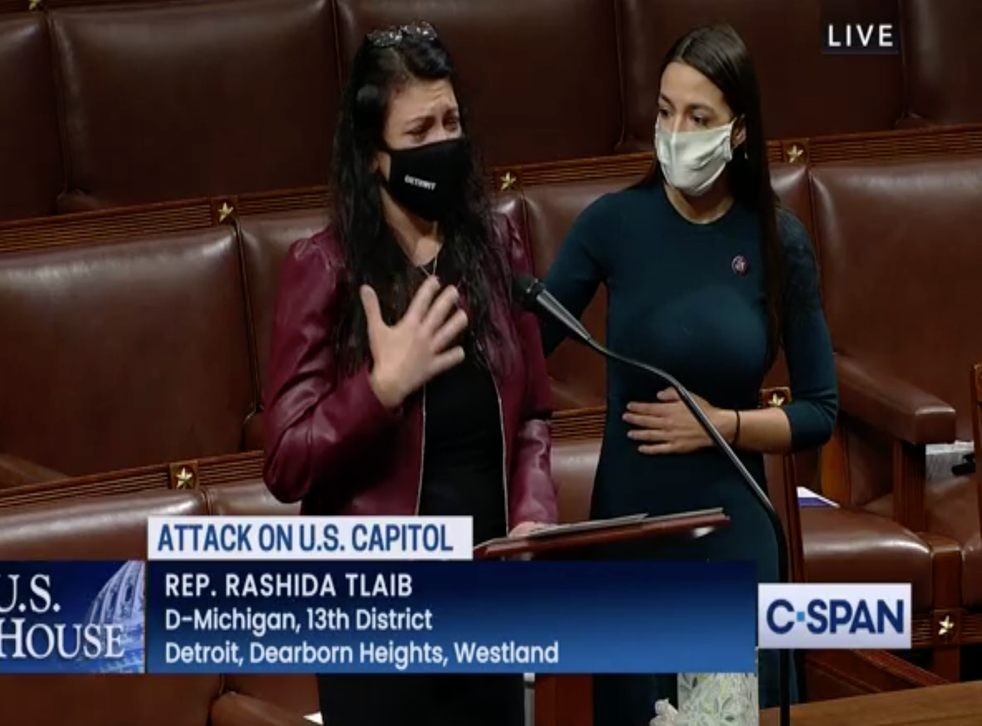 Leer en Español
Alexandria Ocasio-Cortez comforted a weeping Rashida Tlaib as she recounted the trauma of the death threats she has faced in Capitol riot testimony.
Ms Ocasio-Cortez put her arm around her fellow congresswoman as she described the harassment she has received since her first day on Capitol Hill and before she was even sworn in.
Ms Tlaib, who was not in the Capitol during the 6 January riots, was speaking at a special order hour organised by Ms Ocasio-Cortez for lawmakers to recall their own experiences during the pro-Trump attack in Washington DC.
"On my very first day of orientation, I got my first death threat. It was a serious one. They took me aside, the FBI. I didn't even get sworn in yet and someone wanted me dead for just existing. More came later. Uglier, more violent," said Ms Tlaib.
Ms Ocasio-Cortez led the event after she herself came under fire from Republicans over her account of the attack, including newly-elected South Carolina congresswoman Nancy Mace.
Ms Tlaib said one threat had glorified the New Zealand mosque shootings and another had mentioned her son by name.
"All I wanted to do was to come here and serve the people that raised me," she said as she recounted that her family had urged her to get protection and to carry a gun.
"The trauma for just being here and existing as a Muslima is so hard," she added as she described how diverse her office staff is.
"I worry every day for their lives because of the rhetoric, I never thought they would feel unsafe here, so I ask my colleagues to try and not dehumanise what is happening, this is real."
Ms Ocasio-Cortez opened up the hour of short speeches by describing what had happened on 6 January.
"29 days ago insurrectionists attacked our Capitol to overturn the results of our nation's election," she said.
"29 days ago the glass in and around this chamber was shattered by gunshots, clubs, by individuals seeking to restrain and murder members of Congress, duly elected to carry out the duties of their office."
The lawmaker told her colleagues in the House that the violence had been "deliberately incited by the former president of the United States."
"Sadly less than 29 days later with little or no accountability for the bloodshed and trauma of the 6th some are already demanding we move on, or worse attempting to minimise, discredit or belittle the accounts of survivors," she added. "In doing so they not only further harm those who were there that day and provide cover for those responsible, but they also send a tremendously damaging message to survivors of trauma all over this country.
"That the way to deal with trauma violence and targeting is to paper it over, minimise and move on. 
"Sadly this is all too often what we hear from survivors of trauma as the reason they don't get care, that what they experienced wasn't bad enough or too bad to talk about, or they are are afraid of being invalidated or accused of exaggeration or making a mountain out of a molehill."
Congresswoman Cori Bush also became emotional as she recalled her experience of the "white supremacist attack" on the Capitol.
Ms Bush described walking down steps to see the Donald Trump supporters invading the building and made it back to her office safely.
"That was not a protest, I have been hundreds of protests in my life, I have led and organised protests," she said.
Ms Bush, a Black Lives Matter campaigner, said she felt like she was back on the streets of Ferguson, Missouri, and was waiting for rioters to come through her office door.
"My thought process was we banging 'till the end, I'm not letting them take out my people and you're not taking me out, we have come too far," she added.
Ms Ocasio-Cortez finished the hour by speaking herself and thanked the Capitol staff for their actions "in the line of danger" to protect lawmakers.
"To our Capitol police, who were willing to defend us we thank you," she said as she also thanked her "hero" assistant for helping to protect her during the riot.
Register for free to continue reading
Registration is a free and easy way to support our truly independent journalism
By registering, you will also enjoy limited access to Premium articles, exclusive newsletters, commenting, and virtual events with our leading journalists
Already have an account? sign in
Join our new commenting forum
Join thought-provoking conversations, follow other Independent readers and see their replies