Alexandria Ocasio-Cortez hits back at Trump after he misquotes her in tweet defending him against impeachment
'You may fool the rest of the country, but I'll call your bluff any day of the week'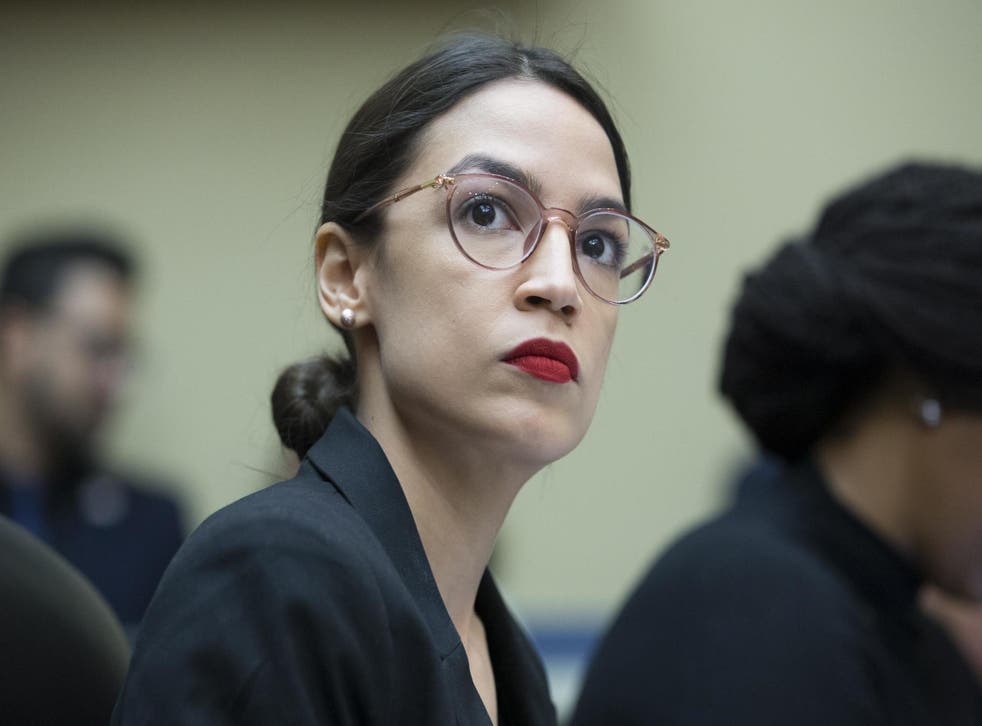 Alexandria Ocasio-Cortez called Donald Trump's "bluff" after he misquoted her in a tweet defending himself against growing calls for his impeachment.
The Democratic congresswoman told broadcaster ABC that the Democrats have "a very real risk of losing the presidency to Donald Trump" if the party does not have a candidate in 2020 who will fight for "true transformational change" in people's lives.
In a tweet posted on Sunday, Mr Trump used an edited version of Ms Ocasio-Cortez's quote to hit back at those calling for his impeachment.
"'I think we have a very real risk of losing the Presidency to Donald Trump,'" tweeted Trump, citing Ms Ocasio-Cortez's quote. "I agree, and that is the only reason they play the impeach card, which cannot be legally used!"
In response, the New York congresswoman tweeted: "Mr. President, you're from Queens. You may fool the rest of the country, but I'll call your bluff any day of the week.
The Democrat challengers to Trump in 2020

Show all 25
"Opening an impeachment inquiry is exactly what we must do when the President obstructs justice, advises witnesses to ignore legal subpoenas & more."
She concluded her response with "Bye" and a waving-hand emoji.
The back-and-forth between Mr Trump and Ms Ocasio-Cortez on Twitter comes as dozens of Democrats call to impeach the president, even as House Speaker Nancy Pelosi has quashed the prospect of impeachment for now.
In her interview with ABC's Jonathan Karl, Ms Ocasio-Cortez said Mr Trump's recent Oval Office meeting with George Stephanopoulos was the latest indication of why Mr Trump should be held accountable to "the rule of law." During the meeting, the US president acknowledged he would consider accepting information on his political opponents from a foreign government.
"I think every day that passes, the pressure to impeach grows and I think that it's justifiable, I think the evidence continues to come in," she said.
"I believe that with the president now saying he is willing to break the law to win re-election, that transcends partisanship, it transcends party lines, and this is now about the rule of law in the United States of America."
Her sentiment is reflective of a recent spike among Democratic voters pushing for impeachment. A poll released on Sunday from NBC News and the Wall Street Journal found that 48 per cent of Democratic voters back impeachment, up from 30 per cent last month. But the poll found that the nation remains largely divided on the issue, with Republican and independent voters opposing impeachment hearings.
Mr Trump's tweet quoting the New York congresswoman came towards the end of a busy Sunday for him on Twitter. This saw him sending Father's Day wishes even to his "worst and most vicious critics, of which there are fewer and fewer", sharing a video of lawmakers and pundits doubting his 2016 campaign and congratulating golfer Gary Woodland for winning the US Open.
The US president also thanked Israeli Prime Minister Benjamin Netanyahu for inaugurating Trump Heights, Israel's newest town on the Golan Heights. The town is located in the same area that Trump recognised in March as being part of sovereign Israel.
Ms Ocasio-Cortez also commented on the candidacy of former vice president Joe Biden on Sunday, saying that he still has some work to do to change his behaviour towards women.
Asked whether she believes Mr Biden understands some of the concerns that have been raised regarding his behaviour, she said: "I think that's something that he has to kind of show the electorate.
Support free-thinking journalism and attend Independent events
"You know, I think that it is an issue where there is a struggle; I'll be completely honest."
When asked whether Mr Trump would be re-elected if the Democrats do not nominate someone who identifies as a true progressive, Ms Ocasio-Cortez warned against electing a president who advocated for "half-measures", such as someone who would not fight for a $15 minimum wage, a tuition-free college initiative or advancing women's rights. She reiterated her concern of what that would mean for 2020.
"I think we have a very real risk of losing the presidency," she said.
Washington Post
Register for free to continue reading
Registration is a free and easy way to support our truly independent journalism
By registering, you will also enjoy limited access to Premium articles, exclusive newsletters, commenting, and virtual events with our leading journalists
Already have an account? sign in
Register for free to continue reading
Registration is a free and easy way to support our truly independent journalism
By registering, you will also enjoy limited access to Premium articles, exclusive newsletters, commenting, and virtual events with our leading journalists
Already have an account? sign in
Join our new commenting forum
Join thought-provoking conversations, follow other Independent readers and see their replies