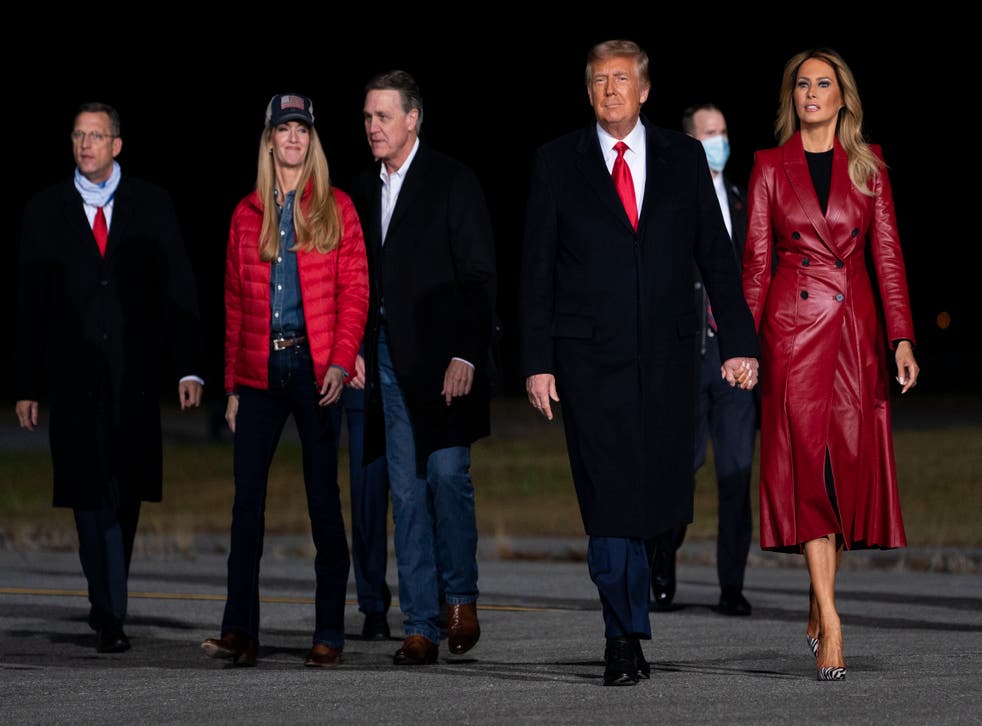 Here are the AP's latest coverage plans, top stories and promotable content. All Times EST. For up-to-the minute information on AP's coverage, visit Coverage Plan at https://newsroom.ap.org.
_____________________
NEW & DEVELOPING
_____________________
Adds: TRUMP-LEGACY-BASE; SENATE-GEORGIA-TRUMP EFFECT; WASHINGTON-PIVOTAL WEEK; MALAYSIA-TEEN DEATH; SYRIA; FINANCIAL MARKETS
______________
ONLY ON AP
______________
VIRUS OUTBREAK-MINORITY BUSINESSES-LOANS — Thousands of minority-owned small businesses were at the end of the line in the government's coronavirus relief program as many struggled to find banks that would accept their applications or were disadvantaged by the terms of the program. Data from the Paycheck Protection Program released Dec. 1 and analyzed by The Associated Press show that many minority owners desperate for a relief loan didn't receive one until the PPP's last few weeks while many more white business owners were able to get loans earlier in the program. By Joyce M. Rosenberg and Justin Myers. SENT: 1,260 words, photo This is the Monday Spotlight
______________
TOP STORIES
______________
TRUMP — President Donald Trump pressured Georgia's Republican secretary of state to "find" enough votes to overturn Joe Biden's win in the state's presidential election, repeatedly citing disproven claims of fraud and raising the prospect of "criminal offense" if officials did not change the vote count, according to a recording of the conversation. By Jeff Amy, Darlene Superville and Kate Brumback. SENT: 1,125 words, photos. WITH: TRUMP-GEORGIA-FACT CHECK — President Donald Trump put forth a dizzying array of fuzzy accounting and outright false claims in an extraordinary phone call to Georgia's secretary of state. SENT: 1,720 words, photos.
SENATE-GEORGIA-TRUMP EFFECT — For more than four years, President Donald Trump has dominated the Republican Party and the whole of American politics. Now Georgia decides what comes next as two Senate runoffs elections not only determine which party controls the Senate but offer the first clues about how long Trump can maintain his grip on the nation's political affairs once he loses the White House megaphone. SENT: 1,070 words, photos. WITH: EXPLAINING-ELECTION 2020-GEORGIA RUNOFF — This week will find us back in a familiar place — waiting for Georgia to count votes. SENT: 755 words, photos.
VIRUS OUTBREAK — The U.S. ramped up COVID-19 vaccinations in the past few days after a slower-than-expected start, bringing to 4 million the number of Americans who have received shots, Dr. Anthony Fauci says. The government's top infectious-disease expert also said on ABC's "This Week" that President-elect Joe Biden's pledge to administer 100 million shots of the vaccine within his first 100 days in office is achievable. And he rejected President Trump's false claim on Twitter that coronavirus deaths and cases in the U.S. have been greatly exaggerated. SENT: 850 words, photos. With VIRUS OUTBREAK-THE LATEST
CONGRESS-ELECTORAL COLLEGE — The extraordinary Republican effort to overturn the presidential election is condemned by an outpouring of current and former GOP officials warning that the effort to sow doubt in Joe Biden's win and keep President Donald Trump in office is undermining Americans' faith in democracy. By Lisa Mascaro and Mary Clare Jalonick. SENT: 1,325 words, photos. WITH: TRUMP-DEFENSE SECRETARIES — In an extraordinary rebuke of President Donald Trump, all 10 living former secretaries of defense cautioned against any move to involve the military in pursuing claims of election fraud. SENT: 600 words, photos.
TRUMP-LEGACY-BASE — Their candidate may have lost the election, but President Donald Trump's supporters have no intention of fading away. After spending weeks amplifying Trump's unfounded claims that the November election was rigged against him, many of his loyal fans are eagerly awaiting his next ventures, including a potential presidential run in 2024. BY Jill Colvin. SENT: 1,065 words, photos.
SENATE-GEORGIA-CHURCH — For decades, the red-bricked Gothic Revival church where the Rev. Martin Luther King Jr. once preached has been a monument to the history of Black Americans' fight for civil rights and the legacy of an activist icon. It took a high-stakes Senate race and a Trump-era cultural debate to thrust Ebenezer Baptist Church into the center of the current political debate. Its senior pastor, the Rev. Raphael Warnock, is running for the Senate in one of two runoff elections that could decide which party ultimately controls Congress. But Warnock's preaching has become a focal point in the debate about race and justice in the election. By Aaron Morrison. SENT: 1,080 words, photos.
_______________________________
WHAT WE'RE TALKING ABOUT
_______________________________
EAST TEXAS-CHURCH SHOOTING — A 21-year-old man who hid from police in an East Texas church was charged with first-degree murder and felony assault in a shooting that left the pastor dead and two other people injured Sunday, a local sheriff said. SENT: 525 words, photo.
POLICE SHOOTING-WISCONSIN-KENOSHA — Kenosha city officials say they are preparing for possible protests when a charging decision comes in the police shooting of Jacob Blake. SENT: 215 words.
PLANE CRASH-HOUSE — A small plane crashed into a house in southeastern Michigan, killing the pilot and two family members. Five people inside the two-story house were able to avoid injury. SENT: 210 words, photos.
________________________________
MORE ON THE VIRUS OUTBREAK
_________________________________
VIRUS OUTBREAK-ASIA — Thailand has registered 745 new coronavirus cases, with a new death reported in Bangkok, where a semi-lockdown went into effect. SENT: 535 words, photos.
VIRUS OUTBREAK-INDIA VACCINE — India has authorized two COVID-19 vaccines, paving the way for a huge inoculation program to stem the coronavirus pandemic in the world's second most populous country. By Aniruddha Ghosal and Sheikh Saaliq. SENT: 760 words, photos. With VIRUS-OUTBREAK-INDIA-VACCINE-MANUFACTURER — AP Interview: India bars company from exporting vaccines. SENT: 505 words, photos.
VIRUS-OUTBREAK-SOMALIA-HIDDEN-PANDEMIC — As richer countries race to distribute COVID-19 vaccines, Somalia remains the rare place where much of the population hasn't taken the coronavirus seriously. Some fear that's proven to be deadlier than anyone knows. SENT: 740 words, photos.
VIRUS-OUTBREAK-EGYPT — Egyptian prosecutors opened an investigation into the deaths of at least four coronavirus patients at a public Egyptian hospital, after a video of nurses struggling to keep the patients alive was shared widely on social media. The governor of Sharqia province denied allegations by a relative of one of the patients that the deaths were caused by a lack of oxygen. SENT: 450 words.
Find more coverage on the Virus Outbreak on the featured topic page in AP Newsroom.
_______________________
WASHINGTON/POLITICS
_______________________
WASHINGTON-PIVOTAL WEEK — The tumult of 2020 isn't over yet. The opening week of the new year will be dominated by a collision of events that will test America's commitment to democracy, shape President-elect Joe Biden's incoming administration and determine the future of the Republican Party. SENT: 1,200 words, photos.
CONGRESS-PELOSI — Nancy Pelosi has been narrowly reelected as speaker, giving her the reins of Democrats' slender House majority as President-elect Joe Biden sets a challenging course of producing legislation to tackle the pandemic, revive the economy and address other party priorities. SENT: 1,085 words, photos.
_________________
INTERNATIONAL
_________________
MALAYSIA-TEEN DEATH — A Malaysian coroner has ruled the death of a French-Irish teen, whose body was found near a Malaysian jungle resort where she vanished while on holiday, was most likely a misadventure that didn't involve other people. SENT: 530 words, photos.
SYRIA — Syrian state media says militants have ambushed buses traveling down a highway in central Syria, killing nine people, including a 13-year old girl. SENT: 315 words.
OBIT-URQUHART — British diplomat Brian Urquhart, an early leader of the United Nations who played a central role in developing the U.N. practice of peacekeeping, has died, according to his family. He was 101. SENT: 395 words, photo.
NIGER-VIOLENCE — Islamic extremists staged attacks on two villages in Niger near its border with Mali, killing at least 100 people, Niger's prime minister said. SENT: 250 words, photos.
PAKISTAN-MINERS KILLED — A Pakistani official says gunmen opened fire on a group of minority Shiite Hazara coal miners in a southwestern province after abducting them, killing 11. SENT: 395 words, photos.
ISRAEL-NETANYAHU — Israeli prosecutors have released an amended indictment spelling out detailed charges against Prime Minister Benjamin Netanyahu in a corruption case in which he is accused of trading favors with a powerful media mogul. SENT: 380 words, photo.
_____________
NATIONAL
_____________
HEAD-ON CRASH-9 DEAD — Investigators are asking for the public's help to determine what led up to a head-on crash that killed seven children and two adults in central California on New Year's Day. SENT: 350 words, photo.
DEADLY YEAR-ST. LOUIS — St. Louis recorded its worst homicide rate for 50 years in 2020, even though the total number of homicides last year fell just short of the city's all-time record. Police said 262 people were killed in St. Louis last year. SENT: 210 words, photos.
___________________
BUSINESS
___________________
FINANCIAL MARKETS — Asian stock markets have risen on 2021's first trading day, boosted by optimism about the rollout of coronavirus vaccines after Wall Street ended the year on a new high. By Business Writer Joe McDonald. SENT: 475 words, photos.
_________________
ARTS/ENTERTAINMENT
_________________
OBIT-GERRY MARSDEN — Gerry Marsden, lead singer of the 1960s British group Gerry and the Pacemakers that had such hits as "Ferry Cross the Mersey" and the song that became the anthem of Liverpool Football Club, "You'll Never Walk Alone," has died. He was 78. SENT: 660 words, photos.
FILM-BOX OFFICE — In its second weekend in U.S. theaters, "Wonder Woman 1984" earned an estimated $5.5 million in ticket sales according to studio estimates. It's a 67% drop for the superhero sequel, which is simultaneously playing on 2,151 screens and streaming free for HBO Max subscribers. By Film Writer Lindsey Bahr. SENT: 270 words, photo.
_________________
SPORTS
_________________
FBN-PLAYOFF LOOKAHEAD — Welcome to the postseason, Cleveland. The Browns returned to the NFL in 1999 and made the playoffs in 2002. It didn't return until this season. By Pro Football Writer Barry Wilner. SENT: 600 words, photos.
_________________
HOW TO REACH US
___________________
At the Nerve Center, Desiree Seals can be reached at 800-845-8450 (ext. 1600). For photos, ext. 1900. For graphics and interactives, ext. 7636. Expanded AP content can be obtained from http://newsroom.ap.org. For access to AP Newsroom and other technical issues, contact apcustomersupport(at)ap.org or call 877-836-9477.