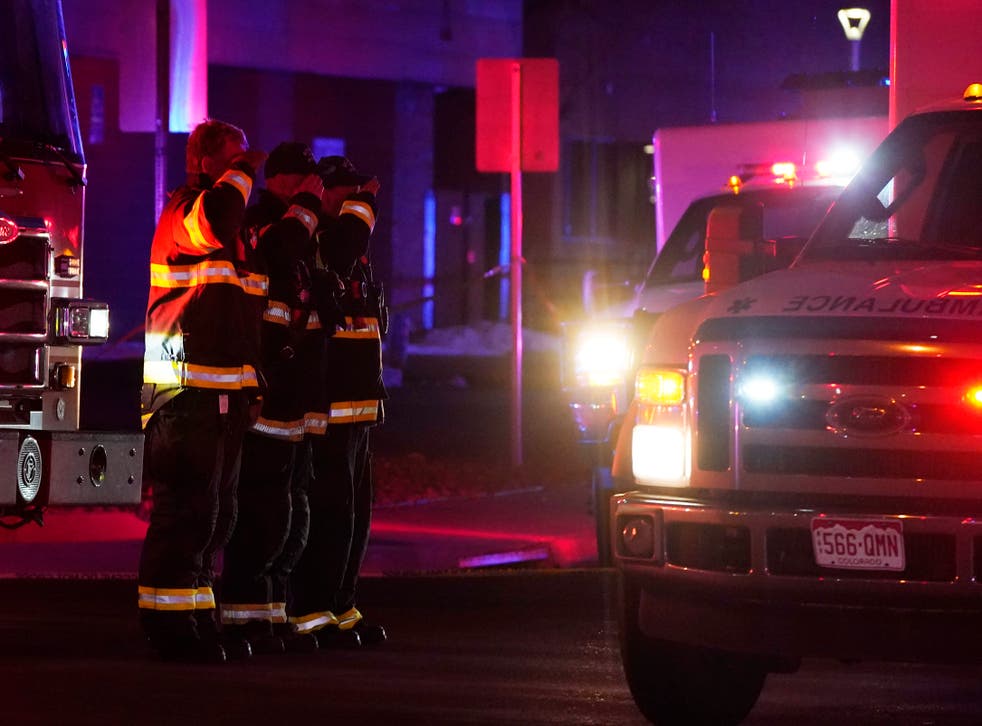 Here are the AP's latest coverage plans, top stories and promotable content. All times EDT. For up-to-the minute information on AP's coverage, visit Coverage Plan at https://newsroom.ap.org.
_____________
TOP STORIES
_____________
SUPERMARKET-SHOOTING — A shooting at a crowded Colorado supermarket that killed 10 people, including the first police officer to arrive, sent terrorized shoppers and workers scrambling for safety and stunned a state that has grieved several mass killings. A lone suspect was in custody, authorities say. By Patty Nieberg and Thomas Peipert. SENT: 800 words, photos, videos.
BIDEN — President Joe Biden is going to Ohio to showcase health insurance cost cuts at what may be the best time for Democrats to talk up the Affordable Care Act since it became law. Biden's COVID-19 relief law pumps up "Obamacare" subsidies for premiums to address longstanding problems of affordability. By Alexandra Jaffe and Ricardo Alonso-Zaldivar. SENT: 630 words, photo. UPCOMING: 800 words after 4:10 p.m. event.
ISRAEL-ELECTION — Israelis begin voting in the country's fourth parliamentary election in two years — a highly charged referendum on the divisive rule of Prime Minister Benjamin Netanyahu Public opinion polls forecast a tight race between those who support Israel's longest-serving premier and those who want "anyone but Bibi," as he is widely known. By Laurie Kellman. SENT: 840 words, photos. With ISRAEL-ELECTION-EXPLAINER.
BIDEN-SYRIA — The Biden administration is mulling over America's role in Syria's ongoing conflict as the U.S. tries to break away from Middle East wars, but Vladimir Putin's top diplomat has been trying to win support for a Syria approach that could establish Russia as a broker of security and power in the region. By Ellen Knickmeyer. SENT: 1,050 words, photo.
BIDEN-IMMIGRATION — The Biden administration has tried to keep the public from seeing the kind of images released Monday showing immigrant teenagers sleeping on mats in crowded conditions. Biden is facing growing criticism for the apparent secrecy at the border, including from fellow Democrats. By Nomaan Merchant, Jonathan Lemire and Josh Boak. SENT: 1,150 words, photos.
AFGHANISTAN-WARLORD — Tensions are mounting between Afghanistan's government and a powerful local warlord, with deadly clashes erupting in a rural province between his fighters and government troops. The fear is that the violence could be a harbinger of more chaos as U.S. troops head toward the exits. By Rahim Faiez. SENT: 950 words, photos.
______________________________
WHAT WE'RE TALKING ABOUT
______________________________
BOSTON-MAYOR — Janey becomes first woman, person of color to be Boston mayor. SENT: 660 words, photo.
TULSA MASSACRE CONCERT-COMPOSER FIRED — Tulsa Opera fires composer of Greenwood massacre piece. SENT: 310 words.
AUSTRALIA-FLOODS — Australian east coast rain to ease but flooding continues. SENT: 250 words, photos.
_________________________________
THE VIRUS OUTBREAK
_________________________________
VIRUS-OUTBREAK-GERMANY — Germany extends its lockdown measures by another month and imposed several new restrictions, including largely shutting down public life over Easter, in an effort to drive down the rate of coronavirus infections. SENT: 580 words, photos. With VIRUS-OUTBREAK-THE-LATEST.
VIRUS OUTBREAK-COLOMBIA-VIRUS-FREE TOWN — Colombia's Health Ministry says Campohermoso is one of just two counties in the country where cases of coronavirus haven't been reported. SENT: 690 words, photos.
VIRUS-OUTBREAK-ONE-GOOD-THING-WUHAN-ARTIST — An artist preserves Wuhan's COVID memories. SENT: 920 words, photos.
______________________________
WASHINGTON/POLITICS
______________________________
BIDEN-CABINET — Biden's Cabinet is nearly complete with the confirmation of Marty Walsh as labor secretary, but the work of building his administration is just beginning. SENT: 990 words, photo, graphic.
CONGRESS-BIDEN — Fresh off passage of the COVID-19 relief bill, Biden is assembling the next big White House priority, a sweeping $3 trillion package of investments on infrastructure and domestic needs. SENT: 710 words, photos.
ELECTION-2022-SENATE-MISSOURI — Eric Greitens the former Navy SEAL officer who rose quickly to become Missouri governor before scandal forced him out of office just a year and a half into his tenure, announced that he will run for the Senate seat being vacated by fellow Republican Roy Blunt. SENT: 940 words, photos. With EXPLAINING-ELECTION-2022-SENATE-MISSOURI-GREITENS.
____________
NATIONAL
____________
MIAMI'S-SPRING-BREAK-PROBLEM — Florida's famed South Beach, the scene of more than 1,000 arrests and nearly 100 gun seizures already during this year's spring break season, is desperately seeking a new image. SENT: 920 words, photos.
GEORGE-FLOYD-OFFICER-TRIAL — The end of jury selection is in sight at the trial of a former Minneapolis police officer charged in George Floyd's death, with just one more needed ahead of opening statements next week. SENT: 600 words, photos.
TRANSGENDER SPORTS-SOUTH DAKOTA GOVERNOR — South Dakota Gov. Kristi Noem initially appeared eager to sign a bill banning transgender women and girls from participating in women's sports leagues, but Noem's enthusiasm faded fast and now she's in a political mess. SENT: 1,090 words, photo.
RACIAL INJUSTICE-REPARATIONS-EVANSTON — Evanston, Illinois, becomes the first U.S. city to make reparations available to its Black residents for past discrimination and the lingering effects of slavery. SENT: 350 words.
CALIFORNIA WILDFIRE-REPORT — A Northern California wildfire that killed four people and destroyed more than 200 buildings last year was sparked when tree branches came into contact with Pacific Gas & Electric power lines, officials say. SENT: 230 words, photo.
_________________
INTERNATIONAL
_________________
NKOREA-CHINA — The leaders of China and North Korea are reaffirming their traditional alliance following contentious talks between top diplomats from Washington and Beijing and diplomatic isolation and economic problems in the North that have left it ever-more dependent on the Chinese. SENT: 690 words, photo. With CHINA-RUSSIA — China, Russia officials meet in show of unity against EU, U.S.; CHINA-SANCTIONS — Australia and New Zealand welcome sanctions against Chinese.
YEMEN-CHILDREN — Children constituted a quarter of civilian casualties over the last three years in Yemen's grinding war between Iran-backed Houthi rebels and the internationally recognized government, a child relief agency says. SENT: 450 words.
UNITED NATIONS-GENDER EQUALITY — The U.N.'s premiere global body fighting for gender equality should be tackling the yawning gap between men and women when it comes to political leadership and ensuring women have a strong voice in rebuilding economies after the COVID-19 pandemic — not arguing about preserving sexual and reproductive rights for women as it is doing now, the head of UN Women says. SENT: 770 words, photo.
___________________
BUSINESS/ECONOMY
——————————————
STOCK-MARKET-COMEBACK — It was one year ago that the terrifying free fall for the stock market suddenly ended, ushering in one of its greatest runs. By Business Writer Stan Choe. SENT: 1,090 words, photos.
FINANCIAL MARKETS — Asian stock markets declined after Wall Street rose on gains for tech stocks and reassurance by the U.S. Federal Reserve of support for an economic recovery. By Business Writer Joe McDonald. SENT: 560 words, photos.
___________________
HOW TO REACH US
___________________
At the Nerve Center, Jerome Minerva can be reached at 800-845-8450 (ext. 1600). For photos, Shuji Kajiyama (ext. 1900). For graphics and interactives, ext. 7636. Expanded AP content can be obtained from http://newsroom.ap.org. For access to AP Newsroom and other technical issues, contact apcustomersupport(at)ap.org or call 877-836-9477.
Register for free to continue reading
Registration is a free and easy way to support our truly independent journalism
By registering, you will also enjoy limited access to Premium articles, exclusive newsletters, commenting, and virtual events with our leading journalists
Already have an account? sign in
Register for free to continue reading
Registration is a free and easy way to support our truly independent journalism
By registering, you will also enjoy limited access to Premium articles, exclusive newsletters, commenting, and virtual events with our leading journalists
Already have an account? sign in