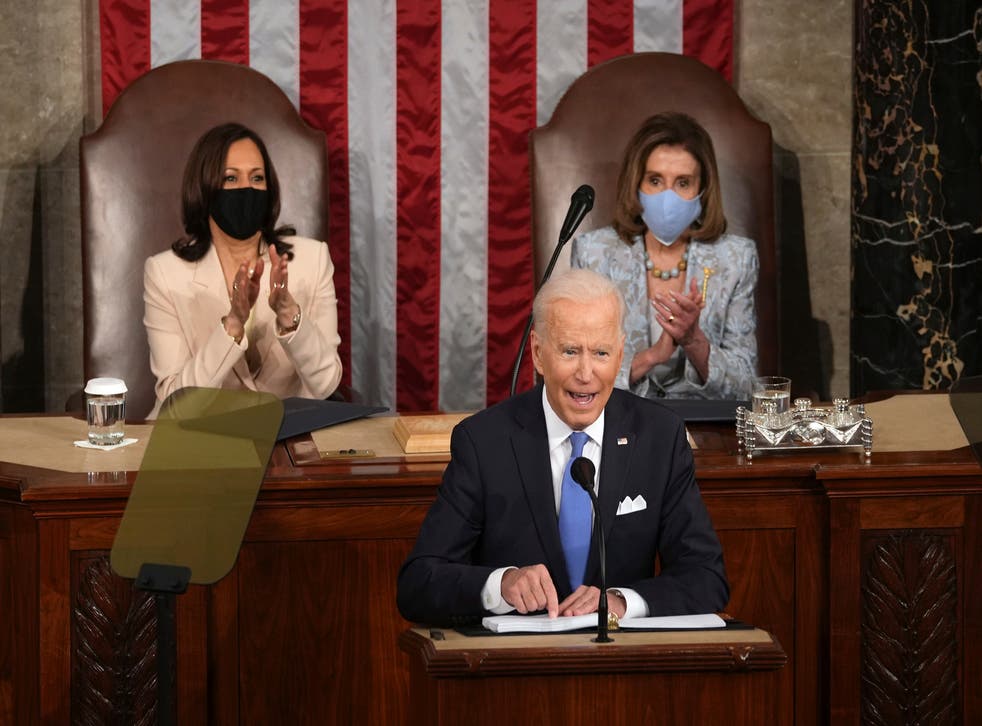 Here are the AP's latest coverage plans, top stories and promotable content. All times EDT. For up-to-the minute information on AP's coverage, visit Coverage Plan at https://newsroom.ap.org.
—————————
ONLY ON AP
—————————
ETHIOPIA-TIGRAYANS DETAINED — Ethiopia has swept up thousands of ethnic Tigrayans into detention centers across the country on accusations that they are traitors, often holding them for months and without charges, the AP has found. The detentions, mainly but not exclusively of military personnel, are an apparent attempt to purge state institutions of the Tigrayans who once dominated them, as the government enters its sixth month of fighting in the Tigray region. By Cara Anna. SENT: 2,010 words, photos. An abridged version of 990 words is also available.
____________
TOP STORIES
_____________
BIDEN-100 DAYS — President Joe Biden declares "America is rising anew" as he calls for an expansion of federal programs to drive the economy past the pandemic and broadly extend the social safety net on a scale not seen in decades. The president is hitting the road to promote his plans, beginning in Georgia. By Jonathan Lemire and Josh Boak. SENT: 1,200 words, photos, video. UPCOMING: 1,250 words after Biden leaves White House at 10:10 a.m. With BIDEN-100 DAYS-CONGRESS-TAKEAWAYS — Government is good, and so are jobs; BIDEN-100 DAYS-CONGRESS-FACT CHECK — Biden skews record on migrants; GOP on virus; BIDEN-100 DAYS-CONGRESS-SCENE — "Congress should act," Biden tells lawmakers near and far; BIDEN-100 DAYS-CONGRESS-TEXT.
BIDEN-100 DAYS-CONGRESS-ANALYSIS — Biden uses his address to Congress and the nation to embrace government as the solution to the nation's myriad crises. Biden's ability to enact his ambitious agenda is uncertain given nearly unanimous Republican opposition and some wariness among moderate Democrats but Biden says, "We have to prove democracy still works." By Washington Bureau Chief Julie Pace. SENT: 960 words, photos, video.
BIDEN-100-DAYS-CONGRESS-REPUBLICANS — Sen. Tim Scott accused Democrats of dividing the country and suggested they're wielding race as "a political weapon," using the official Republican response to Biden's maiden speech to Congress to credit the GOP for leading the country out of its pandemic struggles and toward a hopeful future. The South Carolina lawmaker belittled the new president's initial priorities — aimed at combating the deadly virus and spurring the economy — as wasteful expansions of big government. By Alan Fram. SENT: 790 words, photos, videos. With BIDEN-100-DAYS-CONGRESS-REPUBLICANS-TEXT.
VIRUS-OUTBREAK-INDIA — India set another global record in new virus cases, with another 375,000 people infected, as the country gears up to open its vaccination rollout to all adults Saturday. It now has reported more than 18.3 million cases, behind only the United States. The health ministry also reported 3,645 deaths in the last 24-hour period, bringing India's total to 204,832, according to the health ministry. Experts believe both figures are an undercount, but it's unclear by how much. SENT: 320 words, photos. UPCOMING: Will be expanded.
AFGHANISTAN-WOMEN — Inside Ms. Sadat's Beauty Salon in Afghanistan's capital, Sultana Karimi leans intently over a customer, meticulously shaping her eyebrows. Make-up and hair styling is the 24-year-old's passion, and she discovered it, along with a newfound confidence, here in the salon. She and the other young women working or apprenticing in the salon never experienced the rule of the Taliban over Afghanistan. By Kathy Gannon. SENT: 1,150 words, photos.
CHINA-SPACE-STATION — China launched the main module of its first permanent space station that will host astronauts long term, the latest success for a program that has realized a number of its growing ambitions in recent years. By Sam McNeil. SENT: 930 words, photos.
_______________________________
WHAT WE'RE TALKING ABOUT
_______________________________
OBIT-MICHAEL COLLINS — Apollo 11 astronaut Michael Collins, who piloted the ship from which Neil Armstrong and Buzz Aldrin left to make their historic first steps on the moon in 1969, has died of cancer at age 90. SENT: 430 words, photos.
————————————
MORE ON BIDEN'S SPEECH
————————————
BIDEN-100-DAYS-EMHOFF — The husband of Vice President Kamala Harris, Doug Emhoff, is settling in and defining his groundbreaking new role as second gentleman of the United States. SENT: 900 words, photos.
__________________________________
MORE ON THE VIRUS OUTBREAK
_________________________________
VIRUS-OUTBREAK-CALIFORNIA-VACCINE — California is now swimming in COVID-19 vaccine supply but some people, especially the home-bound, are struggling to receive the shots. SENT: 940 words, photos. With VIRUS-OUTBREAK-THE-LATEST.
VIRUS-OUTBREAK-MEXICO — As many as one-third of Mexicans may have been exposed to the coronavirus by the end of 2020, according to a study of random blood samples taken between February and December. SENT: 370 words, photo.
———————
NATIONAL
———————
DEPUTY SHOOTING-BODY CAMERA LAW — A North Carolina law that gives local courts authority over the release of body camera video has come under a harsh glare after a judge refused to make public footage of deputies shooting and killing Andrew Brown Jr. SENT: 790 words, photos.
NUCLEAR-PLANT-CLOSES — Indian Point will permanently stop producing nuclear power Friday, capping a decades-long battle over a key source of electricity in the heart of New York City's suburbs that opponents have called a threat to millions living in the densely packed region. SENT: 870 words, photos.
_________________
INTERNATIONAL
_________________
INDIA-FARMER PROTEST-THIRSTY CROPS — At the heart of India's farm protests and decades-old agrarian crisis is a policy conundrum: India has been subsidizing the cultivation of rice in the north, but these are thirsty crops that have dramatically lowered the groundwater table. By Science Writer Aniruddha Ghosal. SENT: 960 words, photos.
PALESTINIANS-ELECTIONS — The Islamic militant group Hamas has rejected the idea of postponing Palestinian elections ahead of a leadership meeting in which President Mahmoud Abbas' Fatah party is expected to push for a delay, citing a dispute with Israel over voting in east Jerusalem. SENT: 610 words, photo.
VENEZUELA-BEATIFICATION — A man considered by millions of Venezuelans the "doctor of the poor" is set to be beatified, a step toward sainthood. SENT: 800 words, photos.
———————————————-
BUSINESS/ECONOMY
————————————————
FINANCIAL MARKETS — Asian shares rose and U.S. futures also were higher after Biden delivered a speech to Congress outlining ambitious plans for jobs-creating spending on early education, child care and other public services. By Business Writer Elaine Kurtenbach. SENT: 730 words, photos.
__________________
HOW TO REACH US
___________________
At the Nerve Center, Jerome Minerva can be reached at 800-845-8450 (ext. 1600). For photos, Wally Santana (ext. 1900). For graphics and interactives, ext. 7636. Expanded AP content can be obtained from http://newsroom.ap.org. For access to AP Newsroom and other technical issues, contact apcustomersupport(at)ap.org or call 877-836-9477.
Register for free to continue reading
Registration is a free and easy way to support our truly independent journalism
By registering, you will also enjoy limited access to Premium articles, exclusive newsletters, commenting, and virtual events with our leading journalists
Already have an account? sign in
Register for free to continue reading
Registration is a free and easy way to support our truly independent journalism
By registering, you will also enjoy limited access to Premium articles, exclusive newsletters, commenting, and virtual events with our leading journalists
Already have an account? sign in