Barack Obama exploits GOP's failure to disown Donald Trump as he campaigns for Democrats to retake Congress
Wresting Congress and state houses from Republicans could help keep Obama legacy alive
David Usborne
Chicago
Monday 24 October 2016 17:07 Comments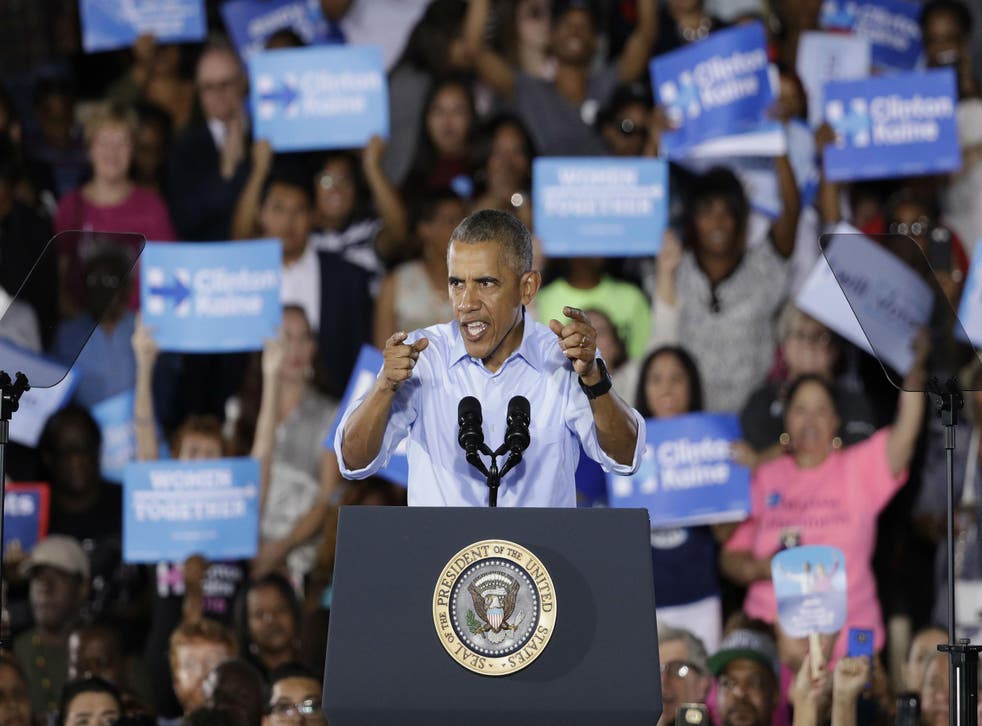 US President Barack Obama is shifting some of his focus away from helping Hillary Clinton defeat Donald Trump towards supporting the efforts of the Democratic Party to retake the US Senate in Washington and end Republican control of a string of state legislatures across the country.
The strategy was in full view in Las Vegas on Sunday night. HIs shirt-sleeves half rolled up, Mr Obama took to the stage with the names of Ms Clinton and her running mate Tim Kaine on hand-held signs in the crowd, but it was at a Republican running for the US Senate in Nevada at which he took aim.
Nevada is the setting for one of the most fiercely-fought Senate contests with Democrat Catherine Cortez Masto vying to take the seat of retiring Democrat Senate Harry Reid. Her opponent Joe Heck, a Republican congressman, was lambasted by Mr Obama for only in recent days deciding to withdraw past statements of support for Mr Trump.
"I understand Joe Heck now wishes he never said those things about Donald Trump," the President scoffed. "But they're on tape, they're on the record, and now that Trump's poll numbers are cratering, he said, 'I'm not supporting him'? Too late! You don't get credit for that!"
There are also five states, including New Hampshire, Pennsylvania and North Carolina, where Democrats are working hard to flip Senate seats currently held by Republicans to their own party's candidates. A clean sweep could return the Senate to their grasp. Few believe that the Trump effect will be deep enough to turn the House of Representatives over to the Democrats, even though the current Republican majority in the chamber could be cut into significantly.
Mr Obama's decision to start thinking more about down-ballot Democrats illustrates growing confidence that Mr Trump's chances of closing the gap with Ms Clinton are fast diminishing and is also a sign that he knows his legacy will only be protected if Ms Clinton has a Congress that will pass her agenda.
It is his legacy that is motivating Mr Obama to offer his heft also to restoring state-level control to Democrats wherever possible. Since taking office, he has seen Republicans bulldoze their way to assuming complete control of legislatures in 22 states and partial control in numerous others.
"You are going to see a level of engagement down to the state representative level that I don't think you've seen too many presidents engaged in," David Simas, the director of the White Houses Office of Political Strategy and Outreach," told the New York Times.
It has been at the state level that Republicans have been reversing much of Mr Obama's progressive agenda. Across the country, GOP-led state houses moved to restrict abortion. They have loosened gun controls, challenged new gender equality laws and used their power to redraw district lines helping their own pick up seats at the state level and in Congress.
Even the Clinton campaign is beginning to shift resources to help switch the balance of power in some states, for instance putting aside a million dollars apiece to help elect Democrat governors in Missouri and Indiana.
On Monday, Ms Clinton was due in New Hampshire, a state that offers a mere four electoral college votes to help her win the presidency but where an intense effort is under way to oust Senator Kelly Ayotte, a Republican, and give her seat to the state's popular Democrat Governor, Maggie Hassan.
For an outgoing president to dive into state-level elections is especailly unusual. Yet increasingly, Mr Obama's voice is popping up on taped campaign messages for state candidates across the country in the hope of boosting support and turn-out among Democrats.
"This is Barack Obama, urging you to get to the polls to vote for the candidate who has my back and yours." Many of the messages already taped by the president begin with the name of the particular Democrat hopeful inserted. They are playing in Minnesota, Georgia and elsewhere.
In Las Vegas, Mr Obama broadened his aim to assail Republicans everywhere who have moved only belatedly to jettison Mr Trump, who, the president pointed out, made his leap into politics partly on the back of his "birtherism" agenda questioning his country of birth.
"They just stood by and said nothing, and their base actually began to believe this crazy stuff," he said. "Now, when suddenly it's not working, suddenly it's a deal breaker. Well, what took you so long? What the heck?"
Register for free to continue reading
Registration is a free and easy way to support our truly independent journalism
By registering, you will also enjoy limited access to Premium articles, exclusive newsletters, commenting, and virtual events with our leading journalists
Already have an account? sign in
Join our new commenting forum
Join thought-provoking conversations, follow other Independent readers and see their replies