Barack Obama 'rolled his eyes' at Donald Trump's wiretapping accusations
Former President's representatives deny he ordered alleged surveillance at Trump Tower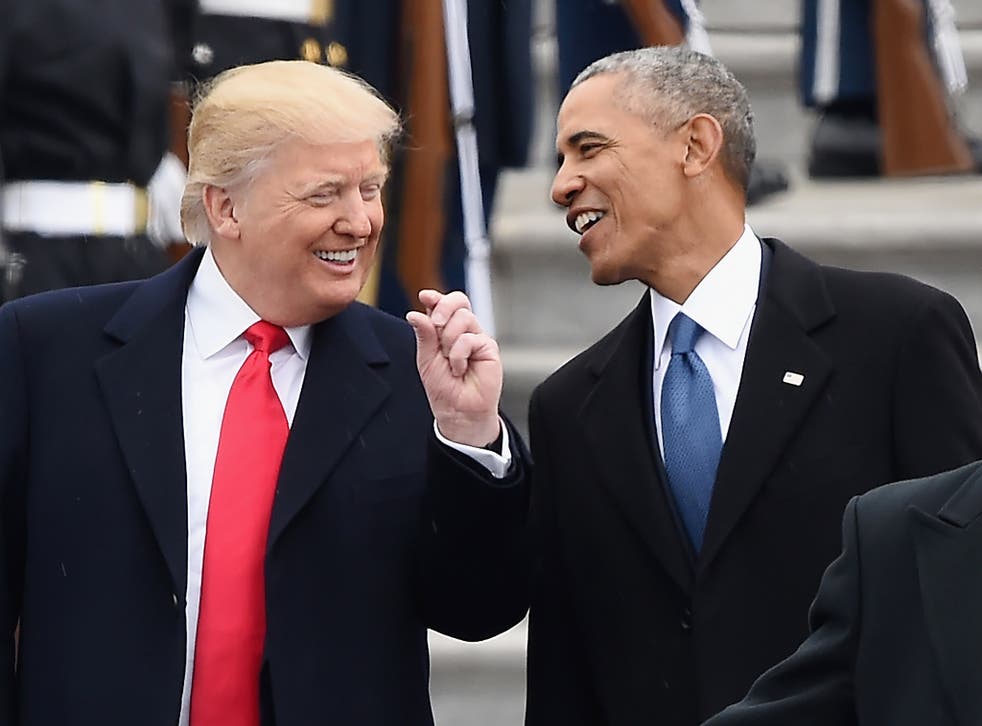 Barack Obama reportedly "rolled his eyes" at Donald Trump's allegations over alleged wiretapping during the US election.
His representatives have denied that the former President made any kind of surveillance order on Trump Tower, leaving such powers to the Justice Department.
A source close to Mr Obama told NBC News he felt the claims "undermine the integrity of the office of the President" but do not undermine his own integrity, because "he didn't do it".
Former director of national intelligence denies there was a 'wiretap' at Trump Tower
"[Mr Obama] is much more concerned by President Trump kicking people off their health insurance, not staffing the government, not being prepared for a crisis, rolling back regulations so that corporations can pollute the air and water and letting mentally unstable people buy guns with no problems whatsoever," the source was quoted as saying.
"He cares about all those things much more than what President Trump tweets at the TV each morning."
Mr Trump made the allegations in a stream of tweets early on Saturday morning, where he accused the former administration of Cold War-era McCarthyism.
"Terrible! Just found out that Obama had my "wires tapped" in Trump Tower just before the victory. Nothing found," he wrote.
"How low has President Obama gone to tapp my phones during the very sacred election process. This is Nixon/Watergate. Bad (or sick) guy! [sic]"
In pictures: Protests, pomp and Donald Trump

Show all 30
No evidence was immediately produced to support the allegations, which Mr Trump has now asked the House and Senate intelligence committees to investigate.
Sean Spicer, the White House spokesman, admitted that the President had not spoken to the FBI director over the claims but that "there's no question that something happened".
When asked why Mr Trump wanted Congress to investigate if he already had solid evidence of wiretapping in October, Mr Spicer said it was a "question of appropriateness".
Mr Obama's representatives said neither he nor any other White House official had ordered surveillance on a US citizen and his director of national intelligence, James Clapper, said nothing matching Mr Trump's claims had taken place.
Following the tweets, FBI Director James Comey privately asked the Justice Department to dispute the President's claim because he believed the allegations to be false.
The leaders of the congressional inquiry into Russia's alleged efforts to sway the US election have called on the Justice Department to produce any evidence on the issue.
Declaring that Congress "must get to the bottom" of Mr Trump's claim, senators Lindsey Graham and Sheldon Whitehouse asked the Acting Deputy Attorney General and Mr Comey to produce the paper trail created when the Justice Department's criminal division secures warrants for wiretaps.
The most senior Republican and Democratic members of the Senate Judiciary crime and terrorism subcommittee said they would take very seriously "any abuse of wiretapping authorities for political reasons".
A statement added: "We would be equally alarmed to learn that a court found enough evidence of criminal activity or contact with a foreign power to legally authorise a wiretap of President Trump, the Trump Campaign, or Trump Tower."
The senators are seeking warrant applications and court orders, which they said can be scrubbed to protect secret intelligence sources and methods.
Under US law, a federal court would have to had found probable cause that the target of the surveillance is an "agent of a foreign power" in order to approve a Fisa warrant authorising electronic surveillance.
Register for free to continue reading
Registration is a free and easy way to support our truly independent journalism
By registering, you will also enjoy limited access to Premium articles, exclusive newsletters, commenting, and virtual events with our leading journalists
Already have an account? sign in
Register for free to continue reading
Registration is a free and easy way to support our truly independent journalism
By registering, you will also enjoy limited access to Premium articles, exclusive newsletters, commenting, and virtual events with our leading journalists
Already have an account? sign in
Join our new commenting forum
Join thought-provoking conversations, follow other Independent readers and see their replies